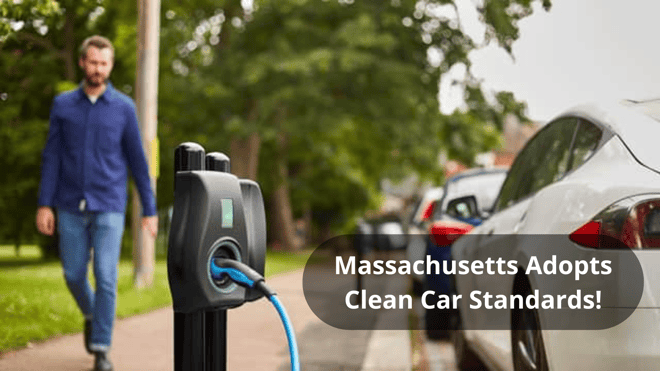 Today (March 31, 2023), the Massachusetts Department of Environmental Protection (DEP) announced that Massachusetts has formally adopted the Advanced Clean Cars II standards (ACCII). This is great news – and a BIG thank you goes out to all of you who submitted comments in support of these standards at DEP's hearing earlier this year! The ACCII standards will ensure that Massachusetts residents have access to the full range of electric vehicle model choices and that the Commonwealth phases out the sale of new gas-powered cars by 2035. Rhode Island, meanwhile, is slow-walking on these important standards.
Reminder: What's ACCII?
We have written a lot about the ACCII standards in the past year, as they are the single most important tool in the toolbox to reduce transportation emissions enough for Massachusetts and Rhode Island to reach their statutorily required emissions reductions by 2030. Back in September 2022, we wrote about the history of the standards; in December, we held a webinar and posted a blog about what the standards would mean for Rhode Island. In January, we turned out over a hundred comments from Massachusetts residents in support of ACCII, and just yesterday, we testified in support of legislation in Rhode Island that would lead to the adoption of ACCII.
ACCII requires car manufacturers to steadily increase the percentage of vehicles they sell that are electric from 35% in model year 2026 to 100% in model year 2035.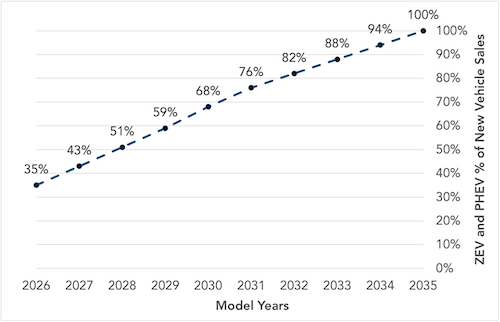 Today, Massachusetts formally adopted ACCII. As we said in this press release, we are glad to see that Massachusetts adopted ACCII. These standards are a key lever to fight climate change, protect public health, and make sure that Massachusetts drivers have access to the full range of vehicle model choices. Simply put, without ACCII, Massachusetts could not meet its 2030 or 2050 greenhouse gas emission reduction requirements.
Rhode Island Must Move Now
Rhode Island, unfortunately, is several steps behind Massachusetts and several other states. The Act on Climate in Rhode Island requires a 45% decrease in economy-wide greenhouse gas emissions by 2030, but the state's plan to meet this requirement falls woefully short, adding up to only 38% emissions reductions by 2030. In the transportation sector, the plan calls for 43,000 EVs by 2030 (mysteriously exactly half of the 86,000 the draft plan called for); right now, there are less than 7,000 EVs on the road in Rhode Island. The plan identifies ACCII as one of the needed steps to bridge that gap, saying "Rhode Island should continue to adopt new rules, including California's... Advanced Clean Cars II regulation" (p. 7).
The Rhode Island Department of Environmental Management (DEM) has stated that it intends to adopt ACCII, but so far, the formal process has not started, and every year's delay pushes back the first year of implementation by a year. We can't afford to kick the can down the road! Especially since right now, the only state policy advancing EV adoption is the state DRIVE rebate program, which by our estimates only has enough funding for around 500 EVs, of which 395 have already been subscribed. The Office of Energy Resources (OER) has not yet identified a future funding source. In short: we do not see any plan or program to reduce emissions in the transportation sector that is worthy of An Act on Climate.
Delaying adopting ACCII not only harms the climate and public health – it puts Rhode Island drivers and dealers at a disadvantage. Rhode Island's neighbors, like Massachusetts and Connecticut, have adopted or will adopt ACCII. Manufacturers will send their limited stock to states with ACCII and other EV-supporting policies. Rhode Islanders already frequently drive to Massachusetts or Connecticut to get EVs – we don't want to see that trend exacerbated.
In light of all this, we are grateful to Senator DiMario and Representative Cortvriend in Rhode Island for filing H6055/S0195, An Act relating to motor and other vehicles – motor vehicle emissions inspection program, to bring legislative pressure to bear on this important issue. Ideally, DEM would move to adopt these standards swiftly, but if they continue not to, we have a legislative backstop.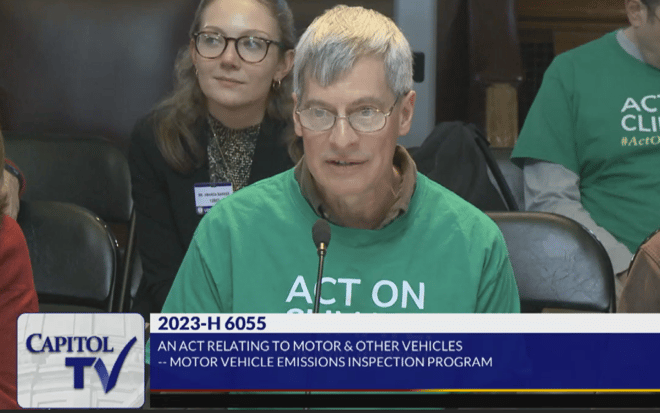 EV Ambassador extraordinaire Joel Gates testifies before the Rhode Island House Environment & Natural Resources Committee, with Green Energy Consumers Alliances' Rhode Island Policy Advocate Amanda Barker in the background, in support of H6055.
Meanwhile, Some Good News on The Federal Front Too
ACCII is often discussed in the same breath as other California vehicle emissions standards: Advanced Clean Trucks, or ACT. Like ACCII, ACT requires an increasing percentage of electric vehicles from manufacturers, though this time from medium- and heavy-duty trucks instead of passenger cars.
Massachusetts adopted ACT over a year ago after we helped turn out support at a different DEP hearing; Rhode Island has yet to adopt ACT, though it too is called for by the state greenhouse gas reduction plan – and would result from the passage of H6055/S0195.
Whether or not states could implement ACT requires the federal government to officially approve California's waiver – meaning, confirm that California has the right to implement these standards that are more stringent than federal requirements. Today, The Environmental Protection Agency (EPA) approved that waiver!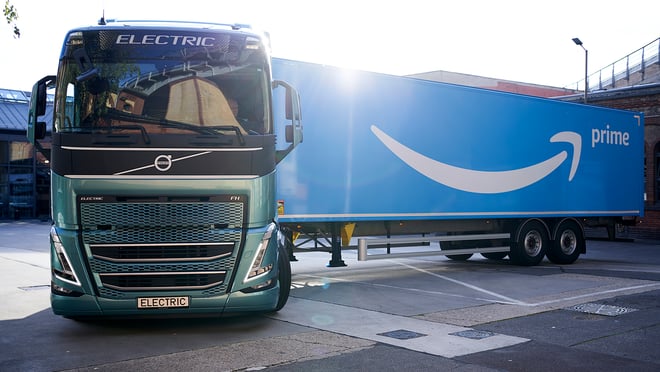 Image source: Volvo
More Work To Do
In light of the recent report from the Intergovernmental Panel on Climate Change and the clear need to speed up emissions reductions, we're thrilled about this good news from Massachusetts and the EPA. There's more work to do in Rhode Island, but that's what we're here for – join us!