Massachusetts Residents: Take Action for Clean Cars!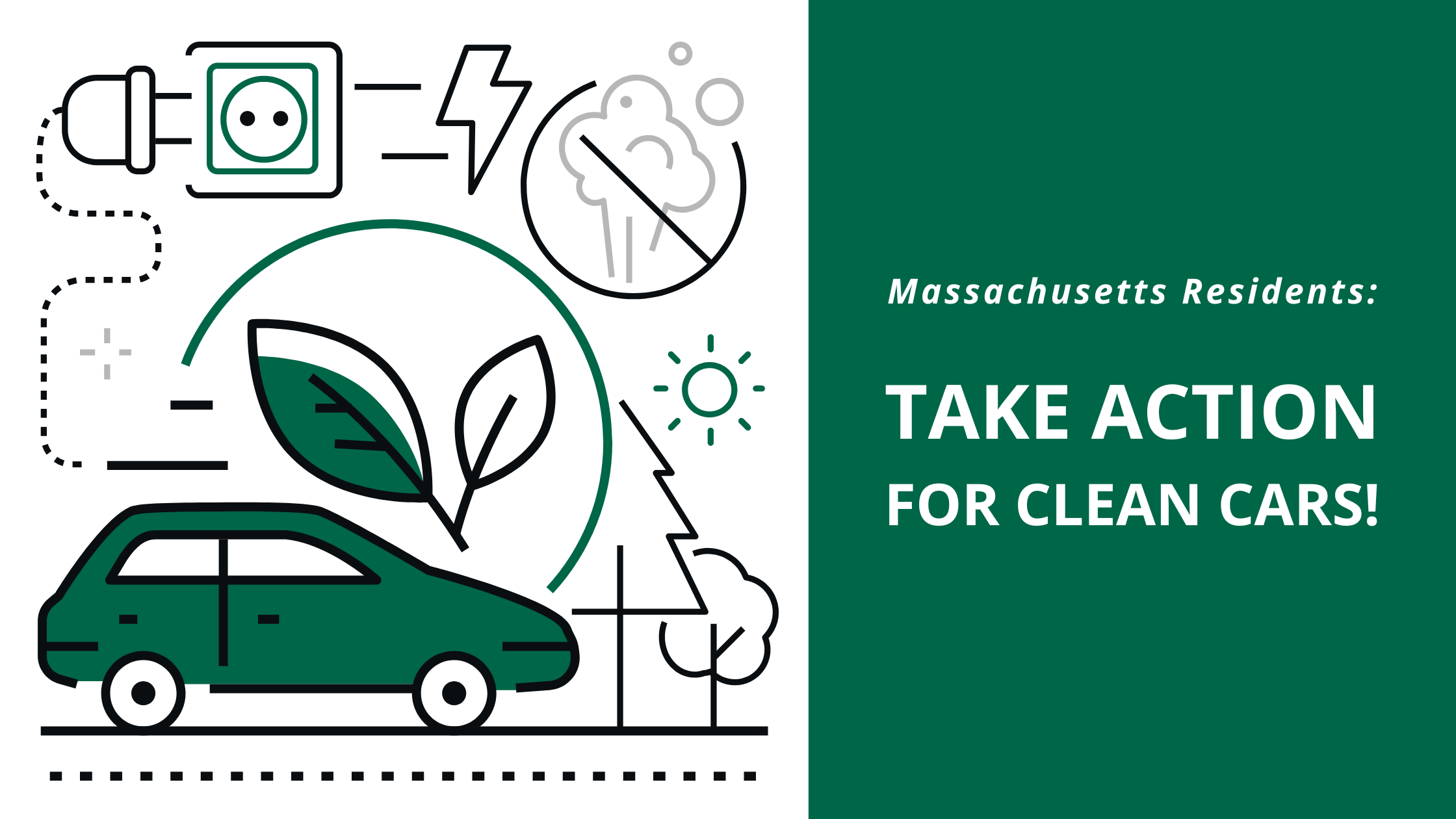 The Massachusetts Department of Environmental Protection (DEP) recently filed the regulations needed to adopt the Advanced Clean Cars II (ACCII) regulations. As we've written before, these regulations are crucial for Massachusetts to reduce greenhouse gas emissions 50% by 2030. Now, there's a chance for YOU to support these key rules, either by testifying in person before DEP on January 30 or submitting written comments by February 9. Here's all you need to know to act.
What is Advanced Clean Cars II?
The Advanced Clean Cars (ACCII) standards will clean up the fleet of vehicles on our roads with two sets of requirements. The first requires carmakers to steadily increase the percentage of vehicles they sell in Massachusetts that are electric, from 35% for model year 2026 to 100% for model year 2035, per this trajectory: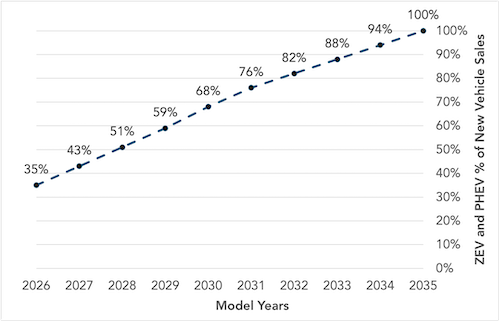 Graph Source: CARB
Secondly, ACCII will require smog-forming emissions from new gas-powered cars to decrease over the same time period. So, ACCII will both increase the sales of electric vehicles (EVs) and decrease pollution from new gas-powered cars. Transportation is the largest source of greenhouse gas emissions in the state, and we simply cannot meet our emissions reductions requirements without electrifying vehicles – and we just won't be able to electrify vehicles fast enough without ACCII!
ACCII is also a good idea from the consumer angle. (We are, after all, an alliance of consumers!) ACCII directs automakers to act (NOT car dealers or consumers) and connects Massachusetts' market with the much larger markets of California and the other states adopting ACCII. It increases choice by making sure electric models are available to Massachusetts residents. Consumers who want to buy a new gas-powered car still can until 2035 (though we think very few will want to!) and those who want to continue driving on gas after that still can – either by keeping a gas car they already own or buying a used gas car. In the meantime, requiring an increasing percentage of new electric cars through this decade and into the next will help create a robust market for used EVs – since most people who own cars at all buy used, this is huge!
In sum: adopting ACCII will reduce greenhouse gas emissions, protect public health, and offer consumers in Massachusetts more choices.
Want more details? See this blog from September for a more in-depth explanation of ACCII: No New Gas Cars After 2035?
What has MassDEP done so far?
Adopting ACCII is listed as a key strategy in the state's Clean Energy and Climate Plan for 2025 and 2030 – we've known for a while that it's on the state's to-do list, but now it's time to follow through! At the very end of 2022, the DEP filed emergency regulations to adopt ACCII. Now, they are soliciting public input at two public hearings and via written comments.
How Can I Take Action?
1) Testify at One of Two Virtual Public Hearings
MassDEP will hold two virtual public hearings on ACCII on Monday, January 30: one at 10 am and the other at 5:30 pm. Both are listed as public hearings for "Low Emission Vehicle Program 310 CMR 7.40" (that title simply refers to the ACCII standards).
To offer comments, please:
1. Register for the hearing of your choice by using the links below.
| | |
| --- | --- |
| Monday, January 30 at 10 AM | Monday, January 30 at 5:30 PM |
2. Email us at

drivegreen@greenenergyconsumers.org

so we know you'll be there! (Please don't skip this step – we want to see how many people we can turn out for this key regulation!)

3. Prepare your comments. We recommend the following script. It's best to keep your comments to about two minutes and stay succinct and to the point.
Script
Hello, and thank you for this opportunity to provide public comments before you today. My name is ____ and I am a resident of ____, MA. I am testifying in support of the Advanced Clean Cars II standards. MassDEP must adopt these regulations as quickly as possible to help the state meet the required 50% greenhouse gas emissions requirement by 2030 and better public health. By requiring manufacturers to clean up their act – both by increasing the percentage of electric vehicles they sell and reducing emissions from new gas-powered cars – adopting ACCII will offer Massachusetts residents like me more choices. Thank you for your time and consideration.
4. Show up on the Zoom day-of and testify.
2) Submit Written Comments
In addition to or instead of offering comments at a public hearing, we encourage you to submit written comments to MassDEP! The deadline for written comments is slightly different than the hearing: you must submit written comments by 5:00 PM on Thursday, February 9, 2023. We've set up a simple form for you to write in!
Thank You
Thank you, in advance, for whatever action you decide to take on ACCII. Good policy-making is a team sport and we're glad to have you on our team!
Related Posts
Unambiguous. That's the word the Massachusetts Supreme Judicial Court used in it's unanimous decision to describe...

Larry Chretien
May 17, 2016 5:19:57 PM