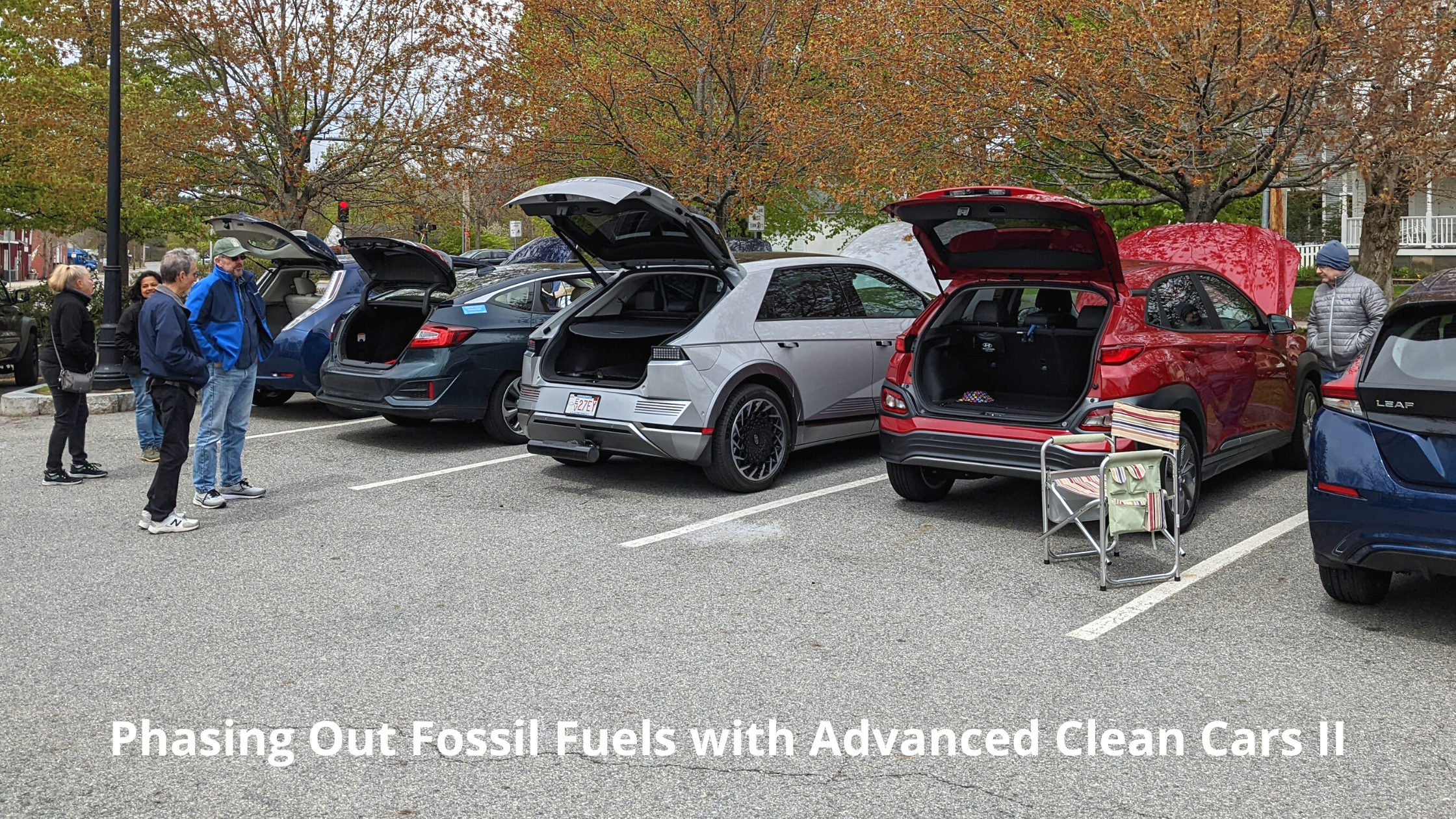 Recently, there have been lots of articles in the news about the fact that California is banning the sale of new gas-powered cars after 2035, and that Massachusetts is following suit. You might have seen this article from the New York Times on California or this one on Massachusetts from the Boston Globe. A lot of the news coverage of this development has made it seem like this announcement is something new and sudden, but actually, we've known that this policy has been in the works for a while. Here's what's going on – plus an opportunity to learn more at a public stakeholder meeting in Massachusetts.
First Up: California Executive Order & New Regulations
Way back in September 2020, California's Governor Newsom issued an Executive Order declaring that "by 2035, all new cars and passenger trucks sold in California be zero-emission vehicles," in recognition of the fact that transportation accounts for more than half of California's greenhouse gas emissions. This order set the direction for state policy but did not put in place any enforceable regulations. That work fell to the California Air Resources Board (CARB), the state agency tasked with controlling air pollution in California to protect public health and the environment, including but not limited to fighting climate change. After a lengthy process, CARB has just issued the final version of the Advanced Clean Cars II (ACCII) regulations, which will do the work of reaching a 2035 phase-out date.
CARB is a particularly powerful state agency due to the structure of our country's primary federal air quality law, the Clean Air Act. The Clean Air Act designates the Environmental Protection Agency (EPA) as the body responsible for regulating emissions from mobile sources, like cars and trucks. Because it would wreak havoc on the market if every state had its own emissions standards for vehicles, the Clean Air Act asserts that only the federal government has a right to regulate this source of emissions. In the lingo of the policy, it "pre-empts" states from regulating mobile sources.
Except for California! Back when the Clean Air Act was passed, California had terrible air quality problems and had already implemented its own regulations on mobile sources of pollution. As a result, California has the right to set stricter air quality standards than the federal government as long as it gets a waiver approved by the EPA. Other states have the option of adopting California's standards too. (If you're interested in the history of all of this, check out this resource.) Massachusetts generally adopts these standards; Rhode Island doesn't necessarily, but we think it should! More on that below.
Next: Adoption By Massachusetts
Massachusetts has already committed – multiple times, in multiple places – to adopting the ACCII standards coming out of California or otherwise phasing out the sale of new gas-powered cars by 2035.
However, of course, there is still a process the state needs to follow to formally adopt ACCII! The first step takes place next week, when the MassDEP will hold two stakeholder sessions to "to share information on its upcoming Massachusetts Advanced Clean Cars II Regulation, aimed at addressing emissions from light- and medium-duty on-road vehicles" (see this page for more info). To register, check out this notice or click the links below.
MassDEP Stakeholder Sessions on ACCII

Tuesday, September 13
9:30 AM - 11:30 AM
Register here

Wednesday, September 14
5:00 PM - 7:00 PM
Register here
How Will Advanced Clean Cars II Work?
The Advanced Clean Cars II (ACCII) standards require automakers to steadily increase the percentage of vehicles they sell that are electric from 35% for model year 2026 to 100% for model year 2035. You can see the required trajectory on this graph from CARB.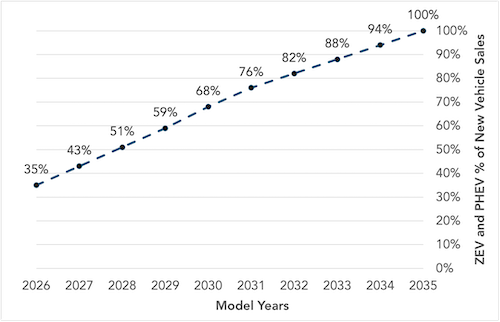 To count towards the percentage, the vehicles sold by manufacturers must have at least 200 miles of electric range and warranty 80% of the original all-electric range for 10 years or 150,000 miles (whichever comes first). Primarily, ACCII focuses on pure battery-electric vehicles, but 20% of the mandate can be met by plug-in hybrids as long as they have at least 50 miles of electric range. And across the board, there are battery labeling requirements to support recycling and reuse, requirements to allow independent repair shops to service the vehicles, and warranty requirements to create a healthy used market.
And at the same time as this zero-emission vehicle requirement increases, ACCII will require smog-forming emissions from new gas-powered cars to decrease. So, on the one hand, ACCII ramps increase electrification and on the other, it decreases emissions from those new gas cars that are still getting sold while we transition to electric. Together, these two facets of ACCII will substantially reduce the climate-warming emissions and public health impacts of the transportation sector.
We Need a 2035 Phase-Out
Date
Cars stay on the road for around fifteen years after they are purchased new. Both Massachusetts and Rhode Island have mandates to reach net-zero emissions by 2050, which means the last new gas-powered car needs to be sold before we reach 2035. Remember, MANY cars are sold used each year and the ACCII doesn't regulate used car sales; it takes a long time for the whole fleet to turn over, as illustrated in this video, which models how long it takes for the whole fleet to turn over if we start only selling new electric cars in 2030.
Luckily, manufacturers are moving towards electrification rapidly, and the newly-passed Inflation Reduction Act (IRA) is going to help accelerate that shift. The ramp-up you see above is designed to give manufacturers the time – and market certainty – that they need to adjust. With all the support for charging in the IRA, the Massachusetts climate bill that just passed, and the soon-to-be-announced utility programs, we can do this!
Take Action
If you're a Massachusetts resident, register for one of the upcoming MassDEP stakeholder sessions. We don't know if there will be an opportunity for public comment during these sessions, but if there is, our message is loud and clear: Massachusetts must adopt ACCII!
Rhode Islanders, stay tuned. Unlike Massachusetts, Rhode Island does not have a requirement on the books to adopt standards coming out of California, but gubernatorial candidates expressed support for the idea at a recent forum, so we hope to change that next legislative session!