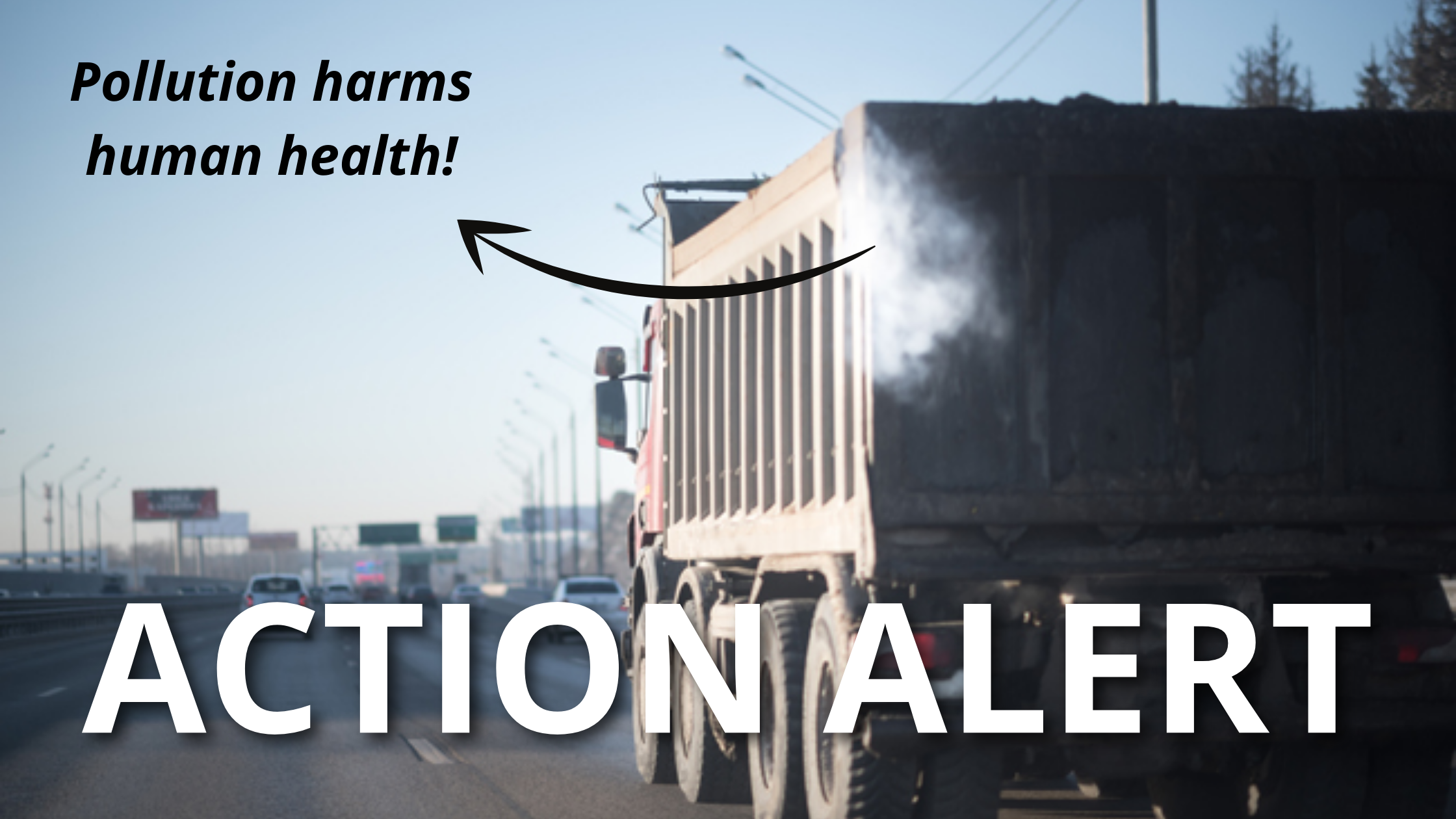 Updated March 2022 - If you're a Massachusetts or Rhode Island resident, you may have taken action in February in support of heavy-duty vehicle electrification. Medium- and heavy-duty trucks not only contribute to climate change but also release nitrogen oxides (NOx) and particulate matter (PM) which are hazardous to human health. Massachusetts is considering adopting two important regulations coming out of California that will help bring down these emissions – the Advanced Clean Trucks rule (ACT) and the Heavy-Duty Omnibus rule (HDO). (Rhode Islanders, we need you to push for the adoption of these rules too!) Here's everything you need to know to make your voice heard in either state.
How bad are trucks?
Medium- and heavy-duty vehicles (MHDVs) are some of the worst perpetrators of the pollution that harms human health. Vehicles from Class 2b to Class 8 (everything from vans to freight trucks) only make up 6% of vehicles on the road in southern New England but are responsible for 48% of nitrogen emissions and 41% of particulate matter (PM2.5) emissions. These pollutants are detrimental to human health and have been specifically linked to heart attacks, lung cancer, and exacerbation of asthma. As it stands, more than 4 in 10 Americans breathe unhealthy air, and 6.1 million children in the US suffer from asthma already.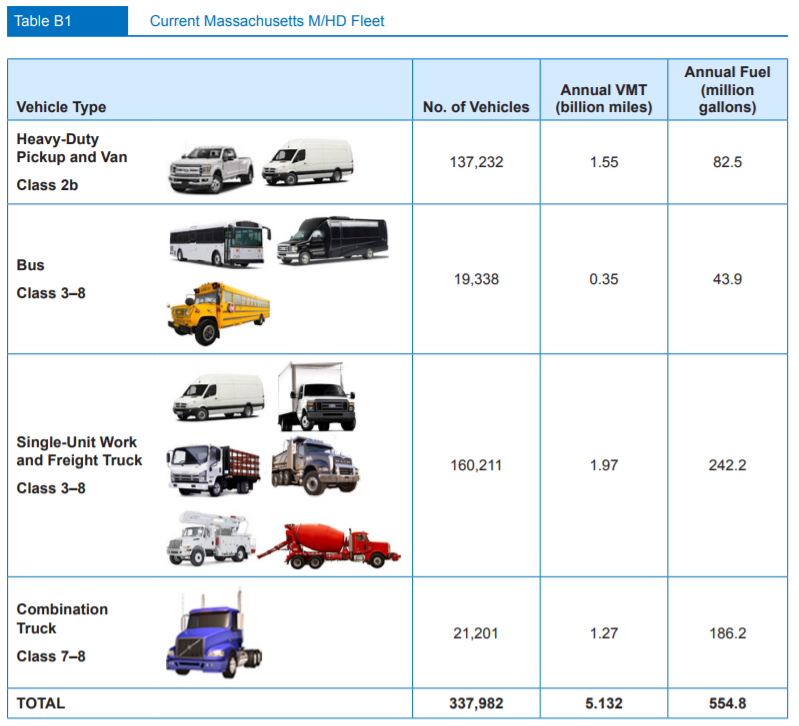 Medium & heavy-duty vehicle classes. Source: UCS.
The emissions from trucks – particularly diesel trucks – are not equally distributed. Here's a graph from the UCS showing the distribution of exposure to diesel PM emissions in Massachusetts.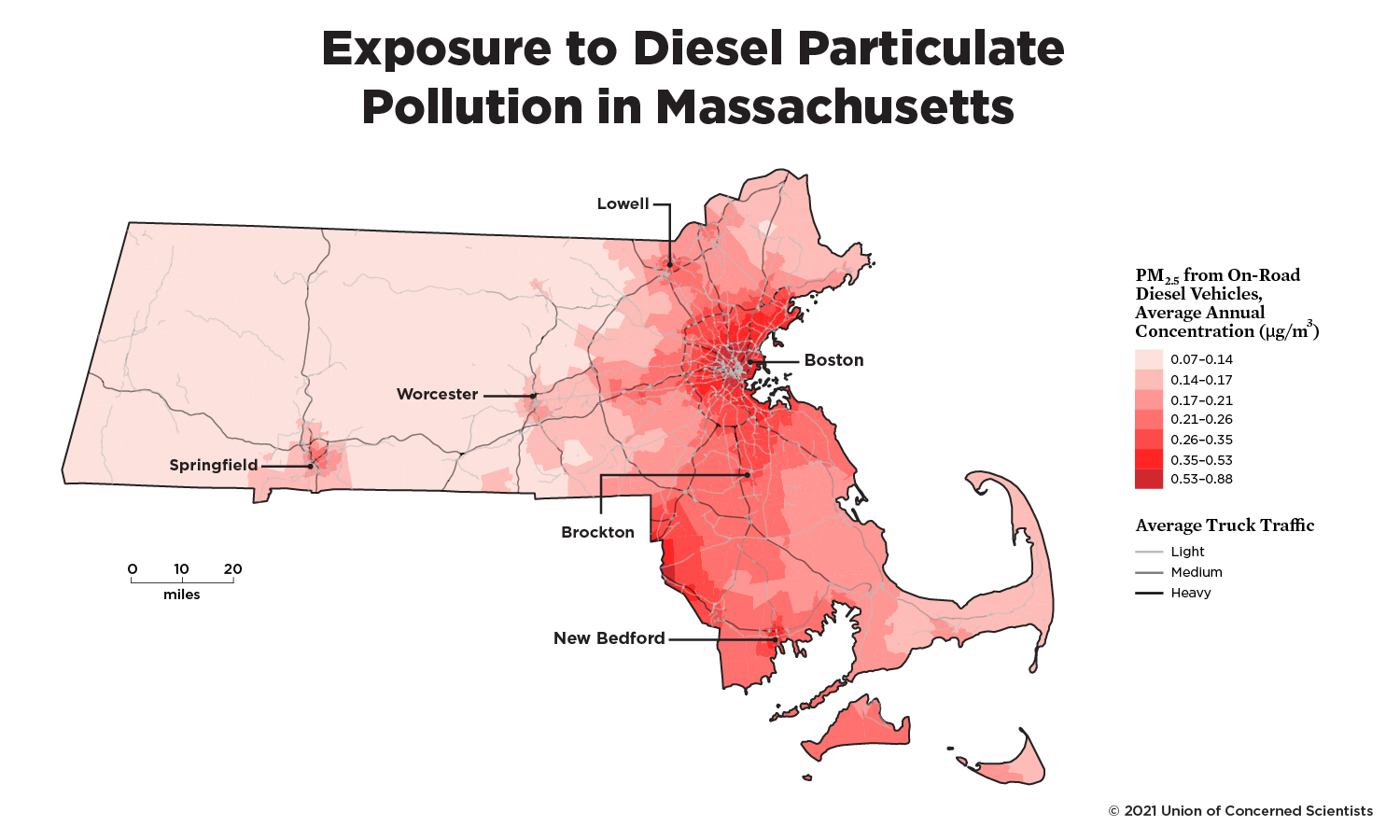 Compare that to this graph of asthma rates among adults from a 2017 study from the Massachusetts Department of Health. Note the overlapping hotspots: around Springfield, Boston, Brockton, and New Bedford.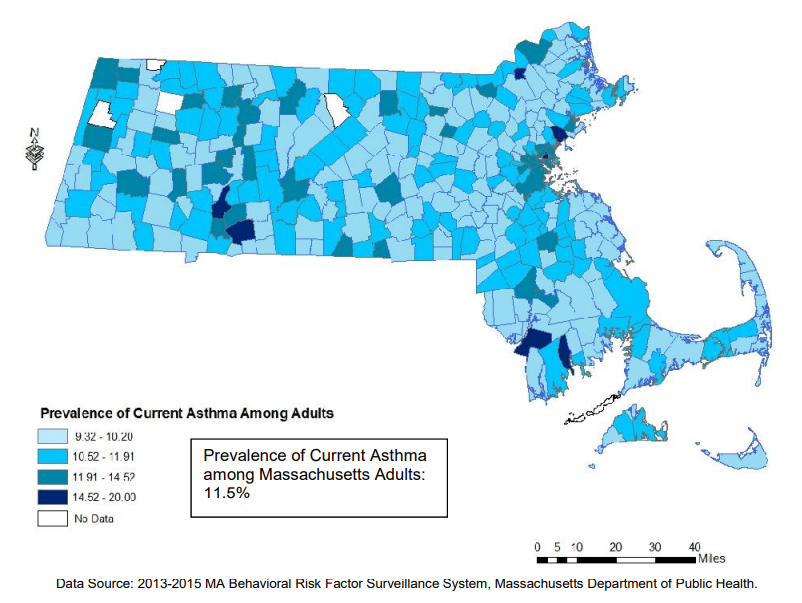 And as we've written before, this pollution does not fall equally on different racial groups. Vehicle pollution falls heavily on communities of color and low-income communities because these communities are often located near railyards, ports, warehouses, and other transportation corridors. Forty-five million Americans around the country live in these areas. The UCS found that "Asian American residents in Massachusetts are exposed to PM2.5 concentrations from on-road transportation that are, on average, 36 percent higher than the exposure of white residents. African American residents are exposed to 34 percent more vehicle pollution than are white residents, and Latino residents to 26 percent more." At Green Energy Consumers Alliance, we recognize that if we want to move toward a future with clean air for all, then we need to prioritize the electrification of MHDVs.
What can our states do? Adopt ACT & HDO!
Massachusetts and Rhode Island have the opportunity to adopt new regulations coming out of California. To reduce emissions, the California Air Resources Board (CARB) approved the Advanced Clean Truck (ACT) rule and the Low NOx Heavy Duty Omnibus (HDO) rule in June 2020. California is permitted to issue vehicle emissions standards that are stricter than federal standards because of a special waiver under the Clean Air Act. No other states have this authority on their own, but California's rulings regarding emissions and air quality can be adopted by other states. Massachusetts law requires the state to adopt California's standards; Rhode Island has no such requirement on the books.
The Advanced Clean Truck (ACT) rule has two main pieces:
ACT will require that manufacturers sell

an increasing number of zero-emission MHDVs

, vehicles greater than 8,500 pounds, from 2024 to 2035. The sales target varies according to the size of the vehicle. Specifically, by 2035, the standard will require that electric vehicles make up 55% of Class 2b to Class 3 annual sales, 75% of Class 4 to Class 8 straight truck annual sales, and 40% of truck tractor annual sales.
ACT will

require fleet owners

with 50 or more MHDVs to report on their operations and vehicle purchases.
Like the ACT rule, the Low NOx Heavy-Duty Omnibus (HDO) rule aims to substantially reduce toxic air pollutants from heavy-duty vehicles. The rule specifically targets NOx emissions, which have adverse health effects directly and indirectly through the formation of smog. While the ACT rule establishes sales targets for electrifying large fleet vehicles, the HDO rule focuses on reducing the impact of the remaining diesel vehicles greater than 10,000 pounds by strengthening the heavy-duty in-use testing program and creating certification procedures for hybrid heavy-duty vehicles. HDO is predicted to cut NOx emissions from current standards by 75% starting in 2024, and 90% by 2027.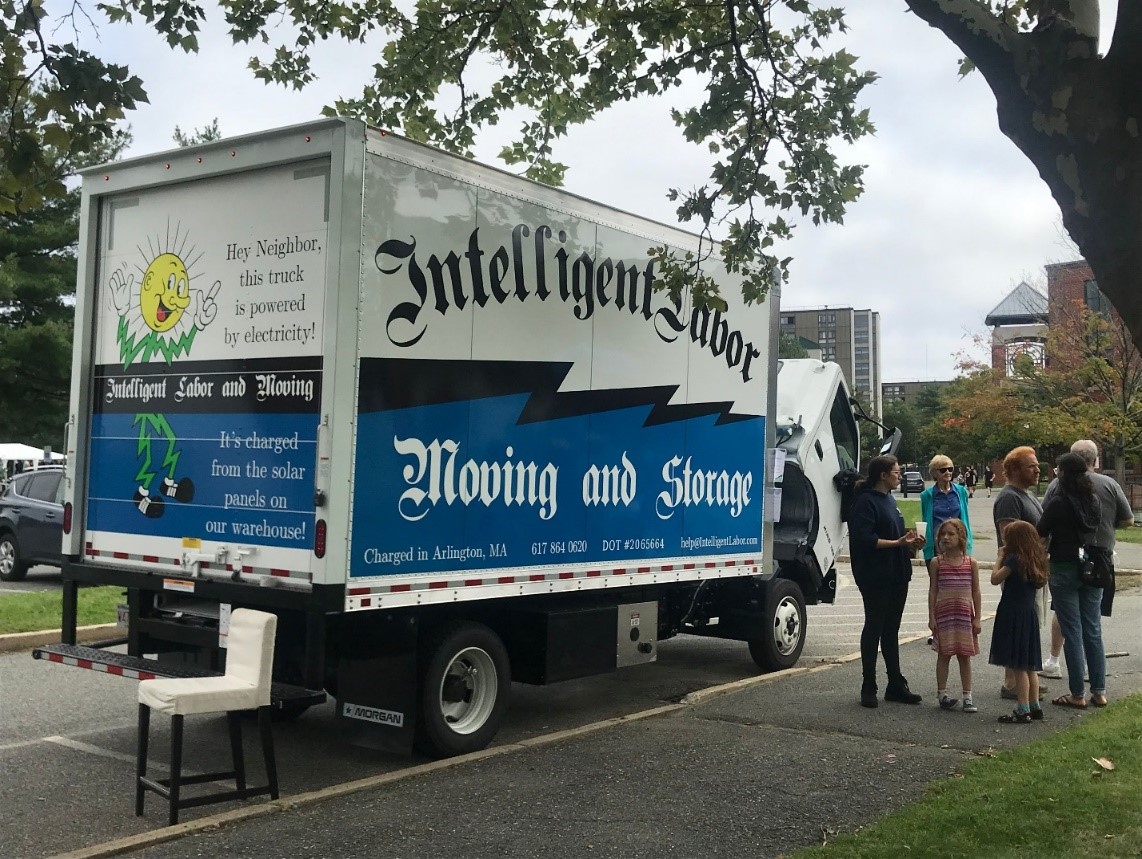 Intelligent Labor & Moving's electric box truck at our event in Medford, MA
What are the benefits of ACT & HDO?
MJ Bradley recently did a study on what benefits ACT and HDO would bring to Massachusetts, Rhode Island, and Connecticut on behalf of UCS and the Natural Resources Defense Council. Across the three states, they calculated $12.1 billion in net benefits between now and 2050.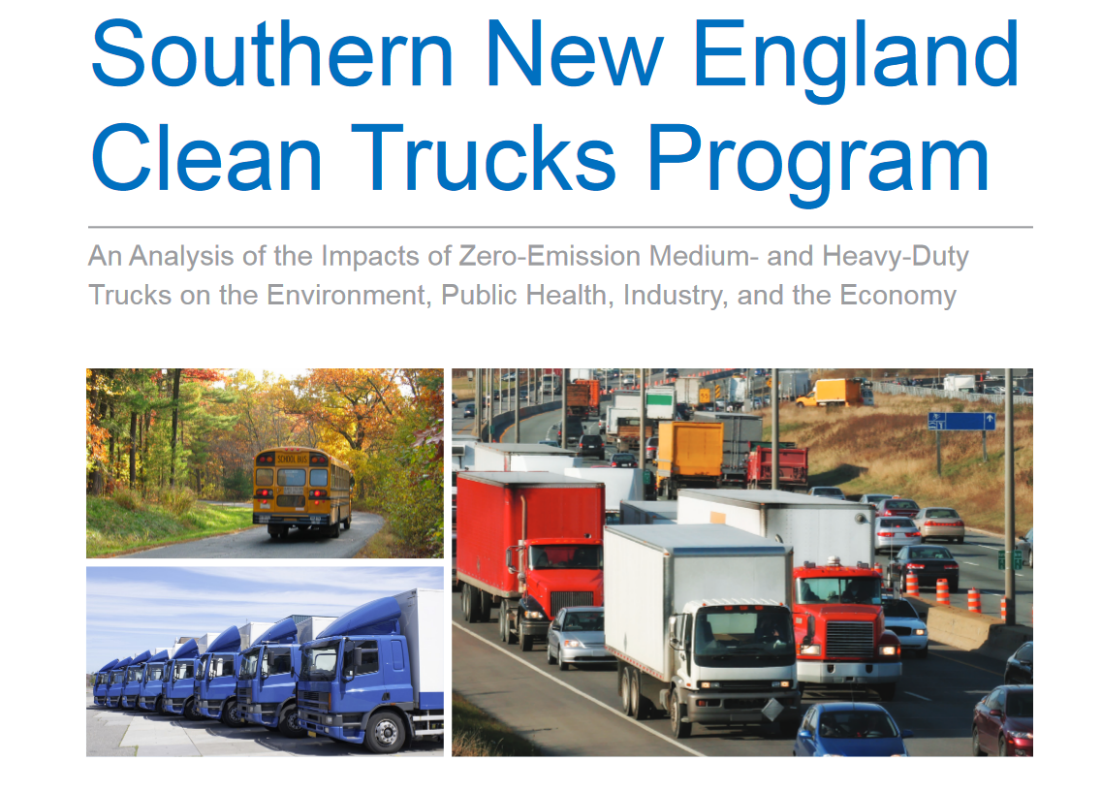 MJ Bradley's new report.
Specifically,
In Massachusetts, "the adoption of clean-truck rules and the resulting cleaner air could save at least $753 million and possibly more than $2 billion in health costs by 2050. By 2050, these rules could deliver between $800 million and $1.5 billion in benefits every year, including better public health, reduced climate risk, and consumer savings"

according to UCS

.

In Rhode Island, "the adoption of clean-truck rules and the resulting cleaner air could save at least $66 million and possibly as much as $200 million in health costs by 2050. By 2050, these rules could deliver between $110 million and $211 million in benefits every year, including better public health, reduced climate risk, and consumer savings"

according to UCS

.
Across the three states, the two regulations should avoid 153,000 respiratory-related illnesses, 270 hospital admissions and emergency room visits, and 269 premature deaths. Click here for more information on the MJ Bradley study.
Take Action!
Massachusetts
Massachusetts recently adopted the ACT and HDO via emergency regulations, which means public comment comes after adoption. There was a hearing on Tuesday, February 1 and comments were accepted through the 11th. We'll keep you posted on further actions!
These are three points for advocates:
Trucks, particularly diesel trucks, are causing huge harm to our environment, climate, and public health. These burdens disproportionately fall on low-income communities and communities of color.




Adopting ACT and HDO will address this problem by steadily cleaning up the fleet.




To meet its climate goals and protect the health of its residents, Massachusetts must join New York, New Jersey, Washington, Oregon, and California in adopting ACT and California and Oregon in adopting HDO.
Rhode Island
Rhode Island does not have a requirement like Massachusetts to adopt standards coming out of California, but the state can still opt into the advanced regulations. Pushing Rhode Island o adopt ACT and HDO will be a big focus of our advocacy work in 2022, especially now that the state's other plan to address transportation emissions (the Transportation & Climate Initiative) has collapsed. There is no public process yet announced for Rhode Islanders to voice their support for the regulations.
To urge the State to get started, we encourage you to write to Governor McKee and to the Director of the Department of Environmental Management. You can do so easily by filling out this form hosted by our friends at the American Lung Association.
Excited? We are too.
Want to learn more about electric trucks? Watch the recording of our January 18th webinar, featuring Ezekiel Wheeler from Intelligent Labor & Moving, which has the first electric box truck in Massachusetts, and Angie Gompert from Martha's Vineyard Transit Authority, which now runs sixteen electric buses!
Then, on January 19, we teamed up with our friends at the American Lung Association to host a movie screening of "Unbreathable: The Fight for Clean Air" with a discussion on how the legacy of toxic air is impacting Rhode Island. Watch Unbreathable here.