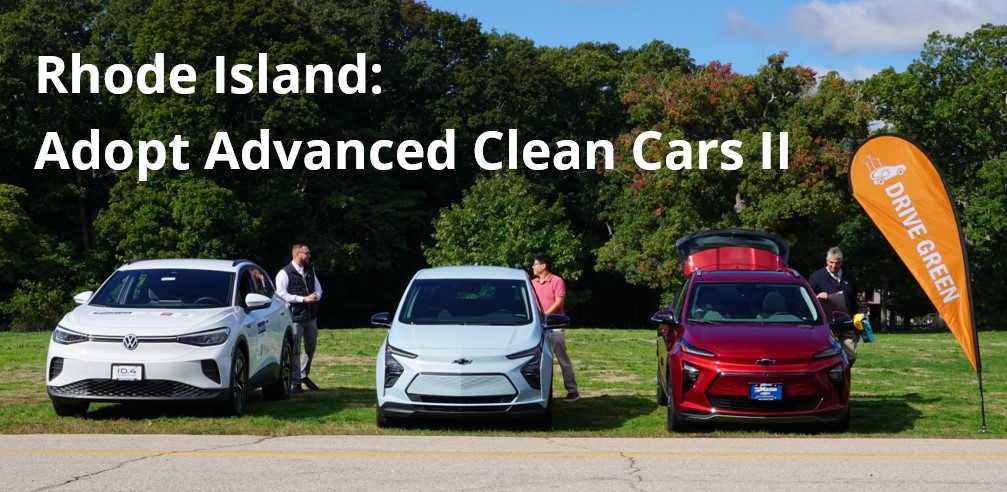 Rhode Island has led the nation in the electric sector, with the first offshore wind farm in the country off of Block Island and the groundbreaking law to reach 100% renewable electricity by 2033. Unfortunately, concerning the transportation sector, the state is lagging behind several states. This year, we are advocating for Rhode Island to adopt a key set of regulations coming out of California: the Advanced Clean Cars II (ACCII) standards.
What is ACCII?
ACCII is a set of standards that regulate what automakers are allowed to sell in states that have adopted them. Essentially, ACCII directs manufacturers to sell an increasing percentage of electric vehicles until 100% of new car sales are electric by 2035. Here is the schedule automakers will have to follow: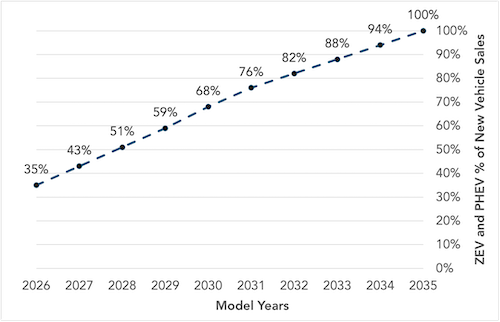 In addition, ACCII calls for a steady decrease in emissions from the new gas-powered cars manufacturers sell during this transition period. For more on the background of ACCII and how it works, read this blog.
Why does RI need ACCII?
By adopting ACCII, Rhode Island will:
Attach itself to other car markets, like those of California, Oregon, Washington, Colorado, New York, Vermont, and Massachusetts, to take advantage of their forward momentum (not to mention the

global movement

pushing automakers too!)

Make it possible for RI to meet the economy-wide greenhouse gas emissions required by the Act on Climate. Without adopting ACCII in 2023, we do not believe that it will be possible for Rhode Island to reduce its greenhouse gas emissions 45% by 2030, as required by law.

Ensure that Rhode Islanders have more

choice

by making sure manufacturers make their EV models available in the state. (ACCII places an obligation placed upon carmakers, not consumers!)

Improve public health by decreasing the number of gas-powered cars on the road and therefore the air pollution they emit.
How does RI Adopt ACCII?
Technically, the Department of Environmental Management (DEM) can and is planning to adopt ACCII regulations in 2023. However, climate advocates need to keep up the pressure to ensure follow-through. That's why we are so grateful to State Senator Alana DiMario and Representative Terri Cortvriend for planning to file legislation that would direct DEM to adopt these standards (and similar ones on clean up heavy-duty trucks) ASAP! There will be plenty of opportunities in the new year to advocate for this legislation, but for now, we encourage you to check out this recording from a recent webinar on the topic.