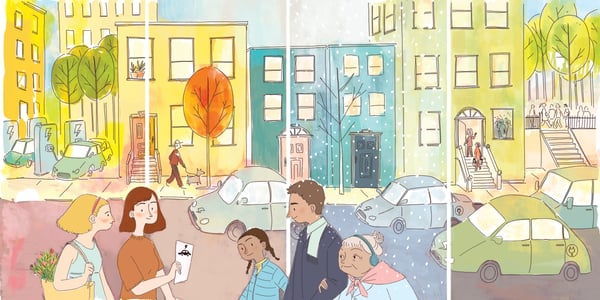 If you follow Massachusetts climate policy, you're probably not very happy with Governor Baker for his recent veto of the Climate Roadmap bill. Though we're disappointed with his decision, we're optimistic that lawmakers are ready to refile the legislation and override another veto if necessary.
Before Governor Baker vetoed the climate roadmap bill, his Administration released their ten-year Clean Energy & Climate Plan (CECP), which is open for comment through February 22. The comment period for the CECP is an excellent opportunity to set the Baker Administration on course to tackle climate emissions within multiple sectors of the economy, including buildings, electricity, and especially transportation, which is responsible for 44% of Massachusetts' emissions. You can read the whole plan here.
We're working on our formal comments on the whole plan and will share them soon. Here are our six key takeaways from the transportation section, with specific examples to help you formulate your comments.
February 12 Update: The deadline for submitting comments has been extended to March 22, 2021, but Green Energy Consumers Alliance submitted our feedback early. Read it here.
1. Set more ambitious goals.
The CECP projects a reduction in transportation emissions of 8 million metric tons of carbon dioxide, about 27% of today's transportation emissions. Vehicle electrification is Massachusetts' core strategy. According to the plan, the state needs between 750,000 and 1 million vehicles on the road, or 17% of all light-duty vehicles, to be electric by 2030. For reference, electric vehicles (EVs) make up about 30,000 vehicles on the road today.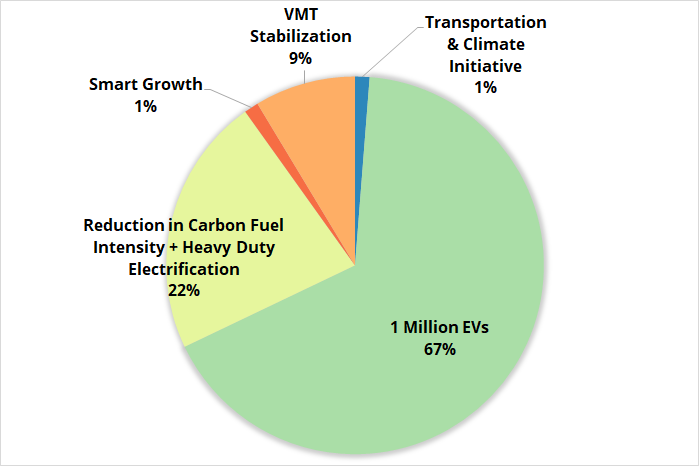 This is an ambitious goal, but there's good reason to believe it's more than achievable. To us, this means the goal of one million EVs by 2030 is about right, as long as it is accompanied by great improvements to our public transportation system.
2. Ambitious goals need details to back them up.
To get a million electric cars on the road, the CECP outlines its key strategies, including an expansion of the state purchase rebate, deploying more charging infrastructure, expanding consumer education, and adopting more ambitious clean vehicle regulations from California. These are all strategies that Green Energy Consumers Alliance has supported for years, and in fact, our Drive Green program received recognition in the CECP for our work making electric vehicles more accessible to drivers across the Commonwealth.
However, we would like to see more elaboration on the question of how exactly it will execute these strategies beyond "exploring" their feasibility.
According to the CECP, to reach one million EVs on the road by 2030, EVs will need to make up 50% of all new car sales. In 2018, EVs made up just 2.5% of new car sales. We don't yet have reliable data for 2019 or 2020, but early projections seem to show that EVs didn't do better than in 2018. Increasing EV sales by 1% or even 1.5% (about the growth we've seen in California over the last several years) won't get us to our target in 2030.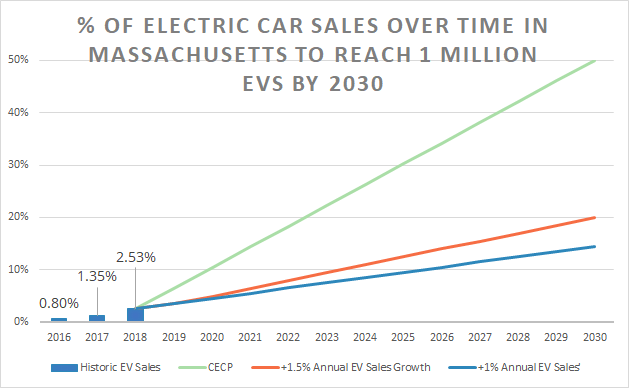 For the final draft of the CECP, we'll be calling for more specifics, especially on policies that can be implemented quickly. For example, if the state plans on directing the Department of Public Utilities to offer time-of-use rates for EV drivers, we'd like to see some concrete next steps. If they want some ideas, we have a few.
3.Pick all the low-hanging fruit and build a ladder to reach the high-hanging fruit soon. (Yes, we love a good metaphor.)
Electrifying medium-and-heavy duty vehicles (everything from delivery vans to long-haul semi-trucks) will account for about a fifth of the emissions cuts from transportation in the next decade, according to the CECP.
Though the market for medium- and heavy-duty electric vehicles is nascent, the state has already signed onto a regional agreement with the goal of making 30% of medium and heavy-duty vehicle sales electric by the end of the decade. We applaud the state for its commitment and look forward to seeing more details on this. There's no easy solution here, but we think starting with electrifying school buses and transit buses is a good first step for several reasons.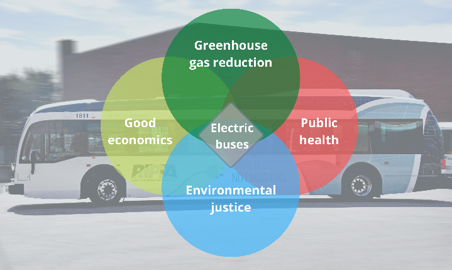 As a matter of equity, investments to electrify buses would deliver the air quality benefits of electrification to children and transit bus riders, who are more likely to be low-income people of color overburdened by air pollution.
School bus schedules include a lot of downtime, which will be forgiving as drivers and fleet operators get the hang of charging.
With a good number of diesel-guzzling school and transit buses on the road, starting here can help develop a path forward for long haul trucks, urban delivery vans, and other high-duty vehicles. Investing in electric school and transit buses will lead to market transformation, rather than a few one-off demonstration projects.
Since transit agencies are quasi-government organizations, the decision to electrify can be planned in conjunction with the state. Switching a large fleet over to electric vehicles will require long-term planning for charging infrastructure. So far, the MBTA has dragged their feet on bus electrification by arguing about the extent to which the soon-to-be renovated Quincy bus depot should be prepared for all-electric buses. With more support (and some pressure) from the state on this issue, the MBTA can make sure its infrastructure plans align with the state's electrification goals.
100% of transit and school bus purchases should be electric by 2030. In prior blogposts, we've already done our homework to figure out what the impact of this would be.
| | | |
| --- | --- | --- |
| Fleet | Number of Vehicles | Annual GHG Reduction (MT CO2e) |
| MBTA diesel | 500 | 33,750 |
| MBTA diesel hybrid | 285 | 14,108 |
| MBTA CNG | 175 | 8,570 |
| Diesel school | 9,000 | 110,190 |
The complete electrification of the Massachusetts Regional Transit Authority (RTA) fleets would cut greenhouse gases by another ~55,000 metric tons of CO2e per year in the Commonwealth. All together, the full conversion of all public transit and school bus fleets would amount to ~222,000 metric tons CO2e, or 12% of the state's 2030 cuts necessary from medium-and-heavy-duty vehicles. That seems like a good first step to us.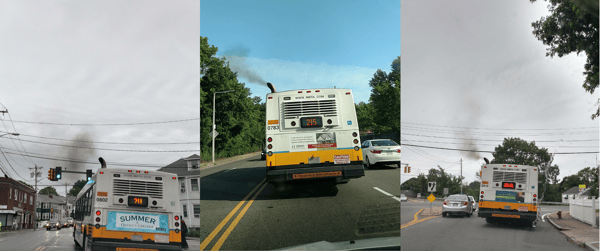 To make this happen, the state needs an "Electric Bus Czar" who would be responsible for facilitating the procurement of electric school buses and regional transit authority buses, as well as planning for charging infrastructure and making sure each transit agency has the resources and support to smoothly make the transition.
4. Don't put off until tomorrow what you can do today.
A major part of Massachusetts' strategy is to copy California by adopting their Advanced Clean Cars, Advanced Clean Trucks, and Advanced Clean Fleet rules. These policies send a signal to automakers to ramp up EV production and deliver them to states with strong EV sales quotas. We're thrilled by Massachusetts' willingness to follow California by banning the sale of new internal-combustion engine (ICE) vehicles by 2035.
However, some of these regulations (including the ICE ban) are still being written and they won't take effect until 2026. Although the advanced regulations will ensure that automakers deliver an adequate supply of ZEVs to the Commonwealth, the impact will be backloaded to the latter half of the decade. Another strategy, an idea for a "Low Carbon Fuel Standard" to reduce the carbon intensity of fuels, won't go into effect until 2026 either. Although these are great ideas, we need to increase EV adoption sooner than 2026. To avoid putting more pressure on the last couple years of the decade to overperform, we urge the state to focus on actions it can take in the next five years.
5. Take transit seriously and reduce vehicle-miles-travelled through 2030.
Massachusetts will fail to meet its 2030 emissions limit unless it rapidly replaces gas-powered cars with electric cars, and we appreciate that the CECP takes electrification so seriously. However, the plan undervalues public transit as a strategy for cutting emissions and reducing vehicles miles traveled (VMT); none of the six listed strategies explicitly addresses strengthening or expanding public transportation. Better transit reduces gas-powered car dependence in the short term while making it easier to electrify 100% of vehicles in the long-term. In other words, if we ignore transit, we shoot ourselves in the foot by making electrification a bigger, more daunting task. And of course, public transit provides a key social service, one that is most relied on by low-income residents and communities of color.
The CECP should strengthen its goals to reduce vehicle miles traveled (VMT), instead of just stabilizing vehicle travel through 2030. As it stands, the Baker Administration does not consider transit to be a reliable strategy to reduce VMT because the majority of driving miles in Massachusetts come from the Boston Metro Area, where many drivers travel relatively short distances. The justification for snubbing transit is buried within the technical appendix of the state's 2050 Decarbonization Roadmap, which says that it's hard to change driving behavior when each individual urban and suburban driver already drives so few miles. But better public transit would enable more people to get out of their cars, especially people who would benefit from the avoided cost of car ownership.
In fact, the CECP's argument conflicts with the state's own 2018 Commission on the Future of Transportation report, which recommended the Commonwealth to " "prioritize investment in public transit as the foundation for a robust, reliable, clean, and efficient transportation system" and went on to assert that "only by attracting and retaining new riders can the Commonwealth see the benefits that transit can provide for GHG reduction, congestion relief, economic growth, and community revitalization." If the CECP is willing to be ambitious about vehicle electrification, it should be ambitious about transit, too.
6. Release a plan for TCI spending and create a plan for congestion pricing.
In December, Massachusetts distinguished itself as a regional leader by becoming a founding member of the Transportation & Climate Initiative (TCI), along with Rhode Island, Connecticut, and Washington, D.C, to cap transportation emissions across the region and create a revenue source for clean transportation investments. We support TCI and applaud the administration for its efforts. The cap itself is only responsible for 1% of the state's total emissions reduction for 2030 according to the CECP, but the TCI program is vitally important, as it will fund the transition to clean transportation as outlined in the CECP.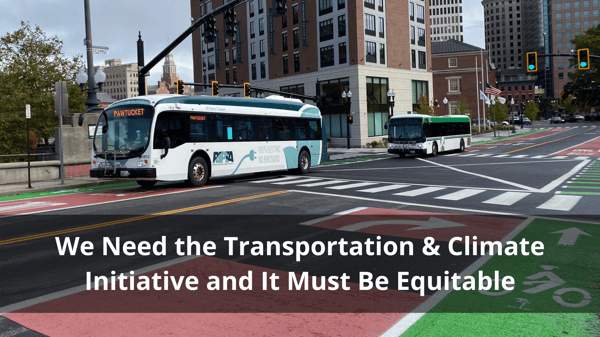 There's no shortage of worthwhile investments, but the exact spending portfolio will determine how effective and equitable TCI will be. Many advocacy organizations (including Green Energy Consumers) asked policymakers how they would ensure an equitable TCI program, and leaders from Massachusetts specifically named expanding and electrifying transit as an investment that would provide direct benefits to low-income communities and communities of color. We'd like to see the TCI spending plan that delivers on this promise.
With a million EVs on the road, gas tax revenue, which funds transit and road upkeep, would take a hit by 2030. TCI will only be around through 2032, which means the Commonwealth needs to develop a plan to make up for the lost revenue without putting EVs at a disadvantage to gas-powered cars. We think congestion pricing is a smart, fair strategy that aligns with the goals of the CECP. Congestion pricing would reduce car traffic and congestion in the Boston Metro Area, provide a consistent source of funding for commuter rail, bus, and subway service, and improve quality of life in the city.
Ready to comment on the plan?
Read the transportation section of the CECP (optional)

Enter your name, email, and town/organization.

Indicate that you'd like to comment on the "Transportation Sector" strategies.

For each strategy (T1-T6), be sure to emphasize the following points:

The plan is ambitious in its electrification goals, and that's a good thing. The state should strive to reach one million EVs on the road by 2030 while making a larger commitment to reduce vehicle-miles-traveled.

Expanding and electrifying transit should be prioritized more than the plan suggests, especially to ensure equity in the transition to c

lean transportation.

Regulations should be written

and enacted quickly,

and action should be taken to avoid backl

oading

emissions reduction

until the latter half of the decade by prioritizing actions for the next five years.