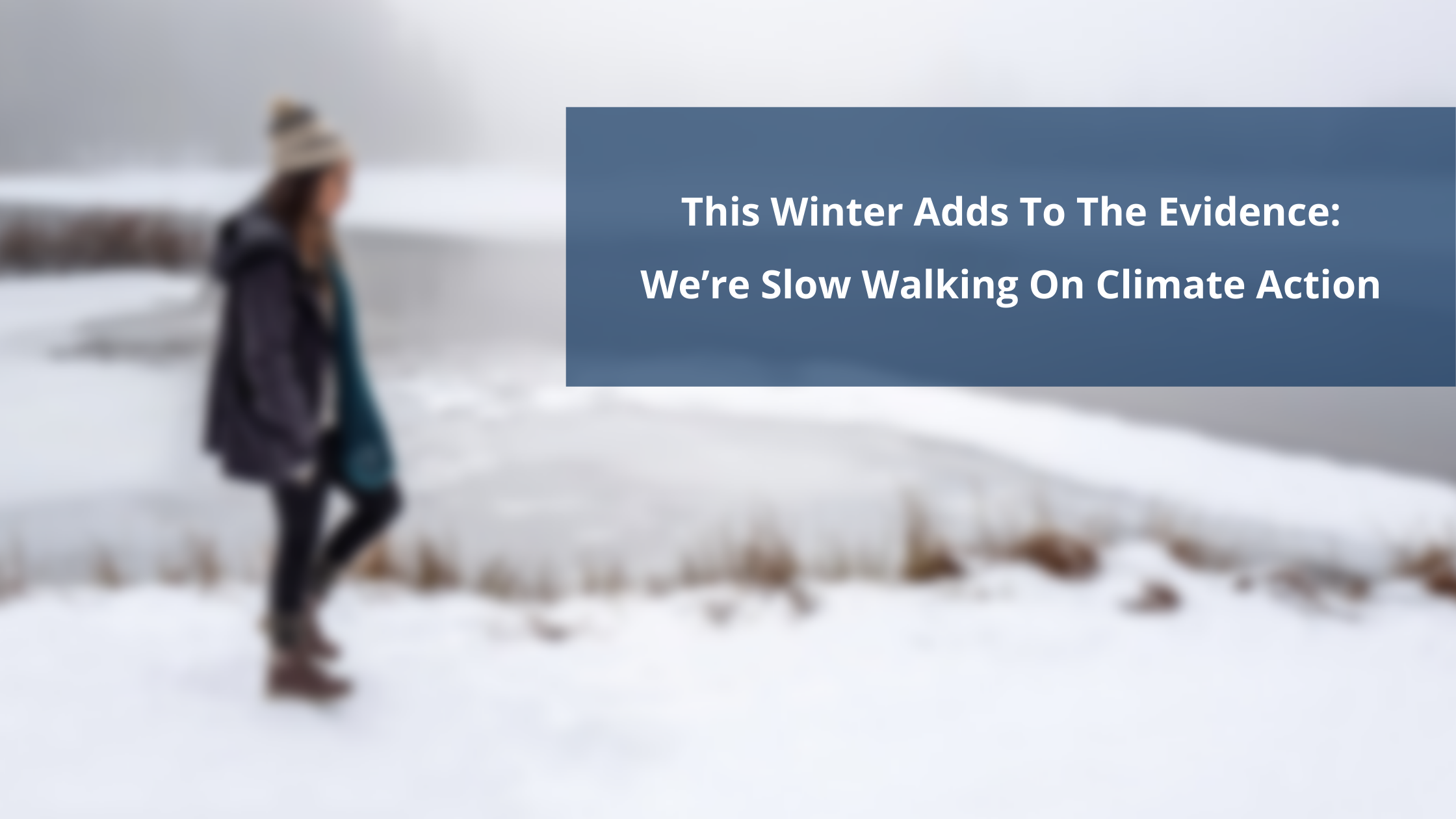 For those of us in the climate action movement, it's tiring to ask the question, "What will it take to get policymakers to see the climate crisis as something deserving big, rapid changes in how we produce and consume energy?" Evidently, it's not forest fires, melting glaciers, heat waves, or hurricanes. This winter, the climate crisis, and our fossil fuel addiction are leading to other consequences: expensive electricity and lots of oil burning. And yes, we're still not seeing nearly enough action.
Exhibit A: Oil Is Back Powering Our Grid
The organization that runs the New England power grid, ISO New England, shows us which energy sources are being used at any given moment. For the last few weeks, the six New England states have been burning an extraordinary amount of oil at very high prices. As this is being written, over 20% of the region's power is coming from oil (if you want to see what's powering our electric grid, click here). This quantity of oil might shock those of us who thought our grid was pretty much free from dirty petroleum and relied mostly on natural gas, nuclear, and renewables. After all, throughout 2021, just 0.5% of the region's mix came from oil.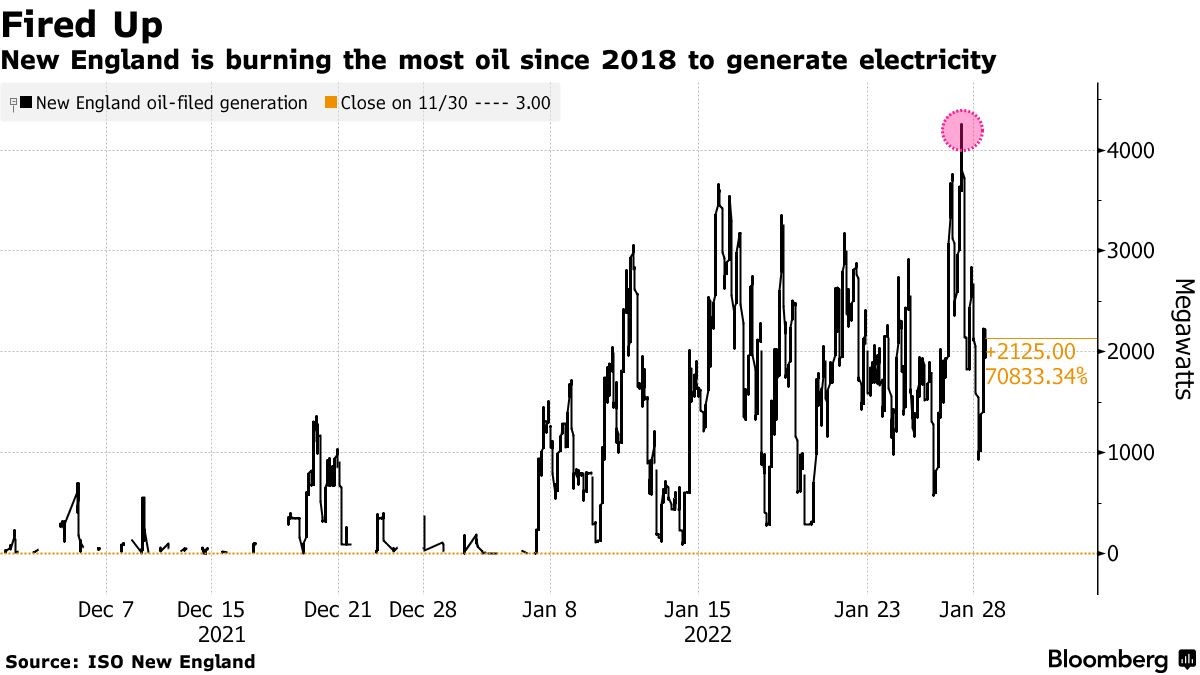 What is making 2022 so different? Worldwide, the price of natural gas (aka methane) has skyrocketed. Power plants that used to default to cheaper gas are now burning oil instead because switching to oil increases their profits in the face of higher gas prices. The world's addiction to gas, and New England's addiction to fossil fuels, is causing us to burn oil again.
Consequences
This is easy. We're paying a lot for power that makes us sick and that makes the planet hotter. Some of the six New England states have great laws with requirements to reduce emissions by 2030-2050. And they have plans to achieve those requirements, all of which rely on declining emissions in the power sector. If 2022 keeps going as it is with oil in the mix, we're taking a big step backward.
Canal Power Plant, Sandwich, Massachusetts
Recent Failures That Got Us To This Point
There are certainly relevant items that could be added, but here's just one list of particulars:
We still don't have any offshore wind

operating

other than the small Block Island Wind Farm. Yes, there are several projects in development. But we need to pick up the pace. Offshore wind produces lots of power during the winter months, which we greatly need right now. If we had more offshore wind online right now, we would be paying less and getting clean energy. As a counterpoint, the United Kingdom

has

done the work to bring offshore wind online. This January, they enjoyed record wind production--

over 13,000 megawatts-

-most of which came from offshore

.
Here you can see the resources used and the resulting carbon intensity of the power consumed in Great Britain on January 29, 2022. Wind produced more than half the electricity: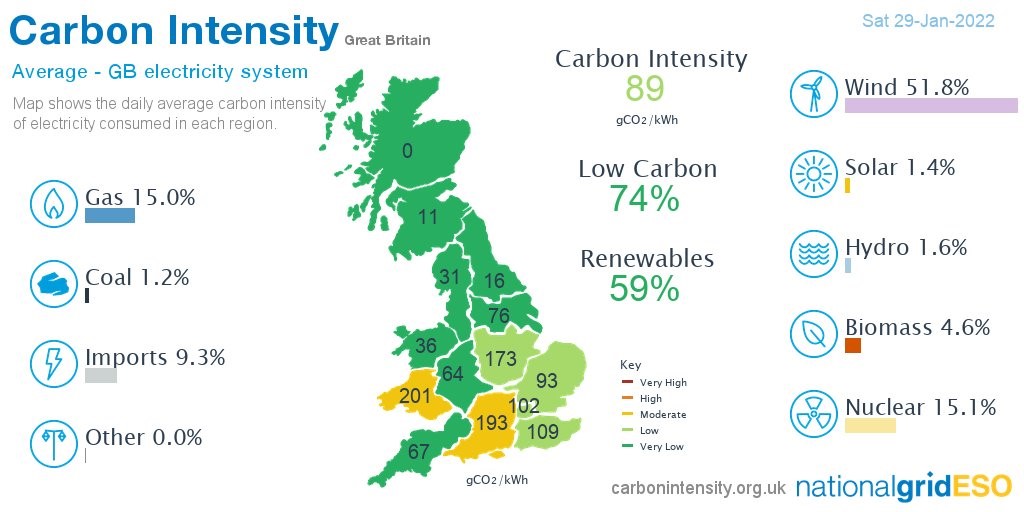 Maine voters have put in jeopardy a project that would bring Canadian hydro to Massachusetts, enough to meet 20% of the Bay State's consumption. New Hampshire has also blocked a transmission line from Canada to southern New England.
Speaking of the Granite State, the

New Hampshire

Public Utilities Commission is cutting back on energy efficiency programs. This might be advertised as a cost-saving measure, but that argument is false. Consumers in New Hampshire will pay more on oil and gas, and electricity fueled by them both.
None of the six New England states have renewable energy standards commensurate with what we need to reduce greenhouse gas emissions

50% by 2030 or reach net-zero by 2050

. Vermont might be the exception, but some will say it's overly dependent upon

Canadian hydro

.
The states are dabbling, but not moving fast enough

,

on storage and other forms of demand response. When the real-time

wholesale electricity market rises to the incredible rate of a dollar or two per kilowatt-hour, we could be deploying

stored

clean resources to meet the peak

or paying to delay electr

ic

load to a time when prices decrease

rather than saying, "More oil please!"
We still have buildings that are not adequately weatherized. Even in Massachusetts, which has one of the nation's best efficiency programs,

many

consumers have not benefitted from the Mass Save program, especially those

with modest

incomes, who rent, and for whom English is not their primary language. That's inequitable and it creates lost opportunities for greenhouse gas emission.

Are Mass Save and programs like it up to the task

? Or do we need

stronger medicine?
All the while, it's getting more difficult for wind and solar developers to site large projects on land in all six states

.

There are some valid reasons for these

siting difficulties

, but this brings us back to the issues of offshore wind, hydro, storage, and demand response

.

If we don't want to see the turbines and solar arrays on land, we need to go all out on offshore wind, rooftop solar, and other measures.
We Need Action On Transportation & Buildings, Too
In addition to moving too slowly on cleaning up the electricity grid, we can also say with sad confidence that we're lagging in other areas.
Recent reports indicate the methane emissions from

natural gas infrastructure

in eastern Massachusetts are six times more than state estimates, which is just a part of the huge challenge that is building decarbonization. And it's not just a problem for Greater Boston

.

Buildings now are responsible for more emissions than the electricity sector. (This January could be an exception.)
And to top it all off, none of our six New England states are committed to participating in a regional effort to reduce emissions from the

transportation sector

. Governor Baker of Massachusetts and Governor McKee of Rhode Island pulled out after Governor Lamont of Connecticut withdrew his support. We're hearing crickets from Maine, Vermont, and New Hampshire

.

The governors and some legislators were scared off at the prospect of gasoline prices rising a nickel to pay for clean transportation projects all over the region

.

Meanwhile, in the last year, oil producers have raised gasoline prices a buck while we let

public transit

fall apart.
When you put it all together, it seems that Greta Thunberg has it right. What we're getting from people in authority, even in our bluest of regions, is just "Blah, blah, blah."
As tempting as it is to lay all the blame on the politicians, we have to acknowledge that while public opinion polls show really strong support for climate action writ large, enthusiasm sometimes breaks down when it comes to siting projects and pricing carbon. This is why we need to "overbook" and put enough emission-reducing policies and projects on the table to compensate for the possibility that some will fail.
Finally, as we contemplate our guzzling of petroleum in power plants and SUVs, watch this footage about a disgusting oil spill in Ecuador.
🆘URGENT! New oil spill in Ecuador on the banks of the Coca river, in what appears to be a new rupture of the @OCPEcuador pipeline. Over 27,000 Kichwa living downriver still suffereing impacts of massive April 2020 oil spill. Government & courts did nothing. This is the result. pic.twitter.com/eTgwtO4kvv

— AFrontlines (@AFrontlines) January 29, 2022