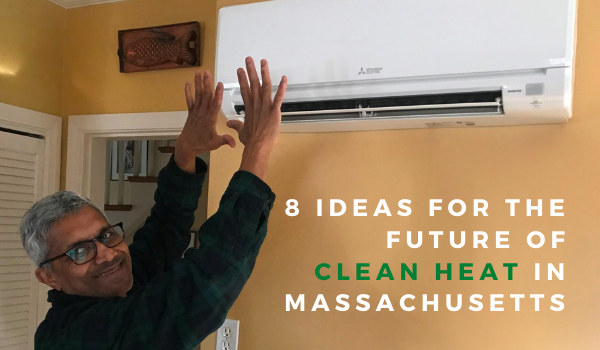 As the Boston Globe recently reported, the Baker administration has appointed a "Clean Heat Commission" (CHC) charged with making recommendations to reduce greenhouse gas emissions (GHG) from the building sector. To the appointees, we humbly ask that you consider this open letter.
Background
Last year, the Baker administration established the CHC in its draft Clean Energy and Climate Plan. The CHC was created to figure out how to achieve 9.4 million metric tons of GHG reductions from the building sector by 2030, as part of reaching 45% emissions reductions economy-wide. But the 2021 Climate Roadmap bill upped the ante to 50% emissions reductions by 2030, and so we think the CHC should increase the target to at least 10 million metric tons of GHG emissions reductions. Emissions reductions from the building sector are even more important given that the Baker administration has decided to withdraw from Transportation & Climate Initiative, which accounted for a big part of the reductions assumed in the CECP.
Dear members of the CHC,
The object of the game here is clear: reducing building emissions in line with the CECP so that the state meets its statutorily-obligated emissions reductions by 2030. For you, that means that if the ultimate recommendations reached by the CHC are clearly sufficient to achieve the necessary emissions reductions, you should vote for it. If you think it would fall short, you should dissent.
As you deliberate, we request you keep these eight points in mind:
1. Time is Not Your Friend: The CHC will make recommendations by November 2022. An inconvenient truth is that whatever programs and policies the CHC recommends have to get the job done in just eight years. The regulations you recommend this fall must be strong and quick-acting.
2. Specify Funding Sources, but Don't Raise the Electric Rate: The transition to clean heat will require hefty investments. Your recommendations should clearly identify funding sources. The recommendations will be useless if they say, "We need to find other sources of money."
Funding can come from many places: carbon pricing mechanisms, the federal government, bonds, the general fund, and more. But one place the funding should not come from is increases to electric rates. Our electric rates are already among the highest rates in the country. Raising them would put a strong headwind on the adoption of heat pumps and electric vehicles (EVs) by increasing their operating costs and thereby decreasing their competitiveness with fossil-fueled counterparts – and both heat pumps and EVs are necessary to meet our 2030 target.
One promising source of funding is the Housing and Environmental Revenue Opportunities Act, (HERO Act) which would double the deed transfer tax and raise about $300 million per year for affordable housing and climate action. This is the type of specific but creative funding solution that could help get us to our ambitious building decarbonization goals.
3. Don't Let Municipal Utilities Off the Hook: Customers of the investor-owned utilities – National Grid, Eversource, and Unitil – are carrying almost all of the burden of carbon abatement in Massachusetts. The state's forty-one municipal utilities have successfully lobbied for exemptions from the Renewable Energy Standard (in any meaningful way), Mass Save requirements, and contributions to the Renewable Energy Trust Fund. Your recommendations should ensure that municipal utilities and their customers pay their fair share into our common public responsibility to act on climate. If your charter includes ensuring that the plan is equitable, start by pulling the municipalities into the battle. The executive branch has the authority.
4. Work the Supply Side on Heat Pumps: The 2022-2024 Three-Year Plan that Mass Save is about to implement is building decarbonization on training wheels. The number of heat pumps that it will incentivize is quite small relative to the draft CECP's target of one million by 2030. So, face up to some facts about heat pumps. They are both absolutely necessary to reduce emissions in the building sector and they cost a lot of money to buy and install. Because of that high cost, we cannot tolerate installations that fail to achieve positive results in terms of customer satisfaction and actual GHG reductions. Furthermore, are you going to be able to find the money to give every one of the one million homes referenced a $10,000 heat pump rebate? Do the math: That's $10 billion, or more than $1 billion per year because we'll be way behind by the end of 2024.
What this means is that you should review the Three-Year Plan and make sure that it's on the right track with respect to market transformation. Will the Three-Year Plan train enough new workers well? Will it hold installers accountable for quality? Will it have a strong up-stream component that would bring the cost of equipment and installations down over time? Will it reduce soft costs – things like consumer education, marketing, and local permitting? A few million well-placed dollars on shifting the supply curve will save many times that on demand-side incentives.

5. Boston Has Set Building Emission Standards – Make that Statewide:
Mass Save has been a success, but the 2022-2024 Three-Year Plan is "Peak Mass Save." We've hit the upper limit on what a surcharge on electricity rates can achieve through the carrot of consumer rebates for heat pumps. You should quickly rule out the notion that the 2025-2027 plan for Mass Save would have a huge increase in the efficiency surcharge in order to pay for the 300,000 heat pumps we will need to install in that time period.
Another factor limiting Mass Save's effectiveness is that old "landlord/tenant split incentive." Dangle a big incentive in front of someone who anticipates paying the heating bill for many years and you get one result. Dangle the same incentive in front of a landlord, residential or commercial, who does not pay the heating (or cooling) bill and you will get a fraction to participate. And as you know, a lot of property is occupied by renters in the Commonwealth.
This brings us to why the Commonwealth needs to establish building emissions standards in a manner very much like the new ordinance in effect in Boston (Boston Emission Reduction and Disclosure Ordinance, or BERDO). There are several reasons to generally follow Boston's lead:
BERDO requires existing buildings to disclose and reduce emissions annually.

It applies to buildings whether they are owner-occupied or rented.

It currently exempts small buildings (less than 20,000 square feet or 15 residential units), which collectively represent a small percentage of overall emissions in the building sector. At some point, the exemption might have to be lifted in order to reach the 2030 target

.

Because it applies to all but the smallest buildings, it's progressive – requiring investment by those who can generally most afford it.
Why not just require new buildings to be low- or zero-emission? Aggressive stretch codes are excellent and necessary because anything constructed in 2022 could last a hundred years and the economics of high-efficiency new construction are good. However, the lion's share of square feet in 2030 or 2050 will be in existing buildings. Reaching our 2030 target will require touching existing buildings in significant ways.
6. Give a Heating Fuel Emissions Cap Serious Consideration
: The draft CECP talked about a potential system for GHG caps on emissions from gas, oil, and propane that would decline over time. Presumably, this would involve some form of carbon pricing, which would affect all buildings using fossil fuels, and generate revenue. Such a policy could be implemented equitably, but ensuring that would require intention from the start. If funding from Washington or from something like the HERO bill fails to materialize, it just makes sense to assess a charge on the sources causing the problem we're all trying to solve. What would make a Heating Fuel Emissions Cap (HFEC) program progressive or regressive is not just about how it's funded, but how the money is spent. Proceeds from a HFEC should be directed towards those who need help paying their heating bills, insulating their homes, and/or converting to heat pumps.
7. Ask Uncle Sam for a Loan: The US Department of Energy has a Loans Program Office that is committed to providing capital for the transition to clean energy. Does Massachusetts have a plan to apply? By coincidence, here's a recent tweet from Jigar Shah, director of the Loans Program Office.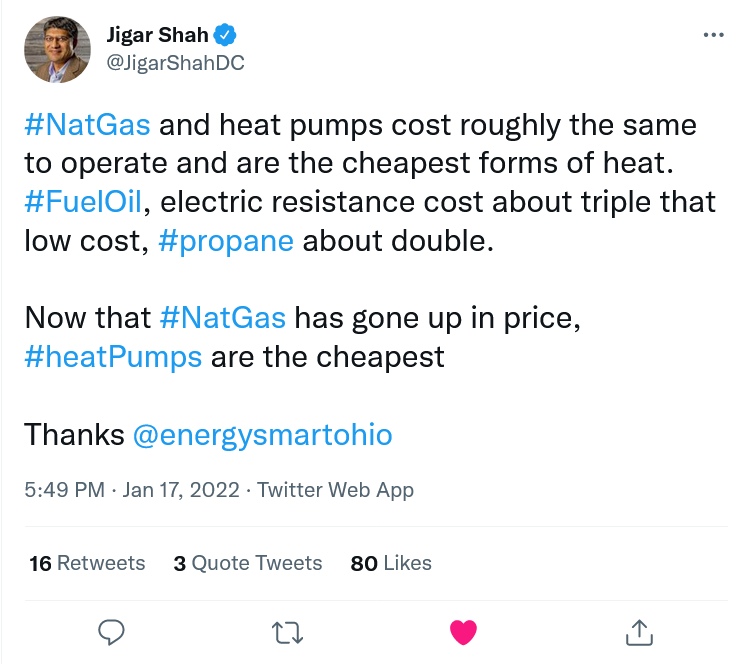 8. Finally, Consider the Future of the Gas Utility: There's a docket at the Department of Public Utilities on the future of the gas utility. For now, I'll just toss out one idea – if we are successful at shifting homes and businesses to heat pumps, there will be stranded assets in the form of gas infrastructure. If we ignore that inevitability, the last people hooked up to gas will have to pay an increasing bill to cover fixed costs. We should all start paying now for decommissioning the gas infrastructure, gradually over time. And – please don't put the decommissioning charge onto the electric rate!
Thanks for your time and attention.