New Incentive for Electric Trucks in Massachusetts
The Massachusetts Department of Energy Resources (DOER) recently announced that the popular rebate program for electric vehicles, MOR-EV, will now offer incentives for medium- and heavy-duty electric trucks too. This is great news for the climate and public health in Massachusetts.
A Review of MOR-EV
MOR-EV ("Massachusetts Offers Rebates for Electric Vehicles") is the state rebate program for electric vehicles (EVs). Housed under DOER and funded by proceeds from Regional Greenhouse Gas Initiative (RGGI) auctions, MOR-EV has been driving EV adoption in Massachusetts since 2014. So far, the program has issued over 18,000 rebates to Massachusetts residents making the switch to electric cars. Currently, the MOR-EV program offers rebates of $2,500 for all-electric vehicles with a final sales price under $50,000 and a $1,500 rebate for plug-in hybrids with at least 25 miles of electric range and under $50,000.
Recently, thanks to the advocacy work of organizations like Green Energy Consumers, the MOR-EV program has undergone some changes to make it accessible to more people. In June 2020, the rebate was extended to commercial fleet owners. Since many fleet vehicles drive more miles per day than personally-owned cars, which spend most of the day parked at home or at work, this move opened the rebate program to some of the highest-mileage (and therefore most-polluting) vehicles on the road. Back in June, we applauded this change but continued to urge DOER to further expand the program: including making the rebate point-of-sale, extending it to cover used vehicles, and expanding it to cover medium- and heavy-duty vehicles. On the last point, we have now seen some progress!
MOR-EV Truck
As of February 16, 2021, MOR-EV now offers rebates for the purchase or lease of electric medium- and heavy-duty vehicles for both public and private vehicle operators. This effort is funded with $10 million. Here are the key details:
Vehicle Class: MOR-EV Truck applies to Class 2.b - 8 vehicles. In other words, vehicles that have a gross vehicle weight rating (GVWR) of over 8,500 pounds. (Everything under that weight class is covered by the exiting MOR-EV program.) The incentive starts at $7,500 for Class 2.b (think step vans, utility vans, full-size pickups) and increases with weight until Class 8 (think dump trucks, cement trucks), which qualify for $90,000.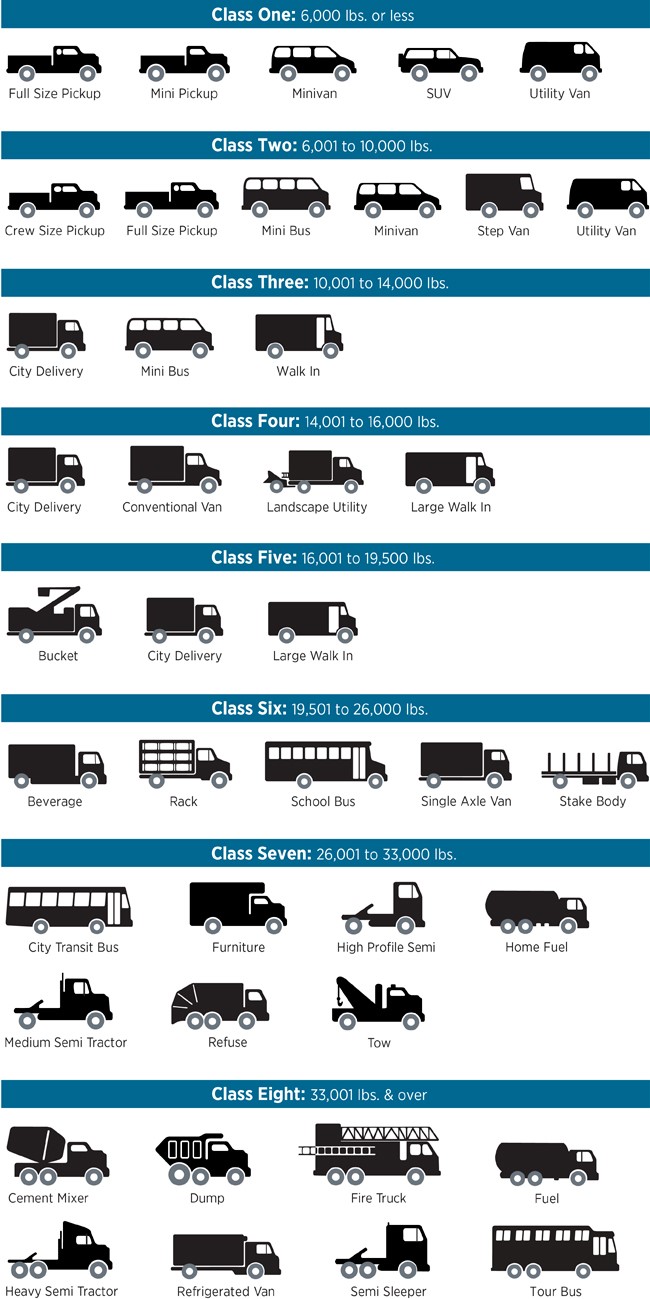 Vehicle Classes. (Source: AFDC)

Block Structure: Within each class, once a certain number of rebates or vouchers have been used up, the incentive declines by 15%. This structure encourages vehicle operators to act sooner rather than later. Individual entities can only reserve 10% of any block, which is great, because it prevents a large company from soaking up all the available incentive dollars before smaller operators can engage.

Vouchers: Since some medium- and heavy-duty vehicles are not as readily available as passenger EVs, vehicles over 14,000 pounds can apply for a voucher instead. This voucher allows them to reserve a rebate until they take possession of the vehicle (which must be within nine or twelve months, depending on the vehicle class.)

Environmental Justice: Vehicle drivers who are registered (or can demonstrate that they operate more than half the time) in communities that meet the state's Environmental Justice (EJ) Income Criteria are eligible for a rebate that is 10% higher than the current block value. This "adder" comes in recognition of the fact that EJ communities suffer disproportionately from air pollution and its public health impacts, and that medium- and heavy-duty vehicles are the worst offenders when it comes to local air pollution. We will be watching to see if this well-intended provision accomplishes its goal.
For more information, visit the MOR-EV page on Mass.gov.
Trucks Are a Danger to Public Health
We talk a *lot* about electrifying transportation at Green Energy Consumers Alliance because we cannot meet our greenhouse gas emissions targets without doing so. (This strategy is, of course, in addition to increasing walking, biking, and shared transportation, particularly public transit.) Since we are an alliance of consumers, our Drive Green program focuses on passenger cars, but we advocate for the electrification of larger vehicles every chance we get as well – particularly because of their outsized impact on public health.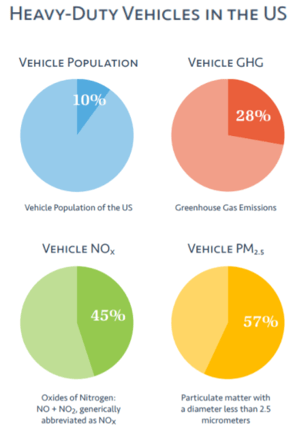 This graphic, created by the Moving Forward Network with data from the Union of Concerned Scientists, tells the story well. Heavy-duty vehicles (everything from a heavy-duty pickup truck, up) make up only 10% of the vehicles on the road in the United States but create 28% of vehicle greenhouse gas emissions, which is already an outsized impact. But that 10% of vehicles is even more responsible for the pollutants that harm human health; heavy-duty vehicles produce 45% of vehicle nitrogen oxide emissions (NOx) and 57% of primary particulate matter emissions (PM2.5). This air pollution impacts not just our lungs, but every organ in the body and results in illness and death.
Communities of Color Bear the Brunt of Air Pollution
Research from the Union of Concerned Scientists (UCS) demonstrates that, nationally, transportation-related air pollution disproportionately impacts communities of color: Asian, African American, and Latinx or Hispanic people in the US are, on average, subject to PM2.5 levels from transportation that are 20-34% higher than the national average, while White people, on average, breathe air that has 14% lower PM2.5 levels than the national average. (The same UCS study finds that, nationally, income does not correlate with exposure to PM2.5.)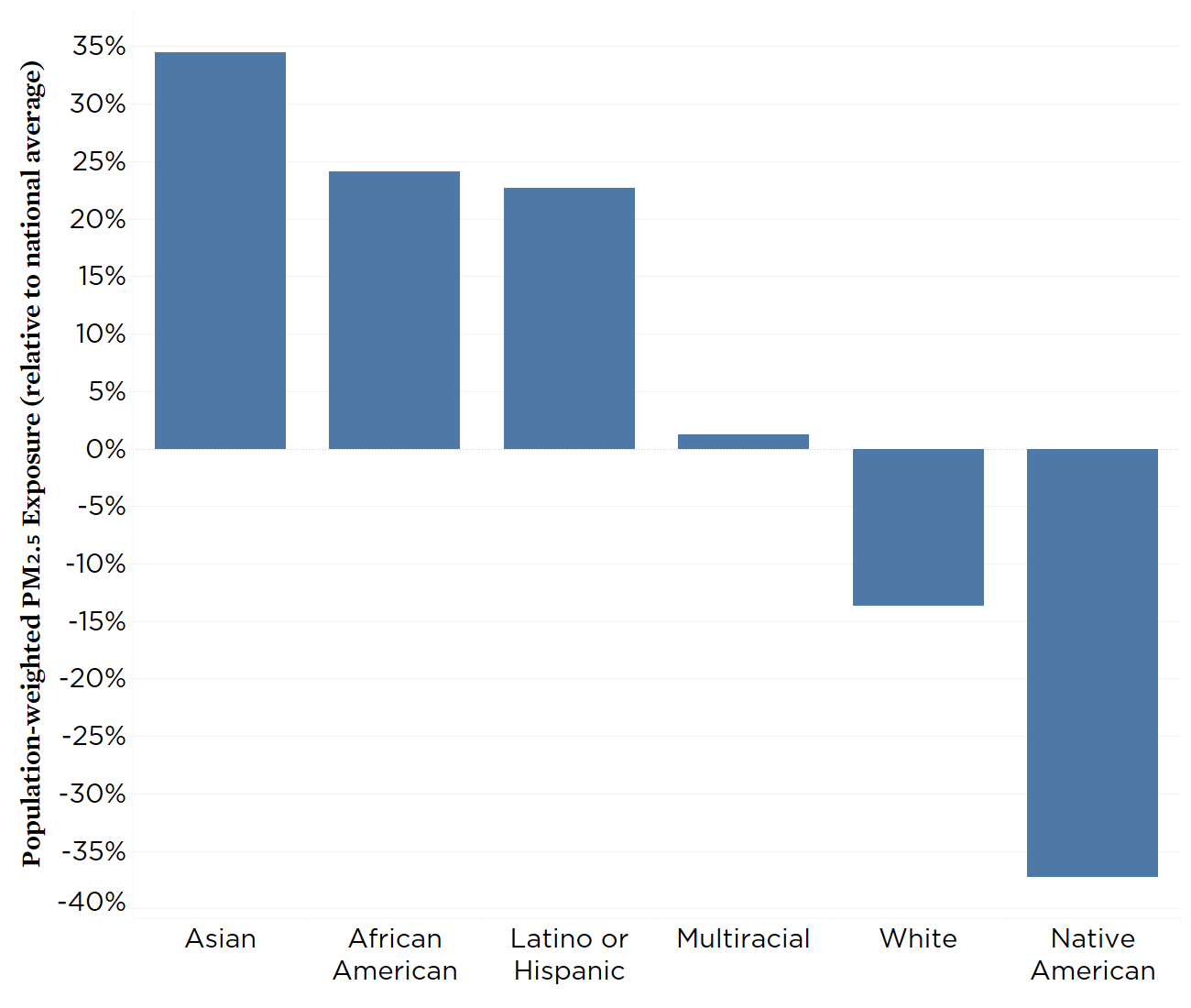 This disparity makes sense, given the long history of redlining, racial segregation, and the intentional placement of polluting facilities (such as ports and bus depots) in communities of color. The "EJ Adder" in MOR-EV Truck may help on this front, but clearly, much more needs to be done.
Diesel Trucks are the Worst
A big part of this disproportionate pollution stems from the fact that many medium- and heavy-duty trucks run on diesel fuel, which is even dirtier than gasoline. How many of these trucks are on the road in Massachusetts?
In its latest Diesel Particulate Matter Inventory, published in 2018 and covering the year 2016, the Massachusetts Department of Environmental Protection found that there were 721,279 on-road diesel engines operating in Massachusetts. That number had grown 20% since the last inventory, completed in 2002. (In the same time frame, the total number of on-road vehicles in Massachusetts went down 6%, from 5,406,846 in 2002 to 5,065,221 in 2017, according to data from the Federal Highway Administration.) Particularly with the advent of online shopping, clearly, the diesel truck problem is getting worse.
MOR-EV Truck is the Start, Not the End
Faced with all this information - the public health threat of diesel-powered trucks, the unequal distribution of that burden among racial and ethnic groups, and the fact that the number of diesel-powered trucks is only increasing - how much can MOR-EV Truck accomplish with only $10 million?
We see MOR-EV Truck as a start. These first $10 million can get some trucks on our roads in the short-term that can prove to a wider audience that electric trucks work. Meanwhile, in June 2020, Massachusetts (and Rhode Island) signed a multi-state Memorandum of Understanding agreeing to the goal of having 30% of medium- and heavy-duty vehicle sales be zero-emissions by 2030 and 100% by 2050. Though this agreement doesn't have "teeth," so to speak, the Baker administration directs the Massachusetts Department of Environmental Protection to adopt California's Advanced Clean Trucks rule by the end of 2021 in the interim 2030 Clean Energy & Climate Plan (learn more about that here). This rule would require an increasing percentage of the trucks sold by vehicle manufacturers to be electric within the state.
We also see the Transportation & Climate Initiative as a big player in this space. This regional cap-and-invest program will generate significant funding for clean transportation in both of our states and we hope that a good portion of those funds will go towards electrifying medium- and heavy-duty vehicles – including transit and school buses, and particularly in environmental justice communities.
Finally, we are seeing rapid evolution in this area. Every week or so, we see major announcements of new EV trucks becoming available and fleets signing contracts for the new technology. For many applications of medium- and heavy-duty vehicles, the economics are likely to cause fast adoption. So, some well-placed state incentives now should help a lot to transform the market.
Three Cheers for the Early Adopters!
Some good news: businesses are already starting to transition to electric vehicles, thanks to this recent expansion of MOR-EV! Ezekiel Wheeler, CEO of Intelligent Labor & Moving in Arlington, MA, has already put in an order for the SEA Hino M5 EV, which has a range of up to 200 miles.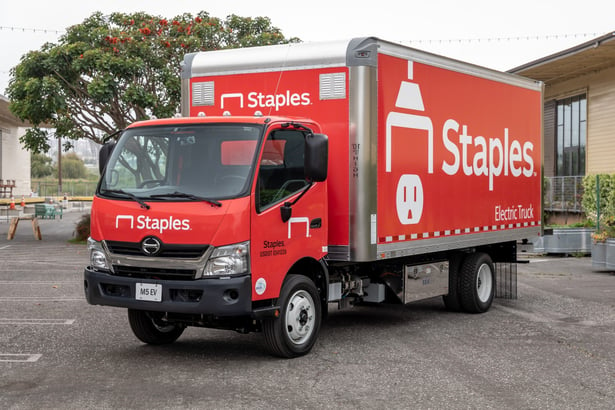 The Hino M5 EV, photo courtesy of SEA Electric, a global automotive technology company that develops and assembles 100% electric-powered vans, commuter buses, and light, medium, and heavy-duty rigid truck models using its proprietary SEA-Drive® power-systems.
When we asked Ezekiel what he thought of MOR-EV Truck, this is what he wrote:
"I'm proud of Massachusetts for the MOR-EV truck incentive. This is a big step in the right direction. It's actually putting money behind our values instead of just un-actionable press-releases. Much can be said about the need for electric vehicles by folks who'd say it better than I. Solar panels, efficient electric heat, and electric vehicles are a game-changer for our society. Not since horses, hay, and firewood has a business owner been able to produce their own fuel for their vehicles, the heat for their facilities and the energy to run their equipment. It gets back to the roots of who we are as Americans, who we are as humans. It's a big deal."
We couldn't agree more!