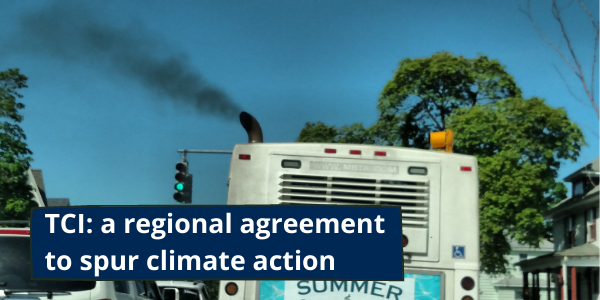 State leaders in Massachusetts and Rhode Island, as well as Connecticut and Washington, D.C., recently signed an agreement to pursue a regional Transportation & Climate Initiative program. The goal of the policy is to reduce emissions from transportation, the sector that's responsible for over a third of climate-warming emissions in each state. Green Energy Consumers Alliance applauds the leadership of Governors Gina Raimondo and Charlie Baker for their commitment to rein in a growing source of carbon pollution and invest in clean transportation.
The Transportation & Climate Initiative (TCI), would provide the needed resources to ratchet down climate-warming emissions in the transportation sector. We have looked around and we do not see a likely alternative to TCI. Ending our addiction to gasoline is only possible if there are viable alternatives to move people and goods. By creating a dedicated revenue stream for transportation investments, TCI will improve public transit, accelerate electric vehicle adoption, and expand walking/biking infrastructure. In addition to enabling more affordable, low-carbon modes of transportation, TCI has the potential to improve air quality, especially in communities overburdened by tailpipe pollution, and to support a strong economic recovery from the pandemic. We agree with those who insist that the implementation of TCI be done equitably.
As the program's policy details are finalized and the benefits of TCI are better understood, we expect more states to commit to joining the program. However, Massachusetts and Rhode Island will see the benefits of TCI regardless of how many other states ultimately participate.
We remain dedicated to advocating for TCI and other policies that complement it to promote equity, provide tangible benefits to consumers, and speed the transition to a low-carbon future. There is much more to transportation and climate policy than TCI, but it is an essential springboard for more ambitious action in every sector of the economy.