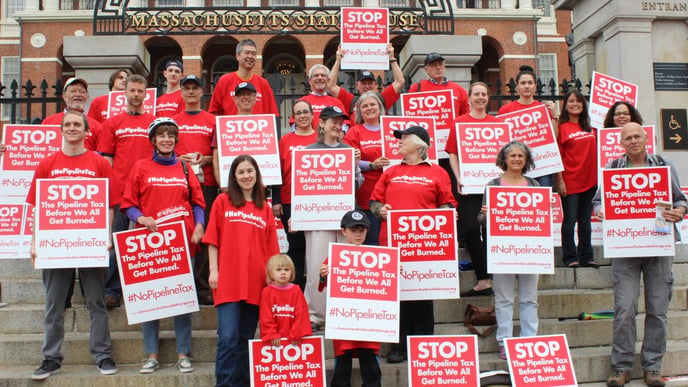 Late last Wednesday Kinder Morgan announced plans to suspend its Northeast Energy Direct (NED) project indefinitely. They cited "inadequate capacity commitments from prospective customers" and the fact that New England states have yet to approve a tariff on electric customers to help finance pipeline construction. Read the company's announcement HERE.
The NED pipeline project, shown in red below, would have spanned a significant portion of the state. The entire NED pipeline was estimated to cost as much as $6B, much of which would have been potentially shouldered by consumers via the tariff mentioned above.
Although NED's suspension is cause for celebration, Massachusetts is not out of the proverbial woods, yet. The specter of Spectra Energy's Access Northeast (ANE) project, shown in blue below and the same proposed financing maneuver loom large.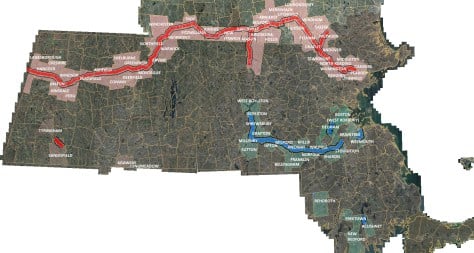 Source: No Fracked Gas in Mass
What is Access Northeast?
Access Northeast is a project being jointly developed by Eversource Energy, National Grid, and Spectra Energy under the auspices of lowering energy costs and ensuring reliability. ANE consists of another nearly 55 miles of pipeline, a majority of which would cut through several communities (Medway, Bellingham, Millis, Franklin, Norfolk, Walpole, Sharon, Canton, Stoughton, Milford, Upton, Grafton, Millbury, Sutton, Shrewsbury, Boylston, and West Boylston), as well as compressor stations proposed in Rehoboth and Weymouth, and a liquid natural gas (LNG) storage facility in Acushnet.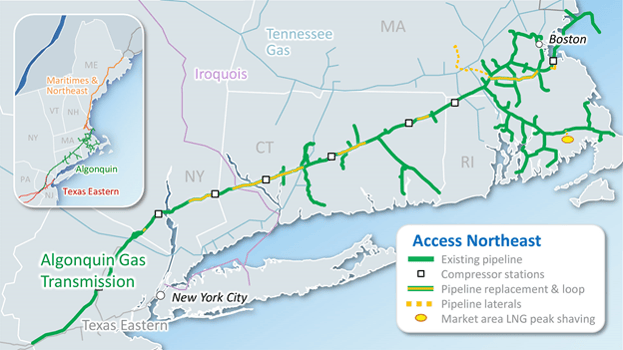 Source: Access Northeast Energy
The project is estimated to cost $3Billion, not to mention potential overruns. Similar to NED, National Grid and Eversource have petitioned the Department of Public Utilities (DPU) to approve an unprecedented scheme that would allow the utilities to recover costs by essentially taxing electric ratepayers for construction of this fracked gas infrastructure.
Why we oppose fracked gas pipelines?
We don't need the gas! Mass Energy members and blog readers are familiar with our commitment to helping the Commonwealth meet its statutory obligation per the Global Warming Solutions Act (GWSA) to significantly decrease greenhouse gas (GHG) emissions across all sectors by 2020 and 2050.
---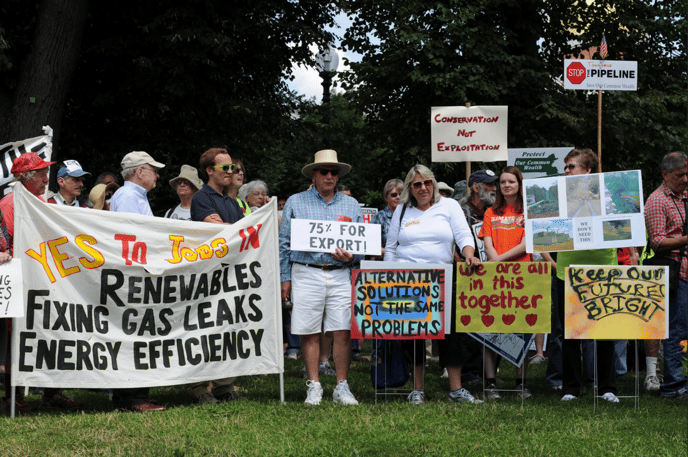 Public opposition to Kinder Morgan's NED and Spectra Energy's Access Northeast (ANE) project has only increased in recent years, driven in large part by a robust grassroots movement led by groups like No Fracked Gas in Mass, MassPLAN, StopNED, and countless others. These efforts resulted in the passage of more than 40 town resolutions opposing the pipeline, thousands of petitions and comments, and impressive public turnout at various hearings.
Photo source: Toxics Action Center, July 2014 rally on Boston Common
---
58% of Massachusetts' electricity is generated at natural gas-fired power plants. This says nothing of the amount of gas consumed for heating. Our state is already overly reliant on this single fuel source. Increasing that dependence undermines our climate objectives and poses tremendous risks to consumers, including greater exposure to market volatility and electric price spikes tied to the price of gas.
We have worked closely with other nonprofit organizations in opposition to the pipelines. Our collective efforts were further bolstered last fall when Attorney General Healey's office released its Regional Electric Reliability Options Study. The report concluded that new pipelines are NOT NEEDED to meet demand and maintain reliability through 2030, especially since "there are cheaper, less carbon intensive ways to ensure electric reliability, like energy efficiency and demand response that are less risky for ratepayers."
Omnibus Energy Bill
At the same time that the Department of Public Utilities is considering approval of this proposed pipeline tax, the House is developing an omnibus energy bill that has the potential to accelerate the development and procurement of clean energy resources, or that could set us back by sanctioning the pipeline tax to build fracked gas infrastructure.
We were grateful to the nearly 100 House Members, many of whom are your representatives, who signed a letter delivered to Speaker DeLeo on April 13 opposing the inclusion of natural gas in the forthcoming House omnibus energy bill. The bill is expected to be released by the House in early May. Mass Energy will continue to push for comprehensive energy legislation that prioritizes clean energy resources including hydro, wind, and solar, but does not make way for any fracked gas.
What's next and how can you engage?
There are many ways for you to lend your voice in support of clean energy solutions in Massachusetts, especially next week.
Attend a rally and hearing at the State House, submit comments to the DPU, encourage your legislators to hold firm against the proposed pipeline tax, and more!
---
Upcoming Events
May 3 at 11:30am: Rally Against the Pipelines
Massachusetts State House, 24 Beacon Street, Boston, MA 02133
You're invited to join Mass Energy and our fellow coalition members at a rally on the State House steps. Stand together against the Spectra Access Northeast natural gas pipeline and celebrate the suspension of Kinder Morgan's Northeast Direct. Pizza and t-shirts will be provided. RSVP HERE:
Massachusetts State House, 24 Beacon Street, Room 428, Boston, MA 02133
Stick around after the rally and attend the oversight hearing being hosted by the Senate Committee on Global Warming and Climate Change, chaired by Senator Marc Pacheco (D-Taunton). Help us turn out a show of force in support of clean energy and opposed to fracked gas pipelines.
May 3 at 7pm: Department of Public Utilities (DPU) Public Hearing for Docket 16-05
Stoughton High School Auditorium (Adams Street entrance), 232 Pearl Street, Stoughton, MA 02072
The Department will conduct a public hearing to receive comments on the petition filed by National Grid to allow the utility to charge electric customers for a 20 year contract to source fracked gas from New York and Pennsylvania. You are invited to attend to offer comments or you can submit written comments until May 11. Click HERE to format your comments or contact me directly if you have questions.
Mass Energy has argued against the unprecedented proposal to make ratepayers pay for fracked gas pipelines. In October, the DPU issued an order in docket 15-37 that would both allow the electric utilities to enter into long term contracts for gas capacity that would be sold to generators and then to pass those costs (and the costs of constructing the pipelines) on to customers in the Commonwealth. The Conservation Law Foundation has appealed this order. The state's highest court will hear oral arguments that you can stream HERE.
---
Questions? Contact Clean Energy Program Director, Eugenia Gibbons.
Mass Energy's Advocacy in Action: For our part, Mass Energy has argued against the pipelines and in support of cleaner resources beginning with efficiency at the Energy Efficiency Advisory Council (EEAC), where Executive Director Larry Chretien voted against the 2016-2018 Plan because it did not go far enough to capture our cheapest resource; in the State House where we have been meeting with legislators to ensure the forthcoming omnibus energy bill keeps Massachusetts on its path to a clean energy future; and before the Department of Public Utilities (DPU), where we have intervened in several pipeline dockets that would allow utilities to charge electric customers for fracked gas pipelines.
---
Visit the new Mass Energy advocacy page to learn more about our policy priorities and steps you can take to engage in and support our work.