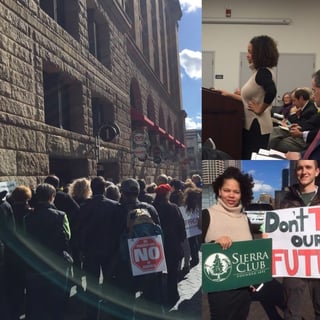 On February 25, the Mass. Department of Public Utilities (DPU) held a public hearing on a petition filed by Eversource that permits the company to charge electricity ratepayers for a 20 year contract to source fracked gas from New York and Pennsylvania. The gas would come to Massachusetts through the proposed Access Northeast gas pipeline. This is the first of three such cases. National Grid has filed a similar petition with the DPU and is seeking permission to charge its electricity ratepayers for the Access Northeast and Northeast Energy Direct gas pipelines.
Eversource and National Grid both claim new pipelines are necessary to increase gas capacity in the region and ensure electric reliability. They also assert that more gas will ultimately result in lower electricity rates. However, the proposed charge amounts to a tax on customers that makes no sense environmentally or economically. We don't need the gas and we don't need the risks associated with a massive build out of unnecessary infrastructure. As advocates for the environment and consumers, Mass Energy strongly opposes this maneuver. It is unprecedented in the U.S. And so, I was pleased to join the many folks testifying in opposition to the proposal at Thursday's hearing. I urged the DPU to reject the Eversource petition. The reasons why are detailed in this blog. They also apply to the petition filed by National Grid that will be heard in early March.

Why should DPU reject these petitions?
We don't need the gas. This past fall, the Office of the Attorney General released the Regional Electric Reliability Options Study conducted by the Analysis Group. The study concluded that we don't need additional gas pipelines in order to maintain reliability.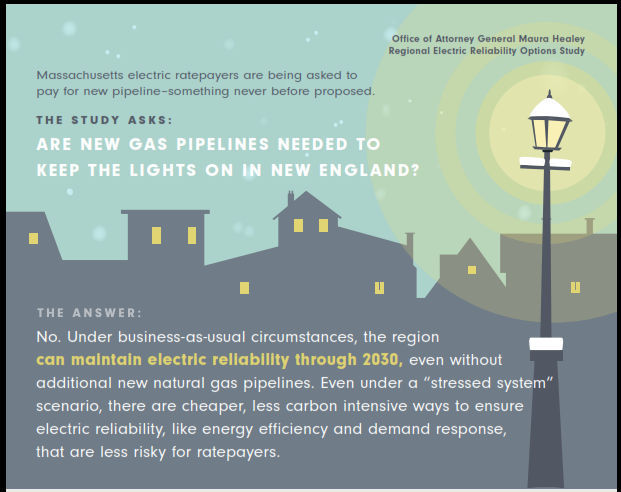 We have yet to exhaust the many cheaper, less carbon intensive resources, including efficiency and demand response that are available to help meet electricity needs and better able to be deployed during peak periods!
There are better and cheaper solutions. It is true that for a few hours on the coldest days of the year, gas supplies are stressed because it is used for both space heating to generate electricity. However, we have yet to exhaust the many cheaper, less carbon intensive resources, including efficiency and demand response that are available to help meet electricity needs and better able to be deployed during peak periods! Not only is this outlined in the AG's study, but a report prepared by Navigant Consulting for Advanced Energy Economy last October, found that for every $1 spent on demand response in Massachusetts, ratepayers SAVE $3.62!!
The risks to consumers are too high. Exacting a fee on electricity users to pay for the build out of pipelines is far too risky. Not only would MA customers be saddled with the costs associated with building the pipelines – costing billions – but there is a distinct possibility that we would not need the full capacity of the pipelines. If that happens, then the pipelines run the risk of becoming "stranded assets" – paid for by ratepayers, despite being unused. Alternately, the gas could pass through Massachusetts and be exported to supply world market. This would raise the price we pay for gas and electricity in Massachusetts.
Gas undermines efforts to achieve energy diversity. The flipside of being made to pay for stranded assets or a highway to gas exports is that it is a gamble to assume that natural gas prices will remain low for twenty or more years. Prices are volatile and we will only be more vulnerable to price volatility if we increase our reliance on gas. The fact is energy efficiency and demand response are cheaper today and the costs of renewable energy and storage technologies are steadily declining.
More gas is at odds with Massachusetts' environmental mandates. There is no doubt that a long-term commitment to fracked methane would be incompatible with the Commonwealth's Global Warming Solutions Act (GWSA), which requires us to reduce greenhouse gas emissions 25% by 2020 and 80% by 2050. Furthermore increased greenhouse gas emissions would shift the cost of GHG abatement so that we will require even more expensive solutions to help bring down emissions. Who do you think will be left paying for those, too? And this says nothing of the increased costs of health care and other externalities that are currently unaccounted for, but are the result of GHG emissions.
All of these points were well covered in the AG's study mentioned above. They were also reiterated by many of the speakers who testified at Thursday's public hearing. In fact, of the hundreds of folks who turned out to the hearing on Thursday, nearly all expressed their shared desire to prioritize climate action and making smart energy decisions in the public interest over the narrow self-interest of monopoly utilities. There were only a couple of commenters who spoke in support of the pipeline project (not necessarily in support of the proposed charge/tariff). And even then, comments in support of the pipelines were limited to potential jobs created by pipeline construction. We respect the jobs argument, but there is no doubt that clean energy offers more jobs per kilowatt hour than fossil fuels.
What else are we doing on this front?
This issue was not resolved at the public hearing. To intervene on this case before the DPU, we have organized an outstanding group called the Coalition for Gas Alternatives comprised of: 350 Massachusetts, Better Future Project, Clean Water Action, Environmental League of Mass., Mass Energy Consumers Alliance, Mothers Out Front, No Fracked Gas in Mass., Pipeline Awareness Network for the Northeast, Sierra Club/Mass. Chapter, and Toxics Action Center. If granted permission to intervene, we will file a brief that elaborates on the points made above.
Take Action
You may also weigh in with the DPU. The Department is accepting written public comments related to docket 15-181 until March 10. Comments should be addressed to: Mark Marini, Secretary, Mass. Department of Public Utilities, 1 South Station, Boston, MA 02110. Be sure to reference Docket # 015-181; Eversource/Access Northeast.
Another public hearing on the Eversource proposal (DPU 15-181) will be held on 7:00 p.m. on Monday, May 23rd at Walpole High School, 275 Common Street, Walpole, MA 02081.
The public hearings for the National Grid proposal on Access Northeast (Docket 16-05) are scheduled for March 10 and May 3. Information is available on this notice from the DPU. The public hearings for the National Grid proposal on Northeast Energy Direct (Docket 16-07) are scheduled for March 10. Information is available here.
Please continue to follow our progress through our blog. If you would like to help us stop these utility schemes in their tracks, send in written comments, attend the public hearings or email me at Eugenia@massenergy.org.
---
Use your own electricity dollar to leave fracked gas behind and make the switch to 100% New England Class I renewable energy today.