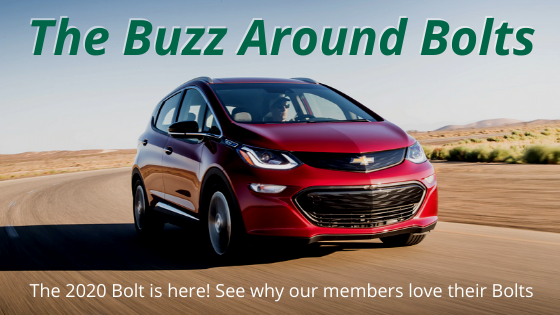 If you read our last EV owners blog, then you probably already know a little about what makes people so passionate about their electric vehicles—regenerative braking, quick pick-up, no noise, and of course, zero emissions! Because of this passion, we've sold a lot of cars through Drive Green, and the Chevrolet Bolt has consistently been one of the most popular. I spoke with some of our dedicated electric vehicle (EV) owners to see why they're so committed to their Bolts.
---
The 2020 Bolt is Here
Since the release of the 2020 Bolt, we've seen an increase in test drive sign ups, and with an extended range of 259 miles per charge, it's easy to see why! If you're thinking about purchasing or leasing a new Bolt, now is the time to act. The $1,875 federal tax credit for the Bolt is expiring at the end of March 2020, so if you're interested, make sure to sign up for a test drive using the link below.
---
Abigail K. S.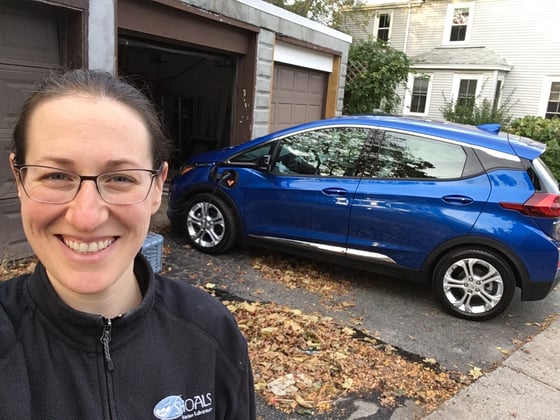 Abigail and her 2017 Bolt.
Abigail is no stranger to green energy. As the president of Boreas Renewables, LLC, it was important for her to install solar panels and heat pumps in her home, and an electric vehicle was the obvious next step for her low-carbon household. So what made her choose the Bolt?
"We liked the Bolt because it was the most affordable option with a range that made us feel comfortable. It's legit fun to drive and has such great pick up. Actually, the first time I ever drove it I was pulling out of my driveway and accidentally peeled out because the pickup is so quick!!"
Abigail has two young children at home who also factored into her decision. Luckily, the Bolt fits all of her family's needs, while also being the perfect spot to take a nap!
"It has a precondition feature which I can set using my phone, so, since it's electric and there are no tail-pipe concerns, I can set it to heat or cool off before I head out to the car, even if it's parked in our closed garage. It is such a game changer with little kids being able to take them out to a warm car. Also, if one of the kids falls asleep on our drive home, we can let them finish their nap with the heat or AC running with them in the car in the garage without any concerns about carbon monoxide poisoning."
---
Marianne B.
Marianne and her husband have been driving electric for about seven months and power their Bolt using electricity generated by the solar panels on their roof! While they love their Bolt, her husband was hesitant at first because the charging infrastructure and weather in rural Vermont can be tricky to navigate.
"We weren't really thinking about the Bolt but ended up going with it because we had three friends who swear by it. Hearing such strong testimonials from people we really respect was very helpful in making a decision. My husband now takes longer to run errands like going to the grocery store and he comes back and is like 'oh I was talking to someone who had questions about electric vehicles!'"
Though they chose to keep their gasoline-powered car for the sake of mud season, Marianne says most of their local driving is done in the Bolt, which can add a little pep into running errands.
And Marianne's advice for electrifying your ride?
"I think it would be very wise to lease it because there really is a technological revolution happening so the technology for EVs is constantly changing. But we will likely end up purchasing in 3 years. We've been guiding young people too because you can get a used EV for a great price and the savings are great!"
---
John F.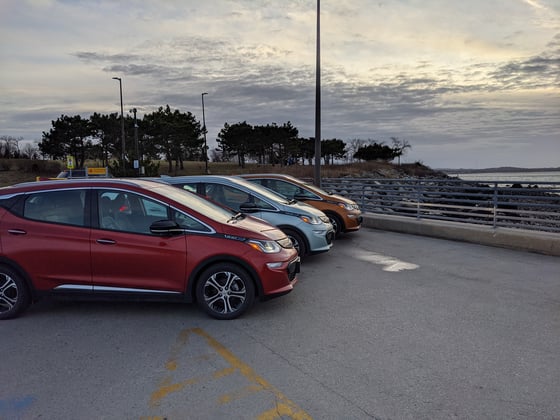 John's 2020 Bolt, 2019 Bolt, and 2017 Bolt (from left).
John is a man who loves Bolts. If you need proof, he now has THREE Bolts at home. Since leasing his first Bolt in 2017, John has been a staple at any EV event he can make it to—including being an EV Ambassador at our events—and once even convinced a man to leave an event on the spot and go buy a Bolt! But while he loves the Bolt, he knows that any EV is a good choice.
"I've been going to EV events for 3 years and I always tell people I don't care what EV they get, get a car that suits your needs. I live close to work so the Bolt works for me, but my sister in law got a Honda Clarity because she lives out on the Cape so there's not as many charging stations and having the gas helps with that."
Even though much of John's driving is local since he only lives about 10 miles from work (and only has to charge once a week!), the Bolt has enough of a range that he can easily take it on longer trips while saving money.
"I drive the Bolt from Quincy to Brooklyn to visit my son and I can make it on a single charge. I just plug into a DC fast charger while I'm there, or even a Level 2 if I'm spending the day with him, and it ends up costing me $12 roundtrip."
Like Abigail, John can also attest to the fact that the Bolt is much roomier than it may seem, and if he ever needs more room, he has an easy solution.
"I think people tend to choose cars based on the worst case scenario, like 'oh but what if I have to drive 1000 miles or carry all these planks in the back or something,' but really think about how often do you actually have to do that? I have a Zipcar membership so anytime I need a bigger vehicle I just go pick up a Zipcar for like $15 an hour and then return it and I don't have to worry about paying for insurance or maintenance I just use it when I need it."
---
Joel G.
Joel with his 2017 Bolt in front of their family's solar panels.
I also spoke with Joel, one of our dedicated EV Ambassadors and a real go-to for EV insights. We can almost always count on seeing him and his Bolt at our Green Energy Consumers events, and have featured Joel and his love for EVs on our blog before. Check out why he switched to electric, and in the meantime, Joel's words of advice for anyone thinking about going electric:
"I think one of the main obstacles for buying EVs is that it costs more money, which I understand, but that's just an upfront cost. In reality, fuel costs are way lower and we do a ton of public charging for free. That with a lack of maintenance costs you can really justify shelling out extra for the upfront price."
---
If you want to hear from even more of our happy EV drivers check out our testimonials page, or if you're already driving electric submit your own testimonial. We'd love to hear from you!