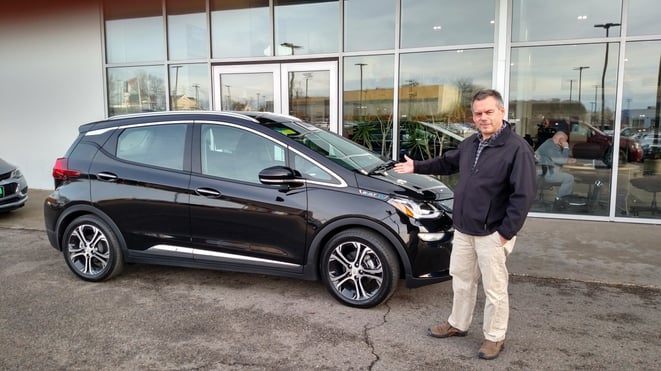 General Motors recently issued a recall and stop-sale for all Chevrolet Bolt EVs and Bolt EUVs. In addition to being the Executive Director at Green Energy Consumers, I'm also a Bolt driver, so this news hits personally. Here's what you need to know about the recall, and how I and my family are feeling about it.
Recall Details
General Motors (GM) issued this recall because the high-voltage batteries in some Bolts and Bolt EUVs may pose a risk of fire when charged to full capacity. So far, this has happened to about ten Bolts in the U.S. (see this Washington Post article for more info). Right now, General Motors is developing a plan to identify which vehicles are impacted and a battery replacement plan for those vehicles that need it. We will keep a close eye on developments and keep you informed. We are in communication with the Chevrolet dealers in our program, but at this time they are also awaiting more information from GM.
Here is the key information we have gathered from the GM website and the media so far:
What vehicles are involved?
All Chevrolet Bolt and Chevrolet Bolt EUV vehicles sold between 2017 and now are included in the recall.

Is *my* vehicle impacted? Will I be hearing from GM?
Unfortunately, General Motors does not currently have a way of determining whether any individual vehicle is impacted. GM should be reaching out to you soon by mail, but you can also go to the GM Owner Center at my.gm.com and look up your vehicle with its VIN.
I drive a Bolt/Bolt EUV. What should I be doing?
For now, instructions from GM (see: my.chevrolet.com) are that Bolt and EUV drivers should be:
Setting their maximum charge limit at 90% (information on how to do this here:

my.chevrolet.com

),

Charging their vehicle more frequently to avoid depleting the battery below 70 miles of remaining range,

Out of an abundance of caution, parking vehicles outside after charging.
Will I have to pay for the battery replacement if I need one?
No, any needed repairs will be done at no cost to the customer.
Is the repair available now?
Unfortunately, there is no repair immediately available. General Motors is working on this and once they have a plan and parts in place, dealers will start being able to repair affected vehicles.
My Take as a Fellow Bolt Driver
Without a doubt, GM has to take the risk of fire seriously. That means doing whatever it takes to protect the safety of its customers and bearing the financial burden of any needed repairs. From what we are reading, we think GM is headed in the right direction. But servicing tens of thousands of Bolt owners will take time and it's too early, in my opinion, to either condemn GM for putting us in this situation or to applaud them for steps that they are just beginning to take.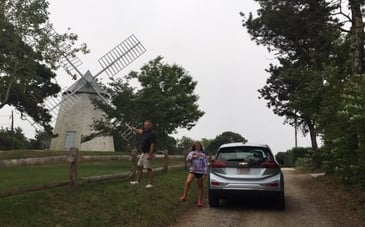 Personally, I do not fear having the Bolt in my driveway. I am able to charge it outside and I follow the recommendations to charge it before the battery gets too low and I stop charging when the battery gets to 90 percent of capacity. My family loves the Bolt. It's an affordable electric car that runs on zero-emission wind power. It has exceeded our expectations as a means of transportation. So, we are willing to wait a few weeks to see how GM responds. Our current plan is to wait for GM to replace the battery on our Bolt with a newer one. If GM fails to provide us with a new battery within a reasonable amount of time, we will look to sell back the car at a fair price. If that happens, we would replace the Bolt with another all-electric car. We will never go back to a car that runs on gasoline. Thankfully, there are more EVs coming into the market every month and we'll keep an eye on our very own Drive Green webpage for the newcomers. You may have a totally different view of the recall than I do and your opinion, of course, is valid.
Bolt and EUV Drivers: We Need Your Feedback!
Whatever your take is of the situation, if you drive a Bolt or Bolt EUV, we are interested in knowing about your experience with either GM or the dealership you do business with. Please take a few minutes to fill out this form to tell us how your experience went. With your feedback, we will be in a better position to do our job as consumer advocates.
---

A generous donor will match up to $10k through September 30th. With your help, we could raise $20,000 for climate and clean energy!