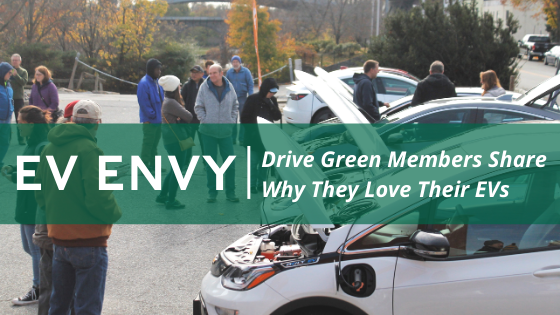 With electric vehicles consistently gaining more and more media attention, we wanted to share what it was that made electric vehicle (EV) owners love their cars so much. I reached out to some of our members who have purchased a vehicle through Drive Green, and they assured me that whether you're looking to drive across the country, zip through city streets, or even replace your motorcycle, there's an EV for you! Check out what they had to say below.
Glen A.—Kia Niro EV
Like many people, Glen switched to the Kia Niro EV about seven months ago because he wanted a way to reduce his carbon footprint. However, Glen and his wife are also avid campers so they needed a vehicle that would comfortably fit the two of them, their two dogs, and all their camping gear. Luckily, the Niro EV does just that!
"When we had [our old car], we were camping in places where it would be 16 degrees in the morning. We had brought tents since we couldn't fit in [our car] so we had to stay in motels instead and it was very difficult to find motels that would allow not one, but two dogs, so that was a big motivator for purchasing the Niro... My wife and I recently did a two week camping trip down to North Carolina and were able to sleep in the back of the car along with our dogs for the whole trip. Most of the State Parks have charging stations so we were able to plug in, go for a hike, then come back and be charged up for our next stop. About half the places we charged at were no cost."
Glen and his wife are currently planning a two month camping trip across the Southwestern US in their Niro and are looking forward to doing even more zero-emission traveling in the future. When asked what his favorite thing about the Niro is Glen said,
"Compared to [our old car] it's like a real car. It's like 4 times the car [our old car] was, maybe even 10 times. It's just so much more of a vehicle… It has tons of safety features and it feels safe because it has a tremendous amount of response and power. I've never been much of a sports car guy but the Niro has almost instantaneous acceleration."
---
Peter V.—Nissan LEAF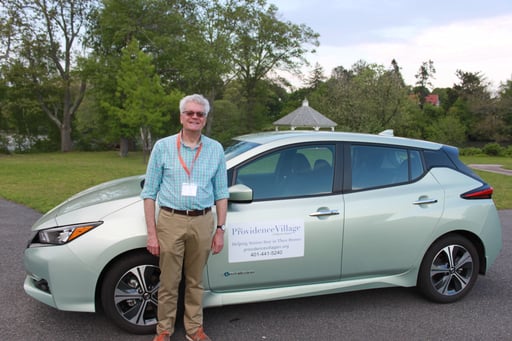 Peter with his Nissan LEAF at our 2019 Spring Meeting.
Peter is no stranger to electric vehicles. He drove a Ford Focus EV for a few years before making the switch to a Nissan LEAF in July of 2018. For someone who was already reducing their carbon footprint, Peter made the switch to a LEAF because of its updated safety features. And what does Peter think of his LEAF?
"It really is quite fun to drive! The e-pedal is great; I can come to a complete stop without pressing the brake. It takes turns really easily too; I never have to shift off the throttle. It really does drive quite sporty… You can even heat the car up in your garage and put it on a timer and it'll be warmed up when you get in it. They have a lot of advantages."
If you need further proof that Peter loves his EV, you can often find him and his LEAF at our Green Energy Consumers events, where he's always ready to chat about everything and anything EVs!
"I really enjoy being part of the whole community. I bring my LEAF to EV events and it's nice to keep your finger on the pulse of EVs. You can talk to a lot of different people and they're very interested."
And if you can't make it to an event to hear for yourself, Peter's words of advice to anyone who's looking to purchase an electric vehicle:
"Go drive one! Go drive all the ones you're considering. They're fun cars, people like a bit of pep. And get the 240 volt charger installed in your garage; don't mess around!"
---
Tom F.—Hyundai Kona EV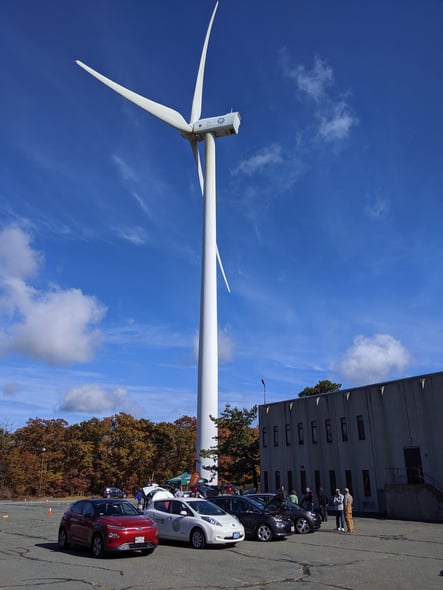 Tom's Kona EV (in red) at our Gloucester Wind Turbine Site Tour.
Tom has been driving his Kona EV for five months now and with a home powered by 100% wind energy, he really is driving on the wind! Reducing his carbon footprint was one of the main reasons Tom decided to make the switch to electric, but he also wanted a car that's really fun to drive.
"I LOVE this car, it's so fun to drive and I knew that the Kona had some great reviews. I love having a new person in the car who has never driven in an EV before - then I accelerate and they're just like 'holy cow!'... It's small so it feels really sporty. Now I'll be able to sell my motorcycle because I have a new, safer adrenaline rush! "
Tom loves the acceleration that his Kona EV has, and while the Kona is one of the few Crossover SUV options in the EV market, its size is small enough to still feel sporty. For Tom, the Kona is easier to park and navigate and it's been perfect for city driving. As an added bonus, the radio is pretty great too!
When I asked Tom how his Drive Green experience was he said,
"Great, it was awesome. It was nice to go and get the list of prices; I could compare cars easily right on my phone and all the price negotiation was basically done for me."
---
If you want to hear from even more of our happy EV drivers check out our testimonials page, or if you're already driving electric submit your own testimonial. We'd love to hear from you!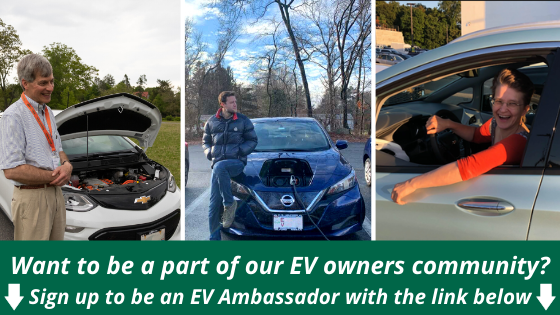 Join us at our events as an EV Ambassador, show off your EV, and help others looking to make the switch!