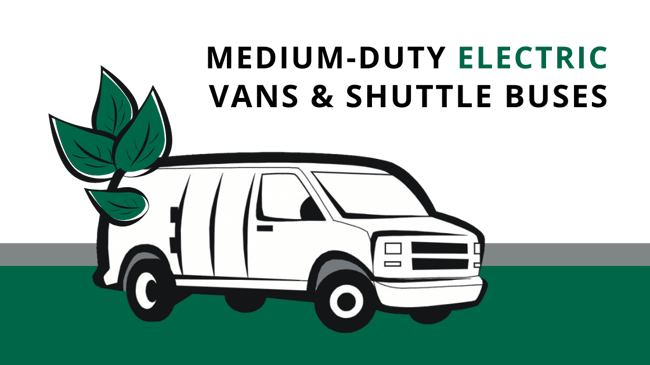 In Massachusetts and Rhode Island, the transportation sector is arguably one of the most promising sectors in terms of switching to clean energy. Transportation accounts for 43% of greenhouse gas (GHG) emissions in MA and 36% of emissions in RI. Electric vehicles are, therefore, one of the keys to reaching both states' long term climate goals. Our Drive Green program helps to put electric passenger vehicles on the road, but we'd like to draw your attention to another part of the market: medium-duty vehicles. The medium-duty segment of the market has not kept pace with light-duty (passenger) electric vehicles. Beyond passenger cars, we frequently get asked about electric passenger vans and shuttles for institutions around New England, like schools, research institutions, hospitals, and private companies. Here's what you should know about electrified medium-duty vehicle market in 2020.
Definitions
First thing's first, what is a medium-duty vehicle? Vehicles are classified by their weight, and medium-duty vehicles weigh between 10,001 and 26,000 lbs. Examples of medium-duty vehicles include vans, trucks, shuttle buses, etc. From these examples, you can see that they tend to be delivery type vehicles.
For comparison, heavy-duty vehicles weigh over 26,000 lbs. and include vehicles like city transit buses and refuse trucks. Light-duty or passenger vehicles weigh less than 10,000 lbs. and are your typical sedan, SUV, utility vans, etc.
Manufacturer Options
Many different manufacturers are working on electric medium-duty vehicles. This market is developing rapidly, so to get an overall sense of what's happening in this space, we'd point you towards the Global Commercial Vehicle Drive to Zero website , which allows you to select a class of vehicle and shows you which manufacturers have that type of vehicle, by region. It's a useful starting-off point to see what's generally available internationally. While the medium-duty electric vehicle market here in the U.S. has only just begun to gain traction, you'll see that Europe is a few steps ahead and steadily growing their medium duty EV market. The tool also lets you see what's available on this continent, but treats all of the U.S. and Canada as one region, and vehicle availability varies a lot depending on what state you're in! So, we dove a little deeper into research.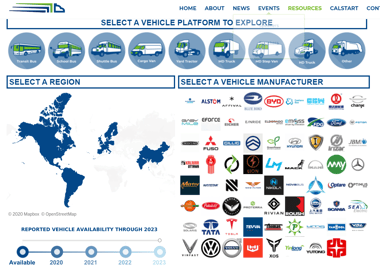 Image of the Global Commercial Vehicle Drive to Zero Tool
Using the Global Commercial Vehicle Drive to Zero tool, you'll note that there are seven companies that sell electric cargo vans in the US and Canada and eleven that sell electric shuttle buses, with some overlap. We reached out to eight that make cargo vans and smaller shuttle buses (the ones that are closer to vans than buses) and asked about vehicle availability and pricing in Massachusetts and Rhode Island. A couple got back to us; many didn't. Here are some of the things we found:
Lightning System: A company based out of Loveland, CO that designs all-electric powertrains to convert gas-powered passenger vans and buses. Customers buy vehicles like the Ford e-450, Ford Transit LEV60, and Ford Transit LEV60 and then have them shipped from the manufacturer to Colorado, where Lightning System converts them into electric vehicles. The conversion process typically takes sixteen weeks and can cost an average of $155,000 for the Ford Transit LEV60 (after purchase of the vehicle.) For more details, visit Lightning System's website, here.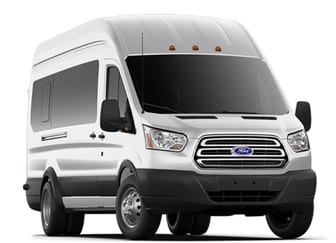 Pictured: Ford LEV60
Motiv Power Systems: This company is based out of Foster City, CA. Motiv provides all-electric chassis for a wide range of medium-duty body applications, including, but is not limited to, the EPIC E-450 Shuttle Bus, EPIC E-450 Step Van, EPIC E-450 Box Truck, etc. Everything is built to order, but customers must also work with the original vehicle manufacturer as Motiv does not have a dealer license (in other words, Motiv does not sell you the vehicle themselves). That means, unlike Lightning System, Motiv works directly with the manufacturer and the customer purchases their fully electrified vehicle from the original equipment manufacturer (OEM) after Motiv has modified the vehicle to make it electric. The Motiv representative we contacted was not able to give us a price range, citing the rapid change in prices and differing prices based on the number of vehicles ordered. For more details, check out Motiv's website here.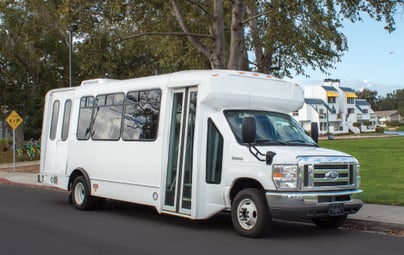 Pictured: Motiv Epic E-450
Chanje: This is a start-up company based in Hawthorne, CA. They have one vehicle, the V8100, which is an electric medium-duty vehicle designed for the last-mile industry. Last-mile industry refers to vehicles that are used when delivering goods around town or in another smaller area. The V8100 has a range of 150 miles and is perfect for the average urban delivery route. For more information on Chanje, check out their website here.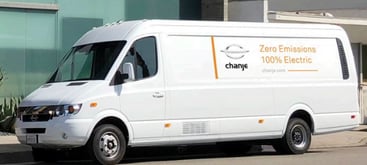 Pictured: Chanje V8100
The companies we tried to reach out to but did not hear back from include:
Was the manufacturer you were looking for not mentioned? Many manufacturers are continuing to work on their contributions to the electric vehicle market in the coming years. For example, in 2022 Ford plans to electrify its Transit Vans.
Would you like to see one of these vehicles at your workplace? Start by checking out the Global Commercial Vehicle Drive to Zero tool and then narrow down your choices. This market is nascent, and more are coming. If there's a way you think we can help, email us at drivegreen@greenenergyconsumers.org.
P.S. We know many of you are as curious about electric pickup trucks as we are. Don't fret, we'll have a new blog on that coming soon.