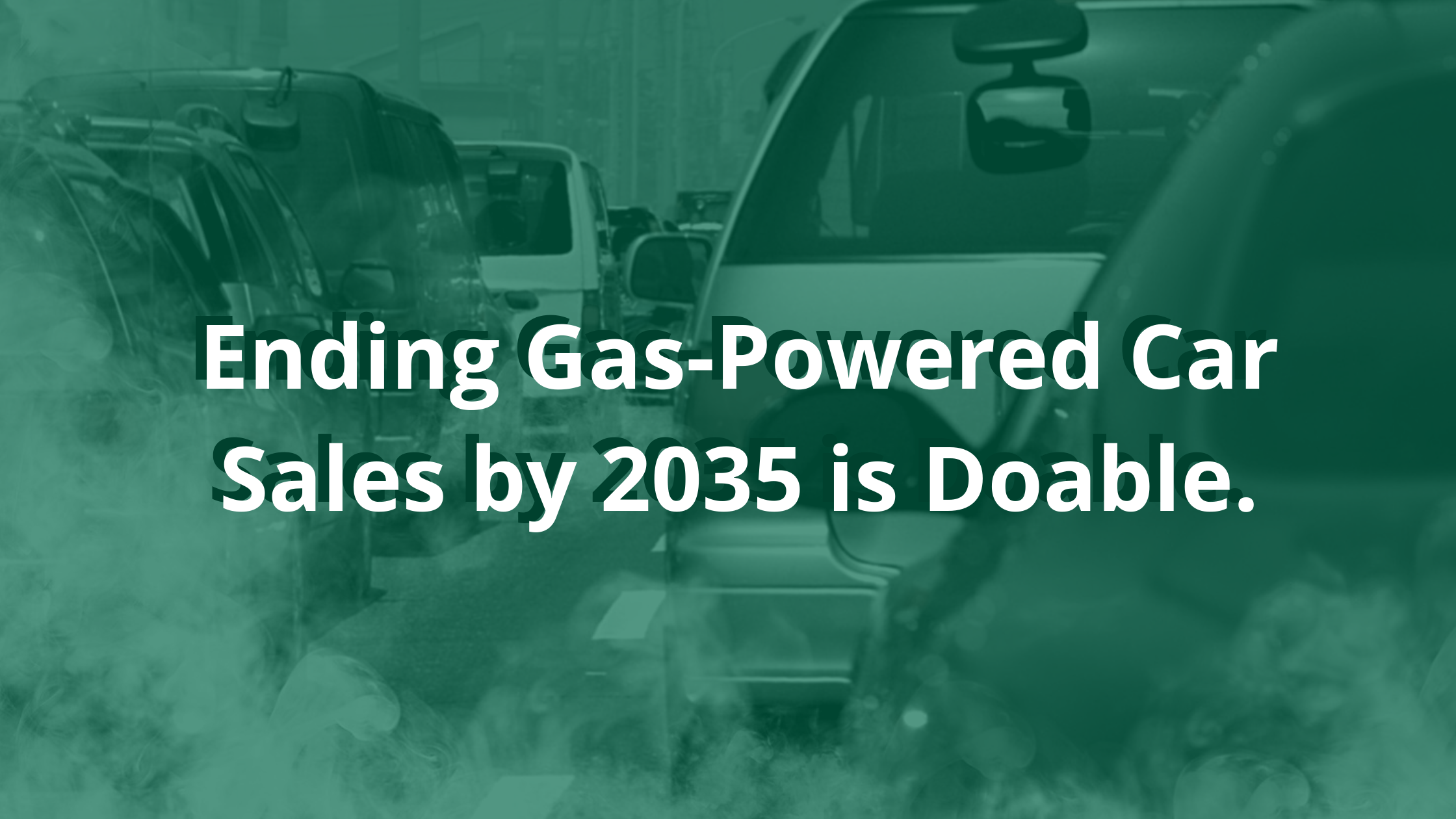 On Wednesday, September 23, 2020, Governor Gavin Newsom of California issued an executive order that announced California would require all new cars and passenger trucks sold in the state to be Zero-Emission vehicles (ZEVs) by 2035.
This announced ban on the sale of gas-powered cars by 2035 is the biggest commitment to transportation electrification in the United States to date. While states across the US have committed to increasing the sale of ZEVs since 2014, no leader has dared to challenge the supremacy of the gas-powered car. Governor Newsom is wading into uncharted territory, and as a first-term governor just a year into office, the Executive Order could hold weight until 2028.
How does this work?
Governor Newsom's executive order is not a law or mandate. It is not legally binding; it is aspirational. The California Air Resources Board (CARB), a powerful regulatory agency, will develop the regulations to ensure that 100% cars are zero-emissions by 2035. CARB has a good track record of strong action on climate change, including implementing a cap-and-trade program for electricity-sector emissions and advanced clean car rules. The models for these successful programs were eventually adopted in New England through the Regional Greenhouse Gas Initiative and ZEV program, respectively.
2035 is a good target date.
Depending on who you are and what you know about electric vehicle (EV) technology, the executive order may either sound too ambitious to be possible or too weak to move the needle on climate. We at Green Energy Consumers believe getting to an all-electric by 2035 is doable, for California and everywhere else.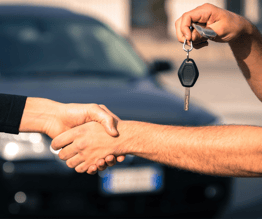 California is the biggest car market in the US. If it were its own country, it would have the fifth largest economy in the world. 1.9 million new cars are sold in California every year out of the 16 million vehicles sold in the US annually. By setting the deadline in 2035, Governor Newsom is giving a big push to get the ball rolling on a complete market transformation nationally. But that doesn't mean the industry won't take a significant jump of its own in the next five years.
There's a pattern emerging with clean energy technology, where the benefits far outweigh the predicted costs to develop and implement them. In the face of stronger efficiency standards, renewable energy requirements, and pollution standards, the markets adjust better than people anticipate.
And now, with the EV market, it looks like the transition to electric vehicles is on the same trajectory. Despite the hit to car sales in 2020 because of COVID-19, EV sales have done a bit better and battery costs are continuing to decline faster than experts predicted. In the next couple of years, here's the growth and development that's already here or we know is coming:
You can

already

buy a 2020 Chevrolet Bolt (259-mile driving range)

for about $22,000

.

Tesla, a car brand that started out in the luxury segment,

has sold

140,000

more affordable Model 3

s

globally

,

and

says it will have

a $

25,000 EV

available for purchase in 3 years.

Volkswagen has committed to an all-electric product line and just announced the

electric SUV ID.4

, which will be cheaper than the average new car (with incentives)

and get

250

miles of range

.
There's good reason for optimism. Fifteen years is a reasonable amount of time for automakers to release more ZEV models and build factories to churn out enough stock to match the 1.9 million vehicles sold annually in California. It's enough time for battery manufacturers, which are separate entities from automakers, to scale up their own production. It's enough time to plan and install enough charging stations to make charging accessible to every last driver in California – even those who live in condos or apartment buildings, or those who park on the street.
Some areas may embrace EVs sooner – we're already seeing that in the Bay Area, for example – but California is a big state, and 2035 target is ambitious without being unrealistic.
By 2035,

people

probably

won't want to buy a gas-powered car

anyway

.
If the last gas-powered car in California is sold in 2035, it will still be on the road until at least 2045. With every new technology, there are early adopters and there are laggards. Compared to smartphones, laptops, and other twenty-first century gizmos, electric cars have the challenge of replacing a well-established product, not introducing something totally new.
By 2035, the few drivers buying gas-powered vehicles will be clinging to an inferior technology. The majority of people will transition to an electric car before 2035 because they're cheaper to fuel, cheaper to maintain, and better-performing than gas-powered cars. New data indicates that electric cars are already cost-effective compared to the most-efficient, best-selling, top-rated car in their class; that's now, in 2020! (Be on the lookout for a future blogpost about this.)
The biggest barrier to EV adoption is not battery technology, price, or charging, which are all issues that will fade fast in the next fifteen years, especially with the pressure of America's largest car market committing to ZEVs. It's the fact that most people could switch to an electric vehicle today without a change in lifestyle and save a bunch of money to drive a superior vehicle, and they don't know it.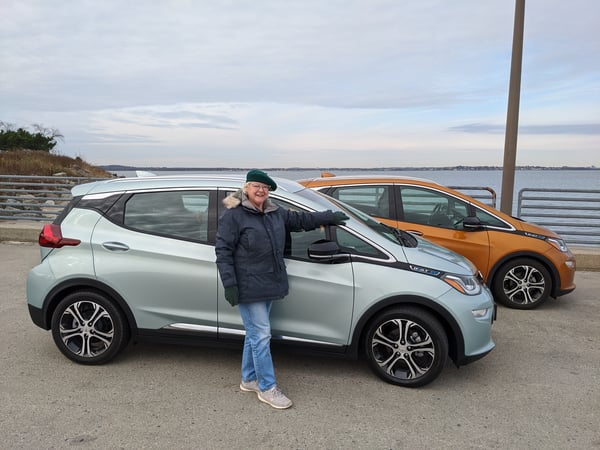 The Drive Green program helps drivers make the switch to an electric vehicle. Folks who leased an EV in 2017 largely decided to get another electric car in 2020 when their lease expired.
The majority of EV drivers now say they will never go back to a gas-powered vehicle. Consumer satisfaction with EVs is that high. The 2035 deadline will help move the laggards along, but by then, the case for driving a gas-powered car will be weak.
Bringing this back to New England
On the same day of Governor Newsom's announcement, Governor Gina Raimondo of Rhode Island sat on a panel with three other governors hosted by the US Climate Alliance to discuss the climate crisis. She noted that a small state like Rhode Island has to work collaboratively with its neighbors on transportation to make an impact.
She's right; the entire New England region has one-third the buying power and economic might of California. But now that California has set the standard for EVs, Massachusetts and Rhode Island can step up and receive all the benefits of the transition. These two states, along with 10 others are in the process of developing a regional Transportation & Climate Initiative to put a price on carbon pollution from gas-powered vehicles. A sunset to gas-fueled cars is a great next step. It's worth nothing that fifteen other countries, including France, China, and Germany, have all set a date to say goodbye to gas-powered cars. That day is coming sooner than you think.
---
There is no way to reach 2030 emissions reductions goals without switching vehicles off petroleum and onto electricity. Through our Drive Green program, we've put hundreds of EVs on the road, but it's clear that significant public education is needed to push beyond the early adopter phase.
Support our programs, our staff, and our operations by choosing to give where it's needed most. You'll ensure that our priority initiatives stay strong!