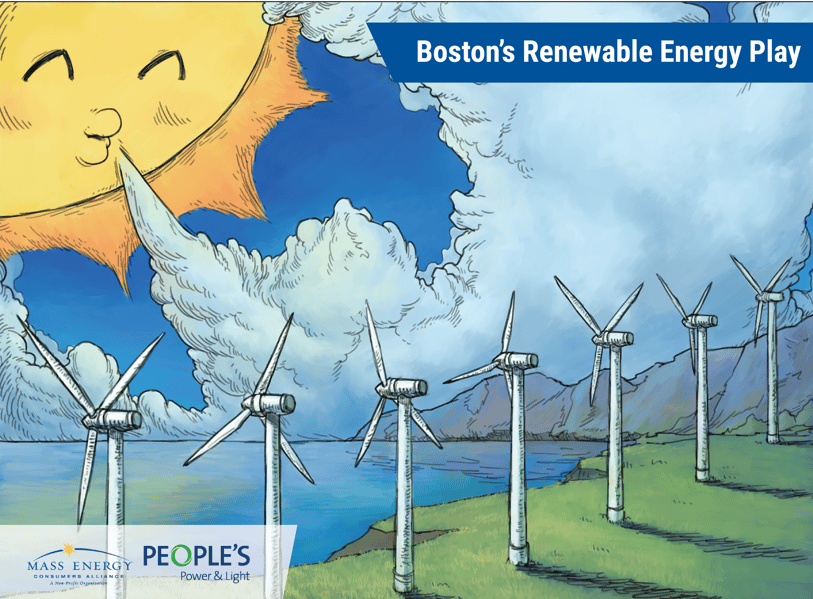 Earlier this month, Boston's Mayor Walsh called for cities around the country to explore a group purchase of renewable energy, apparently for municipal buildings and streetlights. The hope is that a lot of purchasing power could support the construction of large-scale and low-cost clean energy. According to news accounts, the cities might jointly buy from one or more facilities that could be located anywhere in the U.S. Boston City Hall plans to finalize a list of partnering cities and issue a request for information to renewable energy developers late in the summer.
Location. Location. Location
In the world of electricity, where projects are built makes a difference. It's like having your cake and eating it too. Very recently we have seen how big solar projects in Nevada and Arizona as well as wind power in Texas and Kansas are selling power well below the cost of fossil fuel projects. That's great, but low cost projects will get built in the wide open spaces with or without money from Boston's taxpayers and ratepayers. We know that it is cheaper to build projects in other parts of the country, but it's also pretty important to remember that the environmental, public health, and economic benefits of renewable energy projects are realized in the place where the project is built, too.
Regional grid, regional impact
Boston is part of the New England power pool. Everyone here gets power from sources in the six New England states plus some imports from Canada and New York. Renewable energy that gets onto our grid displaces fossil fuels that would otherwise be burned in New England. That is why Renewable Portfolio Standards in all the New England states mandate that only those projects that bring power into our pool may qualify as a Class I resource, the highest value renewable certification in our region.
There are environmental implications connected to location too. Wherever the projects are built, greenhouse gas emissions will decrease. That benefits the world. But where the project is located will also reduce other pollutants that have serious local impact – sulfur dioxide, nitrogen dioxide, particulates, water contamination from fracking, and leaked methane. This is why we want our renewable projects located here in New England.
When we locate wind and solar projects in New England, we turn the spigot down on natural gas and oil here – reducing asthma, heart disease and more – here.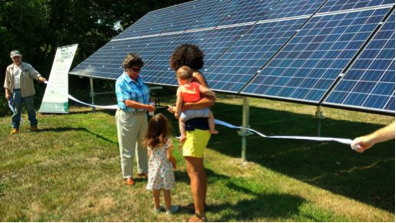 Solar Array at Mass Audubon's Boston Nature Center
There's a crucial regional dimension to energy decisions made in Boston and throughout New England. Here, when we add wind and solar to our power pool, we mostly reduce our consumption of natural gas (and in the winter, some oil), the dominant or marginal fuel for power plants in the region.
Utilities and natural gas power plant owners here keep telling us that we need to build the Access Northeast pipeline to bring fracked methane from Pennsylvania to New England. They want us to increase our natural gas consumption. Studies have shown that this would prevent us from reaching the requirements of the Massachusetts Global Warming Solutions Act. And it would make it impossible for Boston to achieve its carbon reduction goals.
And this is taking into account just the gas that would go up the power plant stack. It would not take into account what are probably the larger impacts of leakage at the gas well and through the pipes from Pennsylvania to Beacon Hill.
Boston's purchase from a project outside New England would do nothing to reduce this region's already over-dependence on natural gas and it dodges the existential regional debate about gas pipelines.
Boston's purchase from a project outside New England would do nothing to reduce this region's already over-dependence on natural gas and it dodges the existential regional debate about gas pipelines.
The mayor would undoubtedly agree with me on the point that building something with union labor might cost more than non-union labor, but the cost difference is worthwhile for some good reasons. The same idea goes for energy projects. You get what you pay for. Build it in Boston. If you can't build it in the city, build it in Mass. If you can't build in the state, build it in New England.
Furthermore, we all are coming to grips with the reality that we are not going to reach our carbon reduction goals unless we shift vehicles and space heating from petroleum to electricity. The cleaner we make the grid here in New England, the more we benefit from what is called strategic or beneficial electrification. We don't get that benefit by association with a project outside the region. Yes, I know it's a small world after all, but we are not going to run transmission lines from Orlando to Boston.
If the cities collaborate and end up finding great projects in their respective regions to support – meaning Boston finds a project in New England – that would be wonderful.
In the meantime, we have Community Choice Energy (CCE)
The Boston City Council voted unanimously to greenlight the most impactful path to clean electricity: aggregation that prioritizes New England wind and solar projects. Over 140 other cities and towns in Massachusetts participate in aggregation, and a growing number of those have committed to additional in-region renewables, including Somerville and Brookline. Aggregation, or community choice energy, is easy, effective, and affordable. And on top of that, Bostonians have made clear it is what they want!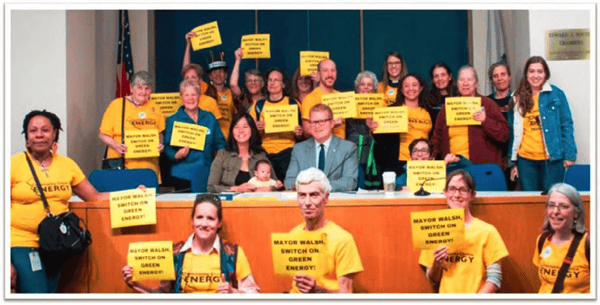 Community leaders pushing for GMA in Boston with City Councilors Michelle Wu & Matt O'Malley