Municipal Aggregation is easier than it sounds. Mass Energy's new paper explains the nuts and bolts of this bulk purchase of electricity and ways in which several Massachusetts communities are using the GMA model we helped to design to drive demand for new renewables while reducing their own carbon footprints.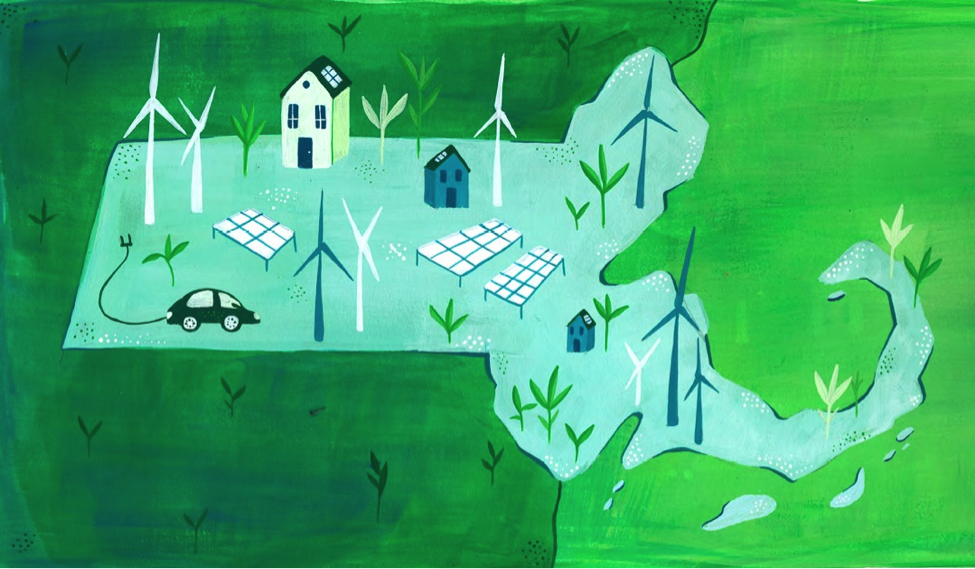 Original artwork from Mass. College of Art and Design student, Christine Rea, created for Mass Energy
We at Mass Energy are pleased to announce the release of our new report entitled Green Municipal Aggregation in Massachusetts. This paper is intended to serve as a resource for individuals wishing to understand Green Municipal Aggregation, or GMA, and for communities considering GMA as part of a comprehensive clean energy and climate plan. We also include additional resources and next steps so that even current GMA towns can improve upon their plans and take their commitment to clean energy even further.
As a refresher, municipal aggregation is the bulk purchase of electricity supply by a city or town on behalf of the residential and small business customers of that community, first enabled in Massachusetts in 1997. It wasn't until 2015, however, that Mass Energy collaborated with Good Energy, LLC. to develop a new approach to municipal aggregation called Green Municipal Aggregation (GMA). GMA is a model of aggregation in which the default electricity option –the alternative to Basic Service– includes a commitment of at least 5% more Massachusetts Class I resources (i.e., new, in-region renewables including wind and solar) than the minimum percentage required by the state's Renewable Portfolio Standard (RPS). GMA empowers cities and towns to choose an electricity supply that is significantly greener than Basic Service, while also delivering cost-savings and price stability.
Today, about 150 Massachusetts communities are aggregating their electricity supply. Of those, about 30 are on the greener end of the spectrum. Through this report, we hope to encourage new communities to aggregate and those that are currently aggregating with "brown power," to go green with the model we have developed and outlined.
There is no credible pathway to reaching the state's mandate of reducing GHG emissions 80% by 2050 without the purchase and retirement of Class I Renewable Energy Certificates and GMA represents the most cost-effective way for a community to do so. GMA delivers a socially-equitable climate solution that is scalable. GMA can be implemented in the near term, but also has lasting impacts. And, the model is malleable, so it can complement and enhance other mitigation measures, some of which are featured in the report.
| | |
| --- | --- |
| | |
We are excited to report that since pioneering our GMA model in Melrose, Dedham, Arlington, Somerville, Sudbury, Winchester, and Brookline, the model is working! Our GMA communities in Eversource territory are offering electricity through their municipal aggregations with five percent (5%) more renewable energy in their default product than is required under the RPS. We point out that a five percent increase on the total electricity mix is actually about a 40 percent increase in Class I renewable energy because the state's Renewable Portfolio Standard is currently set at just 13% (it increases just one percent per year). Wind and solar are the energy sources that most people want in their mix. GMA is a cost-effective, equitable measure to bring those clean resources onto the grid.
We also must highlight Brookline, which surpassed this commitment with a default offer of 25% more renewable energy! What's more is that the 5% option, and even the 25% option, are now significantly cheaper than Eversource Basic Service price for this rate period, from February 1, 2018 through June 30, 2018 (even though since our last GMA blog we learned that the Eversource Basic Service rate has been reduced very slightly). This is outstanding and even if there were a small premium for GMA above Basic Service, the benefits of more clean energy outweigh the costs over the longer run.
In our report we also identify some preliminary best practices for communities beginning to explore GMA and its possibilities.
For more information on the state of Green Municipal Aggregation in Massachusetts, read our report here:
Also join us for a lunchtime webinar on Monday, March 26th at noon! Mass Energy staff will guide you through the key findings of the GMA report and add detail to the topics you are most interested in. See you there!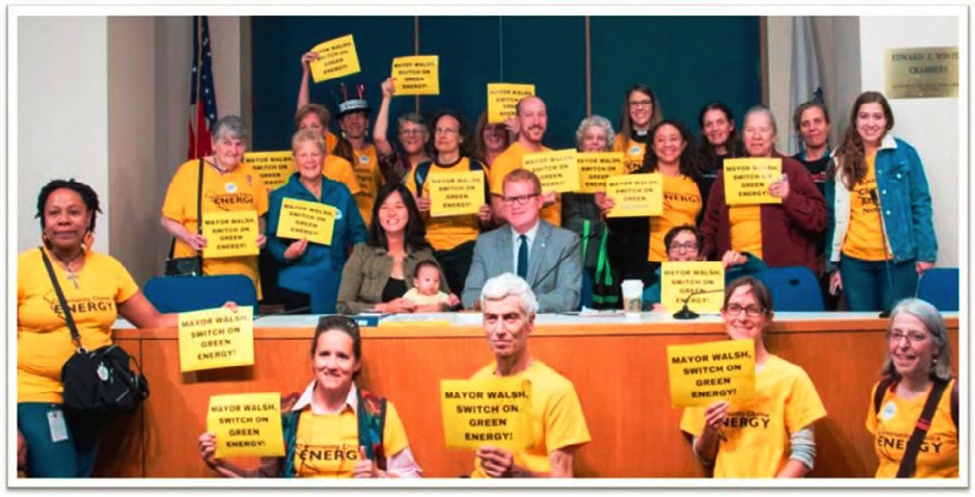 Community leaders pushing for GMA in Boston with City Councilors Michelle Wu & Matt O'Malley