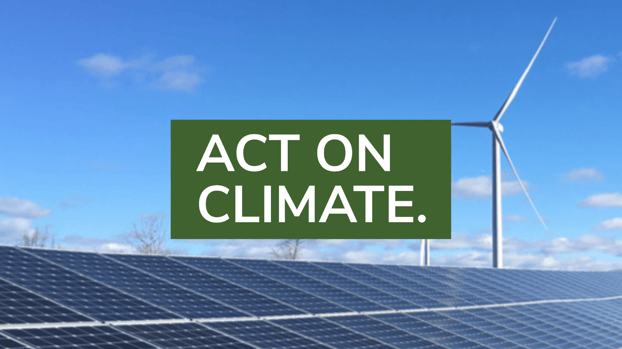 You may be reading more about climate policy in the news because of COP26, the global conference in Glasgow to address the climate crisis hosted by the United Nations. This work is important for the sake of international cooperation and because climate change is a global issue. However, work on the international scale doesn't replace the need for strong leadership on the local and state level to enact policies that align with the vision of COP26, as I recently argued in the Boston Globe alongside our allies at The Nature Conservancy.
Rhode Island shouldn't wait to mitigate its greenhouse gas emissions because doing so has other benefits – lower and more stable fuel costs for electricity, transportation, and heating; new family-sustaining jobs in the green economy; and health benefits of burning fewer fossil fuels. In fact, right now, there are more opportunities than ever to get plugged into local efforts to address climate change. So, what's happening in Rhode Island?
Governor McKee released his vision for Rhode Island in 2030.
Green Energy Consumers Alliance wrote a letter to the Governor explaining what we liked in the first draft of his vision document for Rhode Island in 2030 – and where there was room for improvement. Overall, we're happy with the recognition that climate must be considered within policy discussions for housing, transportation, economic development, job training, public health, and infrastructure, rather than as its own separate category.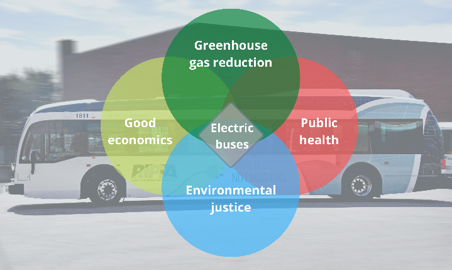 We also appreciate his support for Rhode Island's participation in the Transportation & Climate Initiative. But there are more specific short-term actions where the Governor can commit to putting Rhode Island on the right track for 2030:
Commit to passing and implementing 100% Renewable Energy Standard in 2022 to reach 100% by 2030.
Set a target for offshore wind procurement of at least 1,000 megawatts (MW) to keep up with other states and get the best value for electric ratepayers. This means another 600 MW on top of the state's commitment to 400 MW from the Revolution Wind project that will begin generating energy in 2023. Because offshore wind procurements can take years to come into fruition, the Governor needs to commit to a 600 MW procurement in 2022 to ensure the power will be available by 2030.
Kick off a "future of gas utility" proceeding with the PUC to explore how to transition away from a gas utility for heating.
Establish a target for EV adoption by 2030 to kickstart investment in charging infrastructure and prepare our electricity grid.
The Governor mentioned the Transit Master Plan. We'd also like to see a commitment to the Bicycle Mobility Plan.
The Governor will be accepting comments on the RI 2030 Plan. You can submit your thoughts online or attend a public session:
Tuesday, November 9 at United Theatre (5 Canal Street, Westerly), 5 PM
Tuesday, November 16 at Central Falls High School (24 Summer Street, Central Falls), 5 PM
implementing the Act On Climate.
In Spring, Green Energy Consumers Alliance worked with dozens of other advocacy groups to pass a mandatory limit on climate-warming emissions for 2030. The law requires the Executive Climate Change Coordinating Council (EC4) to update its 2016 Emissions Reduction Plan, which is woefully lacking in specificity and action items. We would have liked to see mobilization on the implementation of the Act On Climate sooner, as the state's ability to meet the 2030 goal will improve the sooner policies are put into place. Nonetheless, the EC4 has committed to meeting more regularly and structuring its meetings more in the style of project-management rather than announcements and presentations without many action items from meeting to meeting.
Members of the public are welcome to attend all EC4 meetings over Zoom. This is the best place for Rhode Islanders to consistently influence what the state is doing on climate change. Because the EC4 is a council made up of state agency directors, its work is not limited to the term of any one elected official, but an entire cabinet. (Another thing that Governor McKee could commit to in the second draft of his 2030 plan: approve requests by the Department of Environmental Management to dedicate full-time employees to the implementation of the Act On Climate.)
The next public meeting related to the implementation of Act On Climate will be on November 16 at 12pm to discuss the scope of improvements to make to the 2016 Mitigation Plan.
The start of the 2022 legislative session is just a few months away.
The Act On Climate gave executive agencies the authority to promulgate regulations to address climate change. Nonetheless, we still need at least two bills in 2022. Implementation of the Act On Climate must be supplemented by strong legislation to allocate resources and set clear directives on how we can reduce emissions. Our legislative priorities – 100% Renewable Electricity Standard and TCI – passed in the Senate in 2021. But these bills must be heard and passed in both the House and the Senate again in 2022 to become law.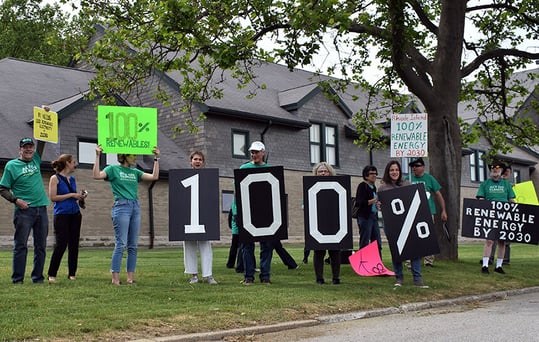 In particular, the Transportation & Climate Initiative (TCI) is important because it will generate $20 million a year for Rhode Island to invest in clean transportation. Other commitments, like the execution of the Transit Master Plan to expand RIPTA bus service and Bicycle Mobility Plan to improve the safety of walking and biking paths, as well as the state's Electric Vehicle Charging Plan that's still in the works, will need a dedicated source of funding to move forward.
You can help put climate change on the agenda early by reaching out to your state representative and senator and telling them to urge Speaker Shekarchi and Senate President Ruggiero to bring 100% Renewable Energy by 2030 and TCI to a quick vote early in the 2022 session.