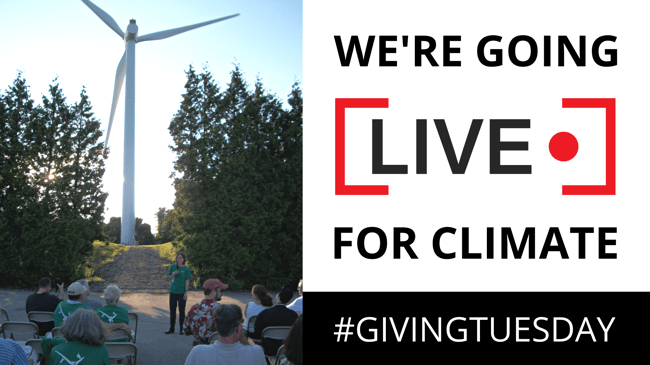 Don't miss Green Energy Consumers staff have been posting videos all week leading up to Giving Tuesday (November 30th)! Videos on important climate news and solutions will be posted on this blog, Facebook, Twitter, Youtube, and on greenenergyconsumers.org/donate all week.
Giving Tuesday (November 30th 2021) is "the antidote to Black Friday and Cyber Monday," when people give to their favorite causes instead of buying. As we prepare to enter our 40th year, we would be grateful for your donations, since we're faced with new challenges:
Watch our videos and find out why your donations are needed this #GivingTuesday. Stay tuned to this blog, where we'll post the videos after broadcast, and follow us on Facebook to watch most videos live!
Coming up:

Community Choice electricity update!

Today we'll post Executive Director Larry Chretien's update on communities pursuing cleaner electricity for their residents (aka Green Municipal Aggregation).
11/24/21: Electric cars are cars
Marketing Director Erin Taylor (ET) shared a glimpse at her holiday travel plans in an electric car, including how she'll fit a whole smoker in the trunk. She'll talk about why and how we educate consumers about the benefits of driving electric.
11/23/21: Energy Efficiency policy
Policy Coordinator Kai Salem was live to give a snapshot of what's good and what needs work on the utilities' proposed energy efficiency plans.
11/19/21: Save Transportation Climate Initiative
The governors of MA, CT, and RI shot down the only transportation emissions plan we've seen yet. Transportation Policy Coordinator Mal Skowron was live on why that's not acceptable, and how you can help. Watch:
AND ON GIVING TUESDAY, NOVEMBER 30th, join Kai for
a free webinar

that goes more in depth on state energy efficiency plans.
All videos will be posted on our Live for Climate website and our Youtube channel.
Wishing you a safe and happy holiday season! Please consider making a donation to our climate work this Giving Tuesday. You don't have to wait!