Electric vehicles are already a smart and practical choice for many drivers in Massachusetts and Rhode Island. However, the conventional wisdom is that electric cars aren't ready for primetime yet. For this reason, in addition to offering discounts on electric vehicle purchases, our Drive Green program spreads awareness about the benefits of EVs, including cleaner air, a safer climate, better driving experience, and lower cost of ownership.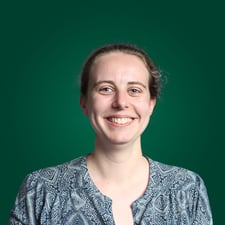 Anna Vanderspek is Electric Vehicle Pogram Director at Green Energy Consumers Alliance, where her role is to manage the Drive Green program and to advocate for policies that make it easier for drivers to switch to electric cars.
Recently, Anna appeared on two radio shows to talk about how you might be able to buy an EV affordably. They're short segments (about 20 minutes each) and cover a lot of ground. You can listen to both conversations to get her take on purchase incentives, charging infrastructure, and how EV technology is improving by clicking the links below.

In addition to Anna's radio appearances, Green Energy Consumers Alliance was mentioned on a recent episode of Boston Public Radio (WGBH). On August 9, noted climate activist Bill McKibben joined the show to talk about climate action, and electric vehicles came up in conversation. Later in the show, two EV drivers from Massachusetts and Rhode Island called in to say they love their electric cars, which they were able to purchase at a discount with our Drive Green program!
Listen here: Boston Public Radio (WGBH) with Margery Eagan and Jim Braude – August 9, 2021
Bill McKibben starts at 1:17:00
Green Energy Consumers is mentioned at 2:26-2:29, then again at 2:31:45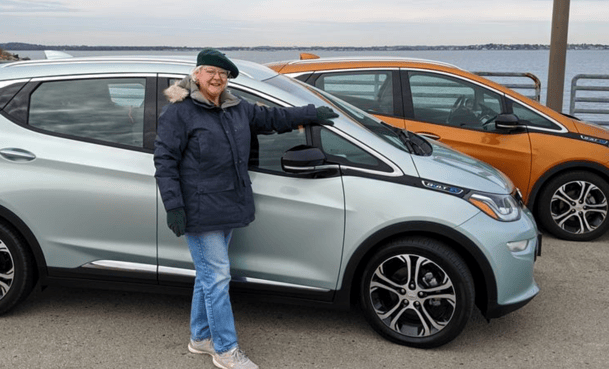 Claire, pictured here alongside two all-electric Chevy Bolts, called in to Boston Public Radio to talk about how much she loves her electric car.
EV owners say electric cars are not overhyped!
The recent "Code Red" IPCC report released by the UN painted a bleak picture of the future with an unstable climate. Although the problem of climate change is large and hard to grapple with, we are optimists at Green Energy Consumers Alliance; we have an opportunity to act swiftly and still avoid the worst impacts of climate change. Action at every level – individual, local, statewide, and national – is necessary.
To this end, we are delighted to see our members take the initiative to spread the word about our clean energy programs and our policy advocacy to speed the transition to a low-carbon future. For example, when the Boston Globe published this pessimistic and myth-ridden article on electric cars, several friends of Green Energy Consumers Alliance wrote in to say that electric cars are not overhyped.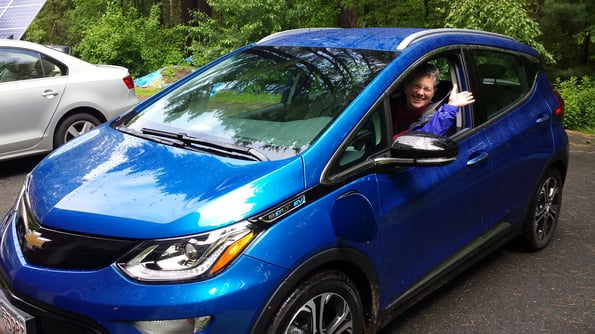 Carolyn, pictured here in the electric car she purchased through Drive Green, recently wrote in to the Boston Globe to say "So the move to electric cars is complicated- c'mon, we can do this!" Carolyn, we agree.
Meet EV drivers in person and online
The radio and internet can be great ways to learn about electric cars (when you use reliable sources, of course), but you might still have unanswered questions about what it's like to actually own one. We think the most effective way to get them answered is to speak to an EV owner firsthand about their experience.
Join us for an upcoming online or in-person event to have the opportunity to speak to real-life EV drivers!
Electric Car Happy Hour - September 17
Medford Wind Turbine & Electric Vehicle Tour - September 18
Visit a Wind Farm in Coventry, RI - October 9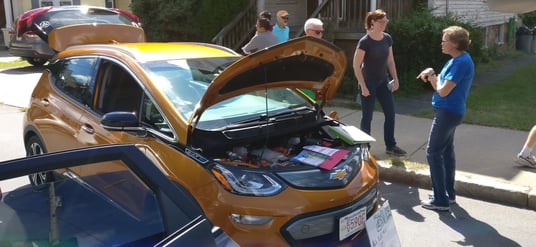 We're grateful for the EV drivers in our network who take the time to spread the word about EVs and Drive Green because more people need to know how doable it is to transition away from gasoline.
If you drive an EV and would like to be invited to events to show off your car and help educate other people about the benefits of EVs, click here to learn more about being an EV Ambassador.