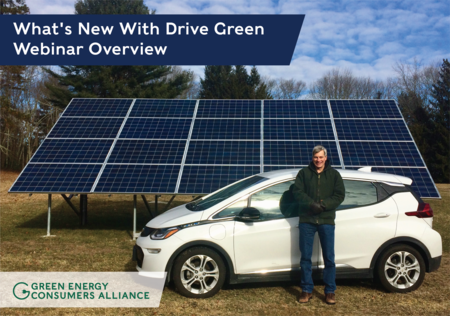 Did you miss the "What's New with Drive Green" webinar, but still want to know what's new with Drive Green? We have you covered. Below is a brief overview of what we went over during our February 12th webinars.
Part 1: Worldwide Progress
2018 was a big year for electric vehicles (EVs) with approximately 2 million sales. This is up 72% from a year ago. For more detailed information check out this article by InsideEVs. Below is a graph showing U.S. sales in 2018. Growth in 2018 was driven primarily by the arrival of new models, particularly the Tesla Model 3.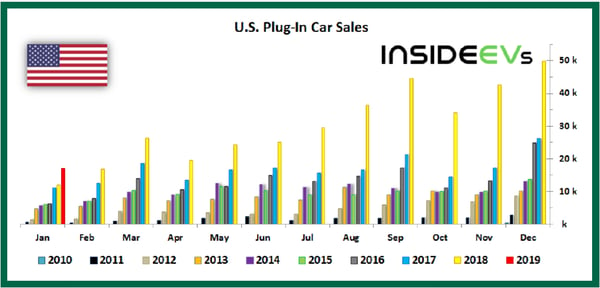 Part 2: Changes Closer to Home
In this section, we took a closer look at the federal tax credit, which should be safe for now thanks to support in the U.S. House. Two original equipment manufacturers (OEMs) have already sold 200,000 or more EVs. This is an important benchmark because once an OEM has sold its 200,000th car, the federal tax credit starts to phase out and halves every quarter until it is no more. The table below shows the first two OEMs to have reached that benchmark, Tesla and General Motors (Chevy, which makes the Bolt and Volt), and where they are in that process.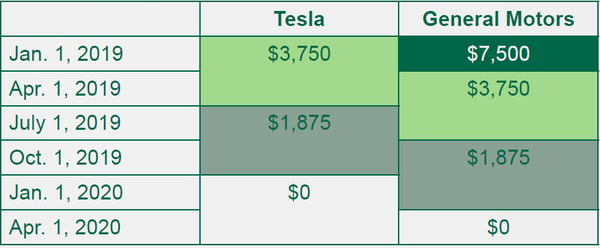 Another topic of note is the change to the MOR-EV state rebate program in Massachusetts. As of January 1, 2019, MOR-EV is only offering a $1,500 rebate for battery electric vehicles (BEVs) and fuel cell vehicles that are under $50,000 in sale price. That means MOR-EV will no longer provide rebates for plug-in electric vehicles (PHEVs).
We touched briefly on the Volkswagen settlement funds and how the funds will be distributed for both Massachusetts and Rhode Island. Massachusetts will divide up its Phase I $23.5 million to spend on electric buses, EV charging infrastructure, and a MassDEP open solicitation. Rhode Island will spend the majority of its $14.3 million on electric buses for the Rhode Island Public Transit Authority (RIPTA), starting with 3 we photographed in October. For more information, check out our blog on implementing Volkswagen funds here.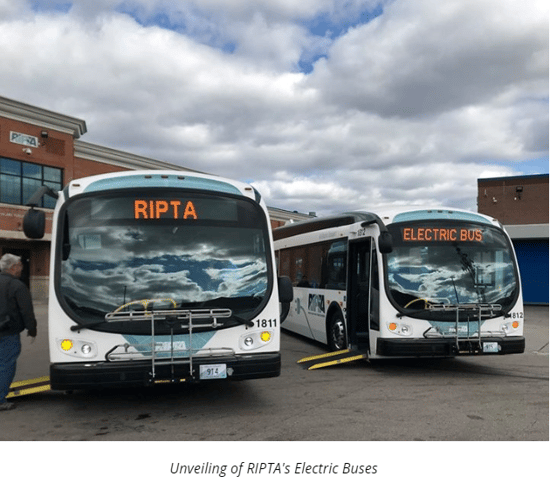 Another topic of importance is utility "Make Ready" programs. In Massachusetts, Eversource has committed $45 million over 5 years to install 3,500 charging ports at up to 450 sites and National Grid has similarly committed $25 million over 3 years to install 1,200 charging ports at approximately 140 sites. In Rhode Island, National Grid is instituting a Charging Station Demonstration Program, through which it is committed to installing 321 Level II and 46 DCFC charging stations.
The final topic we discussed in this section is a pilot program offered by National Grid in Rhode Island. The program offers 500 EV owners a discount to charge their car during off-peak charging times by utilizing time-of-use rates (TOU). National Grid will be rolling this program out in the next couple of months, so stay tuned for more information. National Grid in Massachusetts is asking approval to do the same in a docket now before the DPU. For more information on time-of-use rates, check out our time-of-use page here.
Part 3: Drive Green
Drive Green is a group-buy program that Green Energy Consumers (then Mass Energy and People's Power & Light) launched in November of 2016. We currently have 38 dealerships with 16 models in the program. Drive Green has helped more than 1,700 customers sign up for test-drives and has facilitated the purchases and leases of almost 600 cars! We did a survey of people who have not yet bought or leased a car. Respondents were almost unanimous in saying that their next car will be an EV and that our program has been helpful.
As a result of those surveys, we've added more information on our Charging page, added new Winter Driving and Public Health pages, and more information on efficiency and safety.
We hope you've found this overview to be informative. Be sure to RSVP to our Charging Ahead Webinar on Thursday, March 14, 2019.