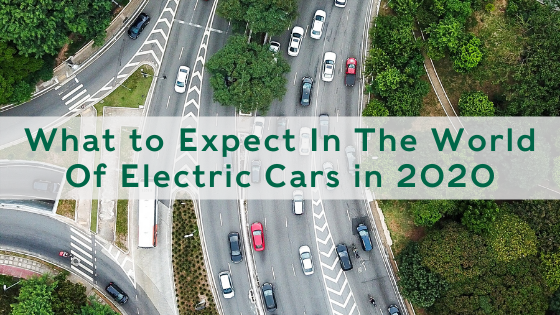 After record sales numbers in 2018, the market for electric vehicles (EVs) experienced only modest growth in 2019. Most EV sales this past year (like last year and the year before that) were Teslas in California, but with an expected 19 million EVs to hit the road in the US by 2030, the tipping point for widespread vehicle electrification is near. Here are seven reasons that EVs should be on the upswing in Massachusetts and Rhode Island starting in 2020.

1. The full federal tax credit incentive for purchasing an EV is available for nearly all automakers.
Tesla and Chevrolet sold 200,000 electric cars in the US by late 2018 and early 2019, so Tesla buyers are not eligible for the incentive as of January 1, 2020, and Chevrolet's $1,750 credit will expire on March 31, 2020. But every other automaker is far from having its $7,500 tax credit slashed, which means that EV-buyers in the early 2020s will be able to significantly reduce the upfront cost of purchasing many different electric vehicles – and that's regardless of who's in the White House. Although the Trump Administration blocked an extension of the incentive that would have raised the 200,000-car ceiling for Tesla and Chevrolet, the credit is unlikely to be challenged for the remaining automakers

2. A new tax credit incentive will help you pay for charging at home.
A recent amendment to Congress's end-of-year budget will retroactively provide tax credits for at-home charging. If you installed a charging station in 2018 or 2019, or plan on doing so in 2020, you will be eligible for an incentive to cover 30% of your total installation costs on your next tax return.

The average cost to install a Level 2 charging unit at home is about $1,000, including the electrician's time and the charging equipment . You can learn more about the process of installing a charging station here.
3. There will be more electric models available in the next two years.
Whether they're trying to compete with Tesla or just trying to stake a claim in the growing market of electric vehicles, automakers are rushing to announce their plans to release EVs in a variety of sizes, driving ranges, and prices. The arrival of the Kia Niro EV, Hyundai Kona EV, and Nissan LEAF Plus in 2019 gave car-buyers reasonable alternatives to the Chevy Bolt and Tesla Model 3, and even more options are on the way.
In 2020, a new wave of electric models are preparing to enter the market, including the Ford Mustang Mach-E, BMW i4, and Volkswagen ID4 Crozz. These vehicles will have an upper hand in the consumer market, since they'll be eligible for the full federal tax incentive.
4. Battery prices are still falling.
Electric vehicles have fewer moving parts and are easier to assemble than combustion-engine vehicles, which mean they will be cheaper to manufacture in the long run, too. The relatively high cost of lithium-ion cells has prevented consumers from seeing lower prices for EVs, but the technology is evolving rapidly and supply chains are maturing to meet growing demand. Since 2010, the price of lithium-ion battery packs has fallen 87%, and by 2023, batteries will be inexpensive enough that EVs with driving ranges of 250+ miles will reach price parity with combustion-engine vehicles.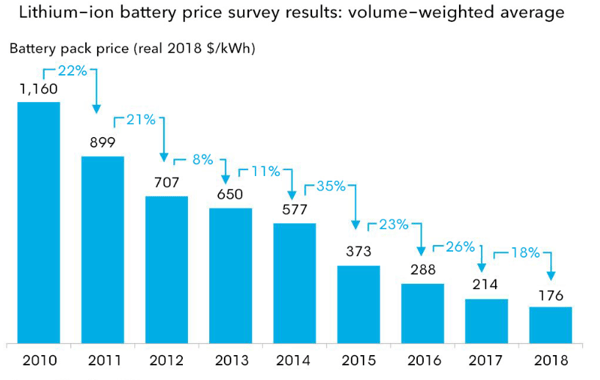 There's no anticipated slowdown for the decline in lithium-ion battery prices. In 2019, the average cost per kilowatt-hour dropped to $156. Image source.
Innovation in manufacturing and economies of scale will ensure that as automakers secure the battery supply for their upcoming electric models, EV prices will continue to drop in 2020 as driving range increases; for example, the newest models of both the Chevy Bolt and Nissan LEAF Plus managed to increase driving range while keeping sticker prices stable.
5. Charging infrastructure is improving.
Consumer demand for EVs will grow as long as public charging infrastructure can keep up, and we are optimistic about this because utilities have taken the lead to prepare charging for the boom in electric vehicles in the next decade. In Massachusetts, both National Grid and Eversource cover 100% of the cost to run new high-voltage wires for charging stations and provide consultation for public charging installations. In Rhode Island, funds from the Volkswagen Diesel Settlement kickstarted Electrify RI, an incentive program to help workplaces, multi-unit dwellings, government properties, and public parking lots install charging.
These programs make charging installation sensible for building owners that want to attract employees, tenants, or shoppers with EVs, and subsequently encourage more people to consider an EV.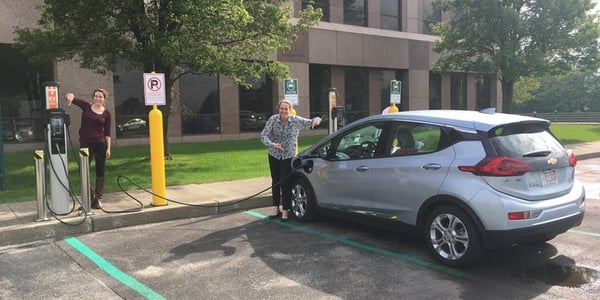 The Department of Administration building in Providence, RI is leading by example by providing workplace charging for state employees and visitors who drive electric cars.
6. The MOR-EV rebate is coming back.
In September 2019, Massachusetts exhausted the funding for its rebate program to incentivize the adoption of electric vehicles after an initial extension in January 2019. However, in the state's end-of-year supplemental budget, Massachusetts lawmakers allocated $27 million per year for 2020 and 2021 to restart the MOR-EV rebate. Fully electric and plug-in hybrid cars with sticker prices under $50,000 that are purchased or leased after January 1, 2020 will be eligible for a rebate of $2,500 and $1,500, respectively. Click here to learn more about the changes to MOR-EV.
Unfortunately, Rhode Island suspended its EV incentive program in 2017 and has made no effort to restart it in 2020.
7. The Transportation Climate Initiative (TCI) is coming to address transportation-related emissions.
TCI is a regional effort to curb greenhouse gas emissions from the transportation sector. Much like the Regional Greenhouse Gas Initiative (RGGI), TCI's cap-and-trade structure in twelve New England and mid-Atlantic states will set a price on carbon emissions from transportation fuels and encourage investment to expand low-emission transportation options, such as biking, walking, and transit. Although TCI is unlikely to go into effect until early 2022, its presence in the news will help draw more attention to the emissions-reductions benefits of electric vehicles and hopefully spur more good policy development. It's likely that states without existing EV incentives will use part of their TCI revenue to spur vehicle electrification.
---
2020 is the beginning of the end for gas guzzlers as the long-cited barriers to EV adoption, like cost, charging access, and consumer awareness, melt away. Drivers who switch to EVs overwhelmingly report that they will never go back to a vehicle with an internal combustion engine. It's 2020 – why rely on a 19th century technology?