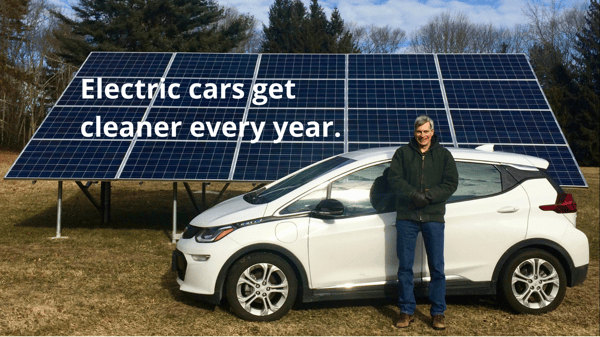 I often hear EV skeptics say some variation of, "Unless electric vehicles are charged with 100% renewables, they're still contributing to pollution." That seems intuitive, but we don't have to wait for 100% zero-emissions electricity to have a huge impact on the climate by transitioning to electric vehicles.
In 2021, a mile driven in an electric vehicle reduces climate-warming gases by 74% compared to a mile driven in its gas-powered counterpart. The grid in New England is already greener than many people think.
Because electricity generation gets cleaner every year, an electric vehicle gets better for the climate every year.
If we get on track to achieve 100% renewable electricity, we can eliminate emissions from vehicles, which are currently the largest source of emissions in Massachusetts and Rhode Island.
Green Energy Consumers Alliance wrote a blog last year that explained how our model of Green Municipal Aggregation can work in tandem with greater electric vehicle adoption to rapidly decarbonize two of the state's largest source of emissions.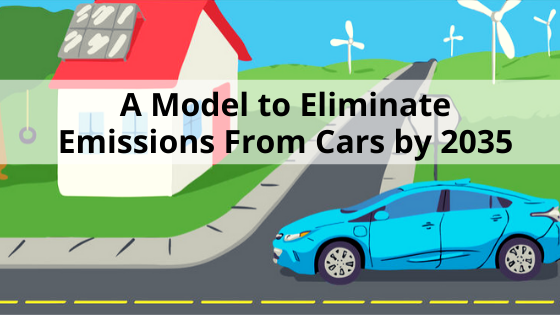 Since then, Massachusetts has made more progress through the Next Generation Climate Roadmap and the proposed Clean Energy & Climate Plan, which increase the state's legal obligation to increase renewable energy through 2030. In addition to kicking polluting resources out of our electricity mix, these policies also increase the urgency to transition to electric vehicles.
To illustrate this, Green Energy Consumers Alliance created a slideshow to compare the emissions of electric cars and gas-powered cars over the next thirty years under several different clean energy scenarios for Massachusetts. Check it out:
Although the data shown in the slideshow is focused on Massachusetts' clean energy laws, the story is similar in Rhode Island. When the Revolution Wind project comes online in 2023, Rhode Island will have hundreds of megawatts of offshore wind that will exceed the minimum percentage established by the Renewable Energy Standard (RES). This policy needs an update to continue to increase our wind and solar power generation at the speed necessary to address the climate crisis.
The good news is that since the passage of the Act On Climate, there's momentum to pass a 100% RES by 2030, which would make Rhode Island a national leader in renewable energy. It also would allow state policy to shift its attention to increasing the number of EVs in Rhode Island, which is currently the lowest per-capita than in any other New England state.
Why the transition needs to begin now
As of 2020, there are 287 million cars on the road in the United States. It could take as long as 15 years to completely turn over the entire fleet. Every new gas-powered car locks us into another decade (at least) of burning gasoline. The best available science tells us that we can't afford to delay.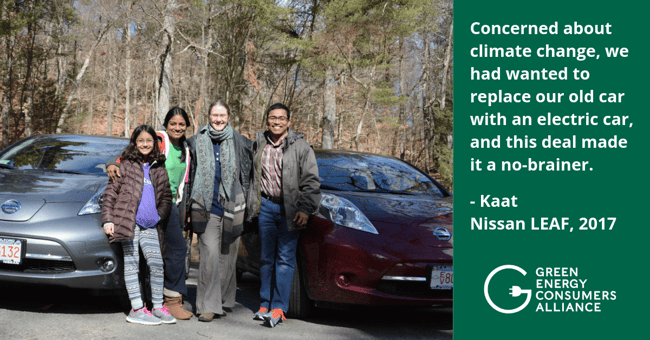 There are other benefits of switching to electric vehicles, too. For example, EVs don't have tailpipes, so they don't spew smog and particulates like gas-powered cars do. This improves local air quality and has substantial benefits to public health. The American Lung Association estimates that by 2050, the transition to electric vehicles will save society $72 billion in healthcare costs by eliminating the asthma attacks, ER visits, and lost work-days exacerbated by air pollution from vehicle tailpipes.
Of course, there are other ways to reduce our dependence on polluting gas-powered cars. Investing in transit, making it safer to walk and bike for short trips, and putting a price on congestion in urban areas are good opportunties to reduce the number of cars on the road overall. But the cars that remain should be electric as quickly as possible.
About our math
Our math is based on work and data by Synapse Energy Economics, the Union of Concerned Scientists, and the draft 2030 Massachusetts Clean Energy & Climate Plan.
The modeled scenarios are 10- and 30-year estimates meant to represent a general trajectory under multiple clean energy policies. The actual year-to-year change in emissions will depend on which resources are replaced when with new zero-emission projects. Some existing plants emit more than others and we cannot predict exactly when each will be displaced by renewables.
We also do not account for the emissions involved in producing lithium-ion batteries or extracting fossil fuels. Studies, such as this one by the Union of Concerned Scientists, comparing full lifecycle emissions show EVs reduce emissions (and natural resource consumption) substantially compared to gas-powered cars.