About twenty years ago, our non-profit organization stepped into the voluntary green power market, hoping to speed up the pace of wind & solar development. A lot has changed for the better since then, but we've still got a long way to go.
In 2002, we convened a group of environmental organizations to design a way for people to contribute to the development of local renewable energy in such a way that would turn down the fossil fuel spigot. At that time, there was only one community-scale wind project in all of Massachusetts & Rhode Island — Hull 1 — so we launched the New England Wind Fund to crowd-fund local wind projects.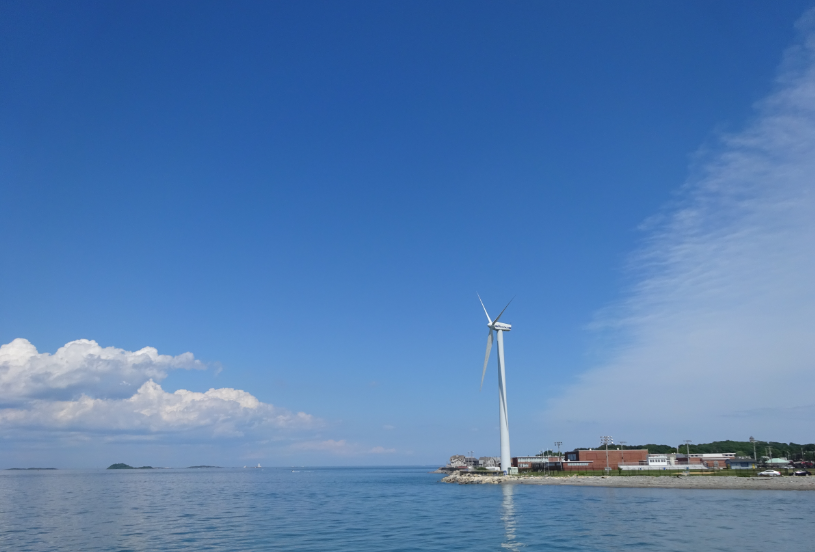 Hull 1, the first community-scale wind turbine in Massachusetts, still going strong.
People make charitable contributions of any amount to the Fund, and we use the money over 10 years to purchase renewable energy certificates (RECs) from local wind projects. The flexibility to spend the money over time allows us financial leverage to sign long-term funding contracts with wind developers that are crucial to their success. When possible, we like to sign contracts when projects are in the planning stages. We only pay the developer when the turbine produces power. And when the turbine makes energy, it knocks fossil fuel generation down a notch. The more RECs we buy, the less pollution we have.
We started the New England Wind Fund before we were given the opportunity to offer a green electricity option to customers on their monthly bills — to National Grid customers in 2003 and to Eversource customers many years later. Eventually, we were able to create a mix of wind, solar, anaerobic digestion, and low-impact hydro.
How far we've come
Since 2002, we have raised over a million dollars for the New England Wind Fund, with about $180,000 coming since 2016. That has been leveraged by millions more in monthly payments for green power from participants in our utility programs and in the communities we have worked with through Green Municipal Aggregation. These are voluntary contributions that increase demand for wind power beyond the requirements of Massachusetts and Rhode Island state law. Over the years, people like you have helped to support about 25 wind turbines. Today, the map of resources in our portfolio looks like this:
How far we have to go
In recent years, the overall growth in wind and solar installations throughout Massachusetts and Rhode Island has been quite impressive, but it's not enough. There is scientific consensus that we must reduce greenhouse gas emissions to 80-100% below 1990 levels by 2050. Today, we are, at best, 25% below 1990. Both states have made commitments to solar, offshore wind and large hydropower, but a diversity of resources will be necessary to reach our climate change mitigation targets as quickly as possible. We need more onshore wind. Today, our goal is to turn that $180,000 into $400,000. Admittedly, it's an arbitrary number because the only limitation on how much wind power we can make is what we have in the Fund.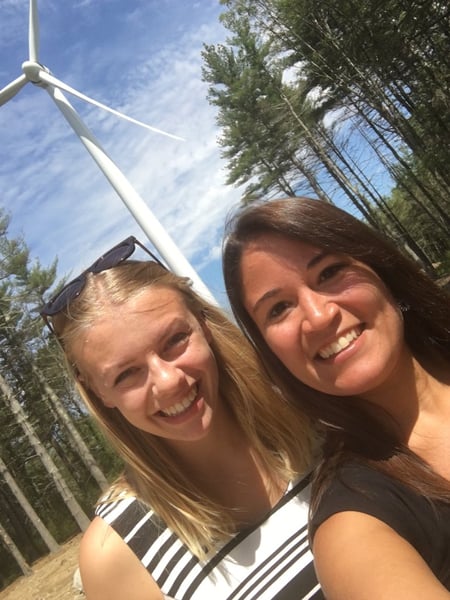 Staff on a visit to the Coventry, RI wind turbines.
Here's why individual contributions matter
A $100 contribution to the Fund will support at least three thousand kilowatt hours of wind power, or enough to power the average household for about 6 months. And if you itemize charitable contributions on your federal tax return, your donation is tax-deductible. You might already be enrolled in our Green Powered program, or you might have solar panels on your roof. But contributing to the New England Wind Fund enables us to put more wind power onto the grid on your behalf.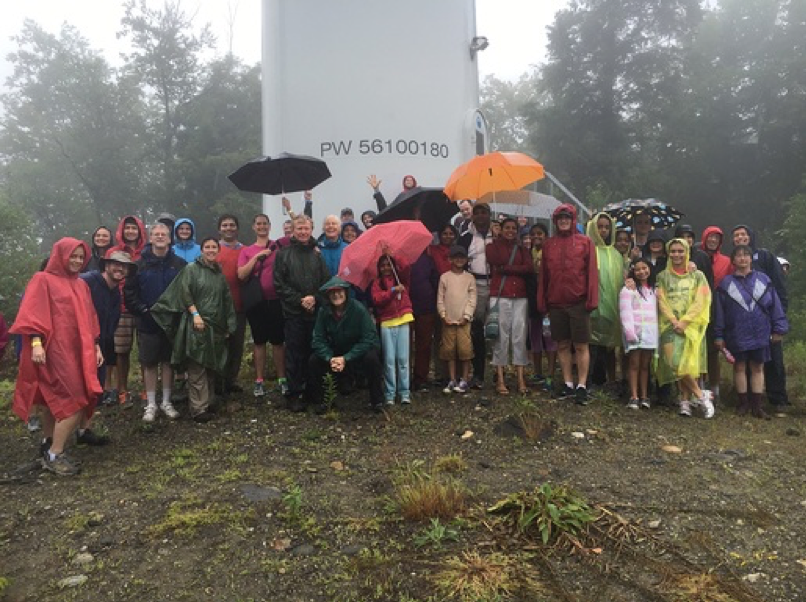 A visit to Berkshire East's wind turbine in Charlemont, MA.
We hope we can count on your support so that we can move forward on the path, and at the pace, that climate action demands. Help us tap into the great wind resource!