In May 2019, Providence welcomed a fleet of autonomous shuttles to offer free transit service for a five-mile loop between Providence Station and Olneyville Square. The pilot program, called Little Roady, is a collaborative effort between the Rhode Island Department of Transportation and May Mobility, a Michigan-based tech company that has deployed autonomous shuttles in Detroit, Michigan, Grand Rapids, Michigan, and Columbus, Ohio.
If you don't live in Providence, you may not know that the Olneyville neighborhood is cut off from the rest of the city because of the 6-10 highway connector. There's no bus service between Olneyville and Kennedy Plaza, the state's central RIPTA terminal, either. That means it's difficult for car-less residents of Providence (like me) to get in or out of the neighborhood. Little Roady changes that.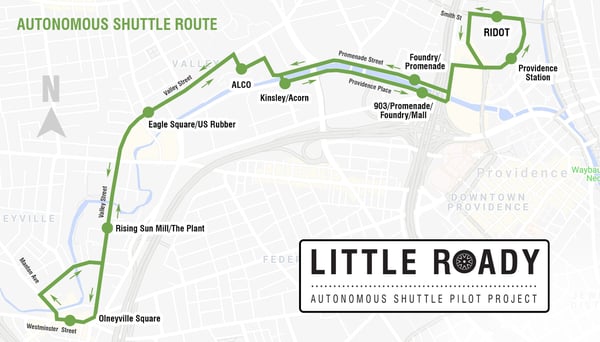 A map of Little Roady's route, courtesy of RIDOT.
Vehicle autonomy is a broad term that used to describe anything from driver-assisting features like cruise control to fully-automated vehicles that require no driver intervention whatsoever. Little Roady shuttles fall somewhere in the middle of that spectrum. In ideal conditions, they respond to traffic signals, recognize right-of-way, and stay on course, but they still rely on human intervention from in-shuttle operators to do things like pull over for ambulances.
When I took my first ride, the weather was gray and wet. Rain interrupts the shuttle's sensors, which allow it to "see" other cars and obstacles on the road, so the shuttle operator drove in manual mode for most of my trip. With a maximum speed of 22 miles per hour, Little Roady received a fair number of honks from annoyed drivers (the speed limit in Providence is 25 miles per hour, which means most people drive around 30.)
As the skies cleared, I got a glimpse of Little Roady in autonomous mode. Though the shuttle has a pre-determined route mapped in its computer-brain, potholes, construction, and steep hills confused it. The operator could anticipate when the shuttle would hesitate, and he took control for maneuvers like pulling into tight spots and avoiding traffic cones. Little Roady reminded me of myself when I was first learning to drive: overly cautious and a little jerky on brakes.
I rode the shuttle for two full loops, which took about an hour, and exited the vehicle looking forward to taking another trip again soon. Still, I was disappointed by a glaring oversight in the shuttle's advertising; unless you notice the quiet cabin or lack of tailpipe, you might never realize the Little Roady shuttle is an electric vehicle (EV).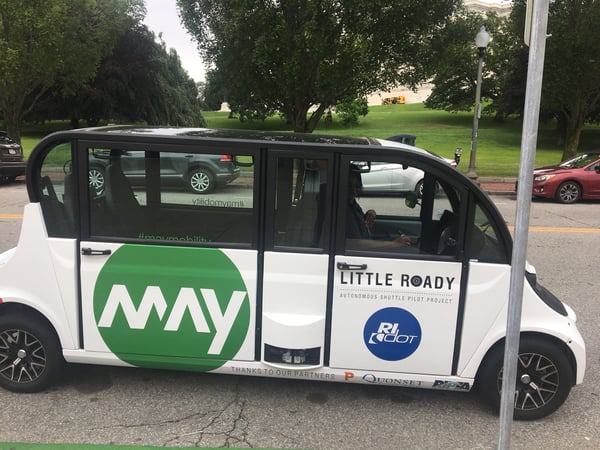 Little Roady is described as "Autonomous Shuttle Pilot Project," but it matters that the shuttle runs on an electric engine.
As more autonomous pilot projects hit the road, those both for and against the technology have a lot to say about it. Though electrification has largely flown under the radar, it is poised to make a bigger, more meaningful impact on our lives in the near future.
Self-driving cars will increase carbon emissions unless they're full of passengers and electric.
Transportation accounts for 40% of carbon dioxide emissions in New England, and the biggest culprit is light-duty vehicles. Since electric cars release a third of the carbon emissions per mile compared to the average gas-powered car, it is crucial to electrify vehicles to mitigate climate change.
Without electrification, self-driving cars will likely make our emissions problem worse by increasing the number of vehicle miles travelled. Without a driver, a self-driving car could cruise around to look for parking, return home to avoid paying for parking, or even circle aimlessly while waiting to pick its passenger up. Robin Chase, co-founder and former CEO of Zipcar, has a helpful video that illustrates the danger of letting autonomous vehicles dominate city roads without careful planning.
Congestion is already a problem in major cities in the United States because cars take up an inordinate amount of road space to transport a single passenger compared to walking, biking, or public transit. 76% of American commuters drive alone to get to work, and even in the Boston metro area, which has a higher proportion of non-drivers compared to other cities, government officials recently admitted gridlock is so bad that it's reducing access to jobs in the city.
The only thing worse for traffic than a single-occupancy vehicle is a zero-occupancy vehicle, and autonomous vehicles open up the possibility for empty cars to take up high-demand road space. This would increase emissions while undercutting efforts to expand mobility in other more sustainable ways, such as public transit (which needs also needs to be electrified!)
It's clear that there needs to be policy to guide autonomous vehicle deployment; good policy will ensure autonomous vehicles of the future are electric, too.
Autonomous technology still has a long way to go. Electric vehicles are ready now.
Teaching a machine to drive in a city is difficult because the activity of driving is full of interpersonal interactions that require interpretation. Humans are able to read and respond to the behavior of other drivers with the appropriate maneuvers, even if they encounter an unexpected situation. For example, human drivers can notice a car inching out, recognize that the car may dart into their path, and prepare to slow down. While autonomous vehicles need to be cautious during testing to avoid collisions, being overly cautious leads to ineffective driving. As my ride in the Little Roady shuttle demonstrated, developing artificial intelligence that's smart enough to respond to all sorts of driving scenarios will take time.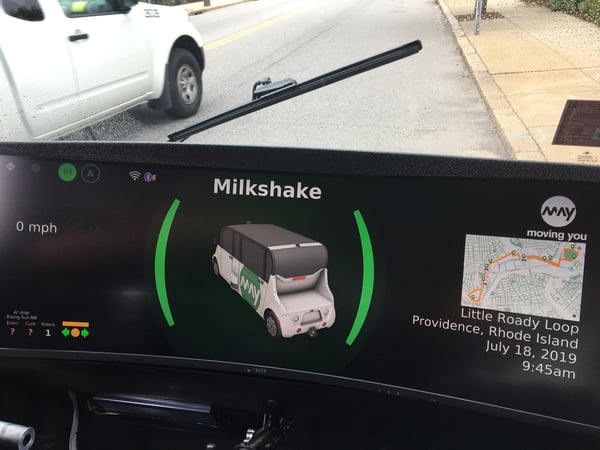 A photo from the passenger seat of Milkshake, the name of the shuttle I rode on. The dashboard has a complete map of the route and where each shuttle is, along with cues to the shuttle operator.
Meanwhile, electric powertrains are a mature technology, with greater simplicity and fewer moving parts than the internal-combustion engines they're replacing. Consistent improvement in lithium-ion battery technology means that electric cars will reach cost parity with gasoline-powered cars by the mid-2020s. Electric cars are already cheaper to maintain and fuel. Combined with the maneuverability, acceleration, and noiselessness of electric powertrains, drivers have plenty of good reasons to switch to electric now.
That's not to say that autonomous vehicles won't improve our quality of life. I would be thrilled for the technology to advance enough to make distracted drivers less lethal and cut down on the tens of thousands of traffic-related deaths that occur every year. But considering the looming climate crisis, it's important to focus on transportation solutions that both improve mobility and cut carbon emissions.
And to some extent, we're already benefiting from the building blocks of vehicle autonomy because of advanced safety features like blind spot detection, lane-keep assist, and automatic forward-collision braking. While these technologies add some additional cost to new cars, they end up paying for themselves and provide value to everyone by avoiding injuries and property damage from preventable accidents.
The real impact of Little Roady
During my trip, the shuttle operator told me that after just two months of service, frequent riders are requesting expanded service hours and more routes. It's clear that the value of this pilot project for the community lies not in its autonomy, but in its offering of electric transportation to a neighborhood that is currently underserved by RIPTA buses. And perhaps more importantly, the shuttle is free, encouraging drivers to leave their cars at home and expanding mobility for car-less residents like me.
Regardless of its ability to drive itself in the rain, the Little Roady project is a successful model for how to develop self-driving technology. Rather than testing gas-powered, single-occupancy vehicles, Little Roady is collecting data as it's providing a much-needed service to Providence residents… all on an electric engine.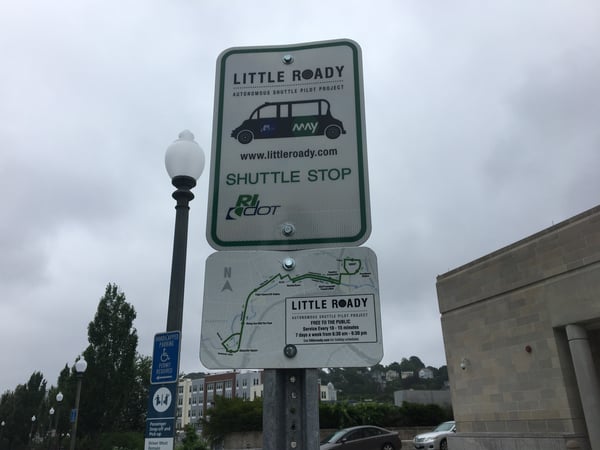 Signage for the Little Roady shuttle outside of Providence Station.
Riders can take the Little Roady Autonomous Shuttle for free between 6:30AM and 6:30PM seven days a week. Service is offered every 10-15 minutes. Check out the route here.