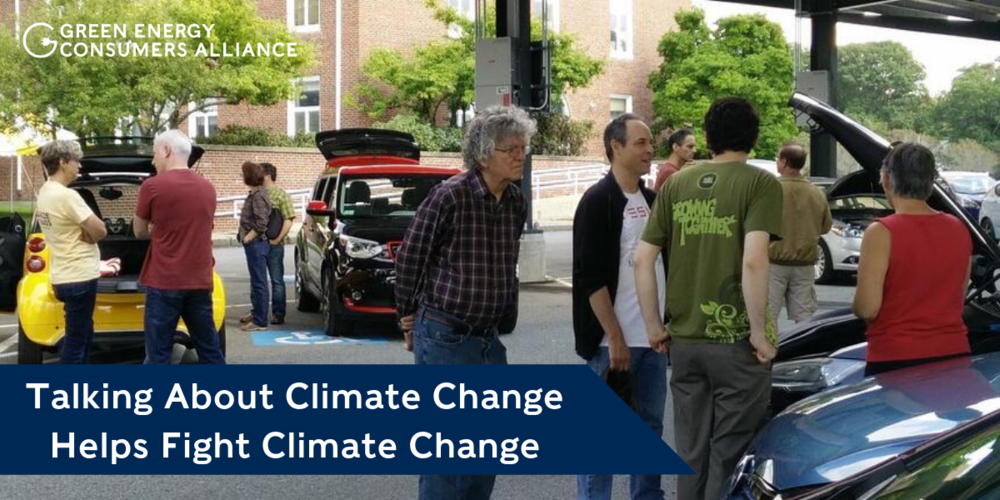 Here at Green Energy Consumers Alliance, we believe in practical ways for people to make green energy choices. You're probably already aware that there are dozens of decisions you can make in your life to reduce your carbon footprint. But the carbon footprint of other people? As described in the news recently, it turns out that we can get others to act on climate by simply talking with them about it.
Talking about something so scientific can be daunting, but we think we can make it easier for you. In particular, we have opportunities throughout the end of the summer to spread the word about the environmental benefits of electric cars, whether you've already made the switch to driving one or think you want to in the future.
We've blogged before that electrifying transportation is crucial to reducing emissions to safe levels. While we support robust investment in public transit and walking/cycling infrastructure, cars will continue to be an important mode of transportation for many. Not enough Americans are seriously considering an electric car for their next vehicle purchase, in part because the technology is new. And because no one is talking to them about it, especially the carmakers who are making lots of money on the old-fashioned gas guzzlers, many people are missing out on a greener and cost-effective alternative to gasoline.
Own an electric Car? Tell your story
As our friends at Mothers Out Front are always telling us, storytelling is powerful. Right now, Green Energy Consumers Alliance is hosting a photo contest to get more people excited about electric cars. We want to see how electric car drivers are using their EVs to make their summertime drives emissions-free. The best photo, as chosen by the staff at Green Energy Consumers Alliance, will win a $50 gift card to Patagonia. Here's how to enter.
Snap a photo of you and your EV at a fun summer destination by August 31st (the more people in the photo, the better!)
Upload it to Facebook and/or Twitter so that we see it. Don't forget to use the #EVSummer hashtag and tag @GreenEnergyConsumers on Facebook or @GEConsumers on Twitter.
Storytelling, especially through photos and social media, makes an impact on your circle. When people see your post, they'll want to talk to you about it. It's a great way to replace gas-powered cars on the road and start conversations about climate.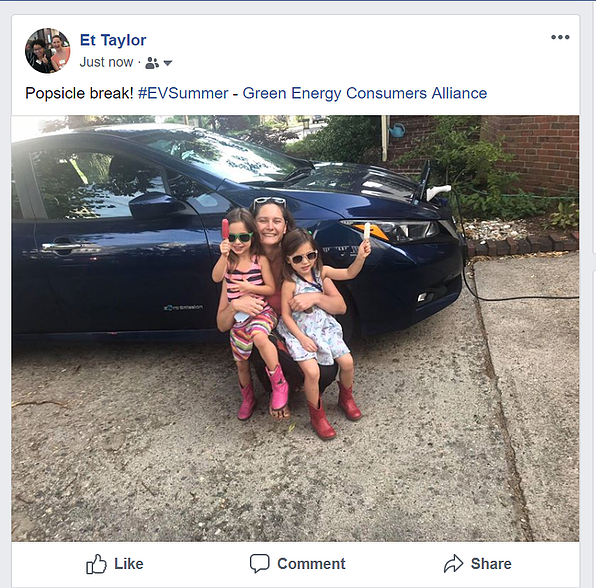 The Taylor-Vassefs and their Nissan LEAF on a popsicle break this summer.
thinking about an electric car? Join us for National Drive Electric Week.
September 14-22, 2019 is National Drive Electric Week. EV enthusiasts all over the country are hosting events to promote the benefits of electric cars by connecting drivers who have made the switch to drivers who are considering an EV for their next car. NDEW events are an opportunity to learn more about electric car technology and take a test drive without the sales pressure of visiting a dealership directly. The best part about it is it fosters these great conversations about green tech and climate.
Green Energy Consumers Alliance is hosting two events for National Drive Electric Week - one on Cape Cod and one in Providence. Details below!
Cape Cod Electric Car Show & Drive Experience
When: Saturday, September 14, 10am - 2pm
Where: Barnstable Municipal Airport, Hyannis, MA
What: A big electric vehicle event co-sponsored by a long list of organizations (Green Energy Consumers, Cape Cod Climate Change Collaborative, Cape Air, Clean Cities, and more!) with food, music, and electric vehicle test-drives.
Providence National Drive Electric Week Event
When: Sunday, September 22, 1pm - 4pm
Where: Boathouse at Roger Williams Park, Providence, RI
What: Green Energy Consumers' 2nd Annual Ride & Drive. Local dealerships will provide cars for test drive and we'd like to have EV Ambassadors on-hand to answer questions for people considering going electric. We will also have organizations like Clean Cities and SustainPVD tabling.
Thanks to the tireless efforts of organizers all over New England, you may live near a community that's hosting its own event for National Drive Electric Week. If it's more convenient for you, we encourage you to attend or get involved there instead! Check out the full map of NDEW events here.
Even if you're not thinking about buying a car soon, electric car events are a great place to meet and talk to other people who are interested in making the switch to effective clean energy solutions.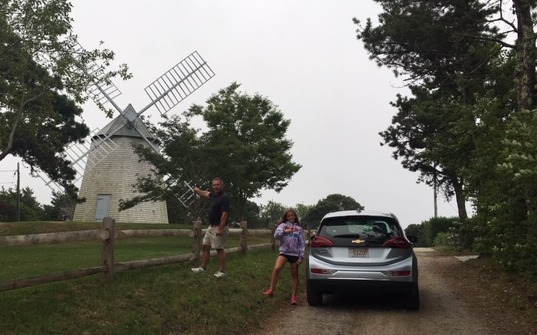 Our executive director drove his electric Chevy Bolt to Cape Cod for vacation. His driving miles are powered by windmills a little newer than the one pictured above.