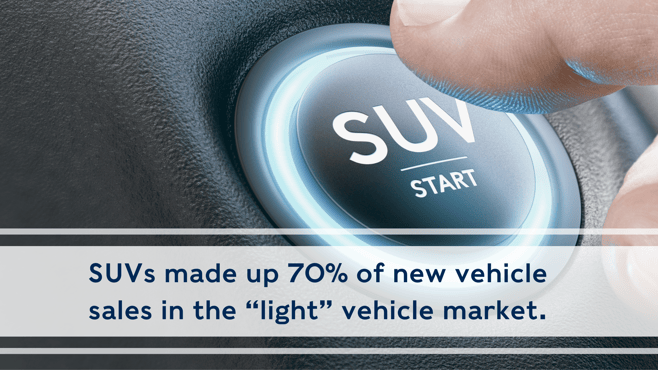 For the last two decades, the Toyota Camry has been the reigning champion of passenger cars in the Unites States. But behind the scenes, the Toyota RAV4 had been steadily gaining speed in the race for most popular car and finally took the top spot in 2019. The Toyota RAV4 sold nearly 450,000 cars with it's slow and steady approach. In the end, the Toyota Camry didn't just lose its top spot, it came in with a measly 337,000 models sold, snatching eighth place.
This was one spark in the SUV craze.
In April 2020, crossovers, pickups, and SUVs made up 70% of new vehicle sales in the "light" vehicle market. And with many manufactures focusing on their promises to produce more electric cars, we will see a wider variety of electric vehicles, including SUVs and crossovers, available in the near future. Since our last SUV blog, we've seen multiple electric crossover and SUVs come on the scene, including the Toyota RAV4 Prime, VW's ID.4 and the Volvo XC40 Recharge.
With the SUV growing in popularity over the last few years, it didn't come as too much of a surprise to see an uptick in interest within our own program. Just read how much our members love electric crossovers and SUVs.
---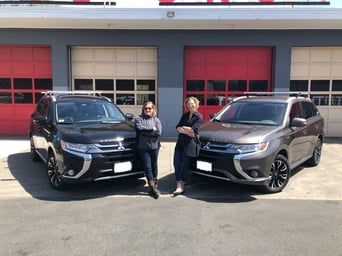 Lindsey (Outlander PHEV): "I knew I wanted to upgrade from my small sedan to small SUV, but I didn't want to buy a gas guzzler. I heard about the Drive Green program from a friend. I checked out the website and was easily able to pick out the car right for our family — the Mitsubishi Outlander PHEV. From there, the whole process was seamless, from connecting with the dealership to purchasing the vehicle. Since a majority of my driving is local, I can go days on electric power. It was so nice to receive the $2500 rebate check from the state and then a $5800 credit on my federal taxes. I love driving my Outlander PHEV around town and get many compliments."
Nicole (Outlander PHEV): "My previous car was a Subaru that I loved, though I needed something that was reliable, comfortable, and had the room for both my real estate and dog rescue needs. I knew that I wanted to invest in something that would tick those boxes and be environmentally friendly (I have my green realtor designation, so I thought it best that I act as a green realtor). I learned about the program and researched it online, which was super easy. I was able to compare cars, their features, and the different dealerships that were part of the program. I chose my car, a Mitsubishi Outlander GT PHEV, from Cornerstone Mitsubishi. I couldn't be happier! The process from researching the vehicles, working with the dealership, and to the continued information that is sent, was by far one of the easiest ways to go in what can be a daunting way to purchase a vehicle. I am forever grateful for the opportunity to take advantage of the program and I am so thrilled with my Outlander PHEV. Did I mention it is a sleek looking car? Love the street cred!"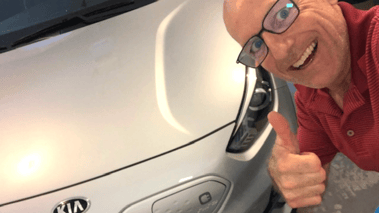 Andy (Niro EV): "Why did I wait so long? The KIA E NIRO is awesome!!! Two hundred and forty miles to the battery charge and a smooth as silk ride. Room for 5 and nice trunk space when the back seats are down. I'm putting in a Level 2 charger in my garage, with advice from Mal at the Green Energy Consumers. Thank you and Go Green!"
Julie (Niro EV): "I love my Kia Niro and I wasn't sure I would. I was a confirmed Toyota Highlander Hybrid driver and I thought my next car would be another Highlander. And then I started thinking about my carbon footprint and my responsibility for this planet and I knew that I had to purchase an EV car. If I see a plastic bottle, I recycle it. That's the same way I feel about EV cars. How could I, in good conscience, purchase anything but an EV car? It took a little while to love my car, I'll be honest. It takes some adjustment. It's smaller for one thing and figuring out how and where to charge it takes some planning and patience. I love how the car drives and I geek out a little over the digital information available at my fingertips. I feel proud to drive by giant Suburbans and Hummers and I hope my one small step for our family will lead others to jump on the bandwagon. I am about to take my Niro on its first road trip, which will be the true test of EV ownership. I have mapped my trip and I know how far I can drive and where I'll stop to charge my car along the way. I'm looking forward to it!"
(You may remember that another Niro EV driver, Glen, wrote this guest blog about driving across the US and back in his EV!)
---
To stay up to date on electric SUV news or releases, subscribe to our newsletter. If you are interested in purchasing an electric or hybrid SUV now, check out our car portal to find one at a local dealer near you.