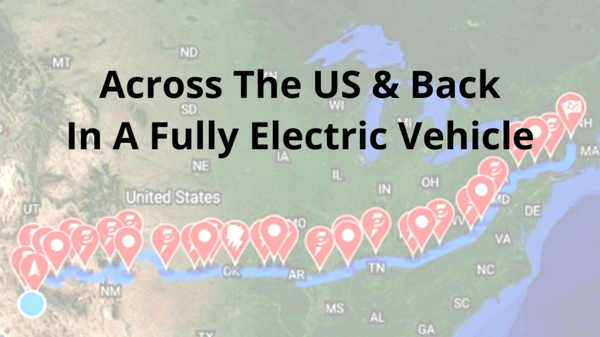 One of the top concerns we at Green Energy Consumers hear from people who are considering switching to an electric vehicle is: "how far can I go?" Well, two of our EV Ambassadors recently completed an 8,854-mile road-trip from Massachusetts all the way to California in an all-electric Kia Niro EV and kindly wrote up this blogpost for us. It's longer than our usual blogposts, but well worth the trip (pun intended!) for all who are interested in the nitty-gritty of taking a really, *really* long road-trip in an all-electric car. The following was all written by Glen Ayers, with a couple of editorial notes from Green Energy Consumers in italics.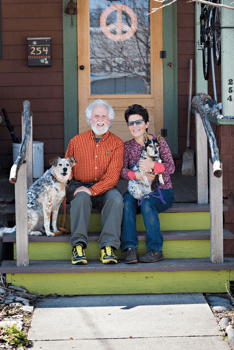 Would it be possible to be an all-electric vehicle owner and still follow our wanderlust? Could we travel coast to coast, camp in Mojave Desert and visit the Grand Canyon, or would it be too hard to find charging stations along the way? And, if it was raining too hard to tent camp, could we sleep in the back of our electric vehicle (EV)? These were questions we were about to answer – perhaps the hard way – when we set out for our cross-country trip in our Kia e-Niro early this year. (The Ayers family: Nyssa, Glen, Mary, and Twyla; photo credit to Kate Gariepy Hunter.)
The Preparation
Prior to our trip, my wife and I had done a fair amount of traveling, hiking, camping, and paddling in as many remote areas as we could get to. And once retired, we started considering longer and more distant trips. Last winter we took a 45-day road trip to the Desert Southwest, driving almost 8000 miles in our 2012 Prius-C Hybrid, mostly camping and hiking in Texas, New Mexico, and Arizona. We really packed the tiny Prius with camping gear plus clothes, two coolers, food for several weeks, and of course, our two dogs! While we had a great time returning to many places that we had not visited for two or three decades, the car was more than a bit claustrophobic and, due to some extremely cold weather, we ended up spending nine nights in motels, not our favorite thing to do and fairly difficult when travelling with two dogs. We knew if we were to take more such trips, we would need a larger vehicle. And we wanted to go fully electric.
After much online research and some EV test drives, on May 10, 2019, we drove to Quirk Kia in Braintree, MA, and traded-in the Prius. We chose the 2019 Kia e-Niro for the roomy interior and also because the back seats fold down to provide a full 72" of sleeping space, with the front seats moved fully forward. This meant that we could sleep in the car if we really had to. The e-Niro has a 64-kW battery and averages about 4.5 miles per kW in Eco mode, if you don't drive like an idiot and if you make maximum use of the regenerative braking system, giving the car a total summer range of about 300-miles. While the e-Niro was much more expensive than the Prius, it actually feels like 10-times the car. The e-Niro is also a joy to drive, especially on the highway at 65 mph, where it practically drives itself. Except for changing lanes when necessary, the car is otherwise pretty autonomous, as long as you keep a finger lightly on the steering wheel to keep the sensor happy. Adaptive Cruise Control and Lane-Keeping Assistance do most of the driving, which is really impressive when stuck in bumper-to-bumper traffic. And the e-Niro has a bit more clearance, which fits in better with our tendency to end up on some rough dirt roads getting to the trailheads in the remote locations we like to visit.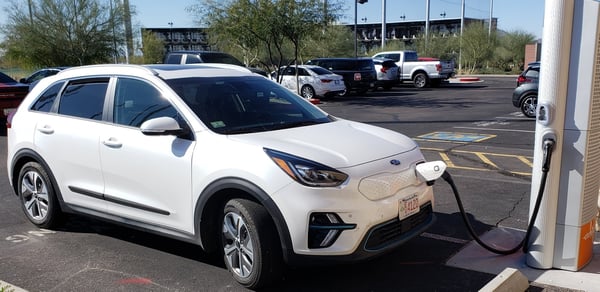 The Kia Niro EV looks like every other white SUV in the parking lot, but it's way different.
Late last summer we did our first short road trip in the e-Niro, packing the car with our camping gear and loading our two canoes onto the roof rack, then heading out for a week of "wilderness" paddling on Umbagog Lake in Northern New Hampshire, a one-way trip of about 225 miles. No problem, we thought, with the car's 300-mile range on a fully-charged battery. We quickly discovered that having those canoes on top of the car increased wind resistance, so much so that it cut the car's range in half! That was an eye-opener. All of my careful charging plans were thrown out the window, but thanks to the PlugShare app we were able to locate some nearby charging options, including a free fast charger. Having a smartphone, and a cell phone connection, is really critical, especially when traveling into unknown territory. I'd say it is essential.
Those lessons learned, we hit the road again in October 2019 for a longer camping adventure, a real trial, with a 2-week, thousand-mile trip. Our destination was down the Appalachian Mountains to the Joyce Kilmer Memorial Forest in southwestern North Carolina near the Tennessee line, a place that I'd been wanting to visit for decades. We also tried out sleeping in the back of the e-Niro, and we found that it was indeed possible, but it was not that roomy, especially for two adults with two dogs. With our inflatable camping mats, it was comfortable, but not something that we would look forward to, unless somehow, we could improve the set-up. On this longer trip we also got a good taste for how fast-charging works, and the need to improvise when a charger doesn't work for some reason. The out and back trip added up to about 2500 miles, and on it we got our initial introduction to the "Electrify America" charging network, but more about that later. Overall, our first long trip was a good confidence builder and convinced us that we could indeed manage a much longer trip, with adequate planning. We felt like we could do this.
The Trip
Fast-forward five months and we have just returned from a two-month, 8854-mile road trip in the e-Niro. We left Massachusetts on Jan 15, 2020 and returned 60 days later, hoping to escape most of the New England winter. We intended this trip to be a winter camping vacation with our two dogs, but we were looking for somewhat milder camping conditions, so we packed the car and headed south and west. We ended up spending a total of 56 nights sleeping in our tent, while only three nights were spent sleeping in the back of the car during heavy rains or very cold temps and, best of all, we were able to completely avoid staying in even a single motel.
Based on the wind resistance experience from our first camping trip, we ruled out the use of a rooftop cargo bin to carry our gear which would have left us with more room inside the car, but the significant reduction in range between charges would have really added up during a long-distance highway trip like we were planning. We found there was still plenty of room in the e-Niro for food storage behind the front seats, with our two dogs plus a thermoelectric cooler comfortably fitting on the back seat, leaving the spacious rear cargo area for holding our clothes and camping gear. We created even more room by removing all the non-essential items out of the spare tire well, where we then stashed extra supplies. Compared to the Prius, having more interior room made traveling more comfortable and also meant we would likely enjoy staying away longer.
For awesome pictures and sketches (by Mary) of our 2020 cross country road trip (but not much about EVs), see our blog at http://twodogroadtrip.home.blog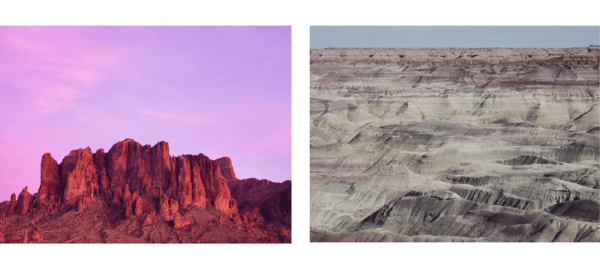 The view from Lost Dutchman State Park, AZ and part of the painted desert in Northern Arizona.
Before leaving, we planned the general route of this year's trip using A Better Route Planner (ABRP), supplemented by the PlugShare and Google Maps apps. Here is an example of the route map that we started with: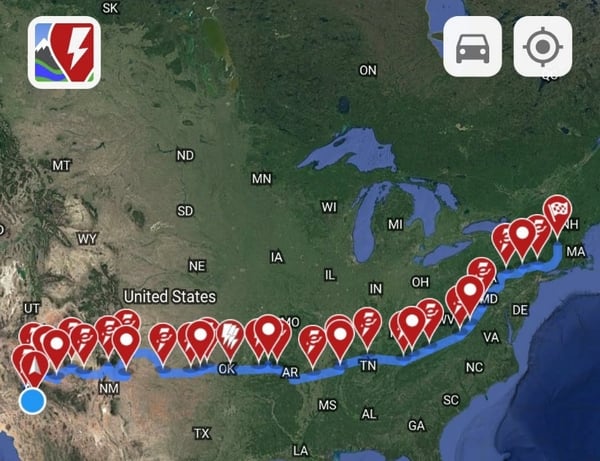 ABRP screenshot of full initial route from Mass to California, including campgrounds, above, and ABRP screenshot of our trip from Arizona back to Mass, below.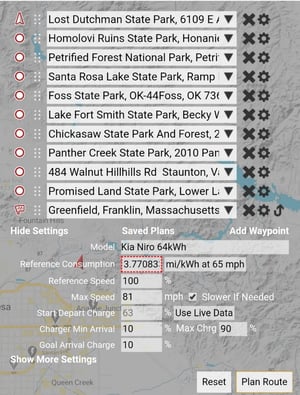 Charging your EV while on a long road trip can be complicated. (Green Energy Consumers here: for a quick primer on how EV charging works, particularly on the go, check out our charging page.) Because of the patchwork of EV charging systems, I found it necessary to install seven different EV charging apps on my cell phone. I also have a few RFID cards that are used to activate certain chargers. With most of these systems you have to link something like a checking account or credit card to the app so that you can pay for the juice you get, but sometimes you can swipe your credit card at the unit, if the card reader is working. Mostly we charged at CCS DC Fast Chargers (DCFC) along the interstates where they are fairly evenly spaced out between most major metropolitan areas, but there are some notable gaps. ABRP calculates the most efficient charging stops taking into consideration the car's range, the battery State of Charge (SOC), and other adjustable factors, with new features being added regularly. The app also warns you if the planned route is not possible based on the availability of chargers. This free app really does a great job of reducing range anxiety on long trips.
During this road trip, we traveled through 12 states, eventually making it as far west as the Salton Sea in Southern California. A quick summary of the trip found us visiting 12 National Parks (NP), Monuments, Forests, and/or Wilderness Areas, including White Sands NP, Grand Canyon NP, Mojave Desert National Preserve, Joshua Tree NP, and the Petrified Forest/Painted Desert NP, where we either camped or hiked. We stayed at a total of 22 different state parks, where we took advantage of the RV electrical hook-ups to charge the battery. In fact, some of these campgrounds turned out to be an essential part of the EV charging network that we relied on to get us to the more remote areas we wanted to visit.
Charging on The Trip
The Level-1 charging cable that came with the e-Niro is a 12-amp, 120-volt trickle charger and delivers about 1.4 kW/hour, or a bit under 5-miles of range gain per hour of charging. In other words, the Level 1 charger would take 46 hours, or almost two full days to charge our EV, if the battery SOC started at zero. In order to charge the car faster at home, and at campgrounds, we purchased a portable 16-amp MaxGreen Level-2 charger that came with several socket adapters, also called "dogbones", which allow the charger to plug into the most commonly used outlet types, and the unit can accept either 120 or 240-volts. On this trip, staying at modern campgrounds, we almost exclusively used the four-pronged NEMA 14-50R adaptor, which is 240-volts and typically charged the car at 3.8 kW/hour (adding about 17 miles of range per hour), but a few times we had to switch to the adaptor that let us sip at a 120-volt standard outlet, which produces only 1.6 kW/hour (about 7 miles/hr). All of the campgrounds that had electrical RV connections where we stayed, except for one, offered a 50-amp, 240-volt outlet, as well as 30-amp and 20-amp, 120-volt sockets. We plugged our car into the 50-amp socket and used the other circuits for keeping our electric cooler running and for charging phones, computers, and our many rechargeable batteries for flashlights, headlamps, etc. In fact, we specifically selected parks which had a 50-amp service available, usually by checking online through ReserveAmerica, or by calling ahead to the individual state park offices.
The electricity for about half of our trip was provided by RV hook-ups at the many state parks that we stayed at, which is pretty significant. It actually made it a much better deal to stay at such campgrounds, where we not only slept and showered, but also grabbed an overnight charge for the car. The cost for camping at state parks varies greatly, from $14/night for full electric sites to more than $40/night. Obviously, some state parks were a great deal, when you factor in the bonus of filling up your car's battery. EV charging at state parks seems to be a new thing, and most of the parks either didn't have a policy on charging, as long as you were paying for an RV site, or didn't have any issue with us taking the excess electrons with us when we left. We did visit a couple of National Parks that had installed Level-2 chargers, and at least one state park also had installed EV charging stations, but until that improves bringing your own Level-2 charger and adapters is necessary. For us, setting up our tent and charging our car parked between two monstrous RVs the size of tour buses at first felt a bit weird, but we got used to it.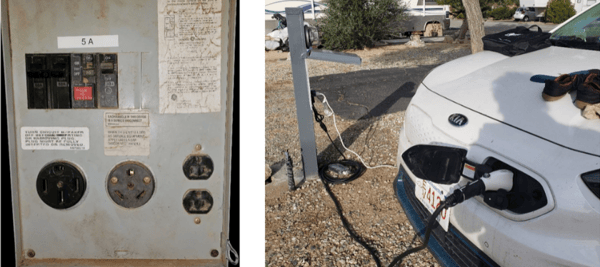 Left photo: 50-amp 14-50R socket on left; 30-amp TT-30R socket in middle; 20-amp standard plug on right. Right photo: The e-Niro charging at a State Park campground with our Level-2 waterproof charger.
Our initial goal was to get to the New Mexico/Arizona area as quickly as possible while driving between 350 to 400 miles per day. ABRP calculates the driving time as well as the time it takes to charge along the route, and charging time and cost is an important consideration when driving an EV on a long-distance road trip. We tried to start each day while we were on the road with a full charge, which for the e-Niro gave us between 240 and 294 miles of range, depending on temperature and driving conditions. We typically stopped to do a fast charge up to 80% SOC sometime around mid-day, which also gave us time to walk the dogs and eat some lunch. To reduce range anxiety, we factored in a 30-mile buffer, approx. 10% of battery capacity, so that we would have some remaining range left in case we had problems with a particular charger. Then another quick charge in the late afternoon would get us to our destination. If we arrived at a state park in the evening with about 90-miles of range left, and plugged into a 50-amp socket, we would usually have a fully charged battery by the time we got underway the next morning.

Left: Great, a fully charged battery! Right: Time to charge!
On more than a couple of occasions, we had to utilize Level-2 chargers when that was the only option available, typically just to add enough range to make it to the next DCFC. At one state park in New Mexico where there were no unoccupied electric RV sites available, we befriended one of the campground volunteers who let us park our car overnight at their electrical box so that we would be able to trickle charge using 120-volts (Level-1). We stayed at this campground for three nights, doing day hikes in the general vicinity within 30-miles or so, and at the end of our stay we left with a full charge.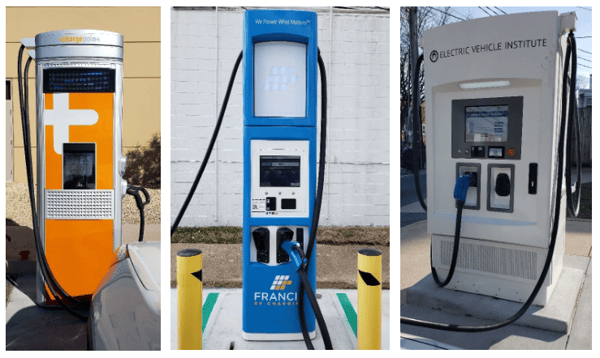 Left: Chargepoint is great. Middle: Francis took a credit card. Right: Our favorite free DCFC!
For fast charging, the e-Niro uses CCS chargers, which seemed to be the most numerous non-Tesla chargers along our route. We tried to time our charging, as much as possible, so that our battery SOC was between 20% and 60%, which is when the car can accept the fastest charge. With our car, the charging rate slows way down at just over 70% and then slows even more around 80%. When you are paying for the charging by the minute, the pricing that most systems seem to use, it can get very expensive as the battery SOC approaches 100%. Knowing what app to use and how to initiate the charge can also be confusing, especially at first. We found the easiest charging network to use was ChargePoint, and those chargers worked flawlessly for us every time. We also successfully used some EVgo, Blink, EVGateway, EV Connect, and Greenlots chargers, as well as quite a few non-networked chargers listed on PlugShare, several of them even provided free charging. We found some free Level-2 chargers in Grand Canyon National Park, and in a few other locations, but in general we think there should be EV chargers at every rest area, public library, cultural center, and at other community locations.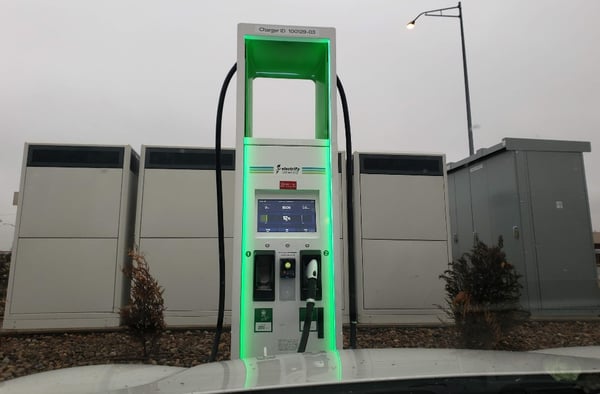 A pretty cool-looking EA charger at dusk, with the sizable electrical infrastructure behind it. There were often 8 or 10 such double-port units at each EA location, mostly in Walmart parking lots.
Thanks to the Volkswagen Diesel-gate settlement in 2016, which directed 2 billion dollars towards building out the Electrify America (EA) DCFC EV charging network, there are charging stations located at many Walmart and Sam's Club locations, and a few other chain-type convenience stores along major interstates across the country. We charged at many of them, and have some observations and complaints. One good thing about EA chargers is that there are typically 8-10 ports lined up in a row, somewhat like the islands at a gas station. However, EA chargers were the most unreliable, often requiring trying several different ports before finding one that would work. We probably charged at more than 20 EA stations during our 2-month trip, and there was only one time when we saw another EV (a Bolt) charging. We thought that was pretty shocking.
One reason, besides their software being incredibly buggy, is the fact that EA charging cables are much thicker and stiffer than at any other DCFC and are physically difficult to wrestle with in order to plug them into the car's outlet. But the main complaint I have is that EA charges by the minute based on the power level in which your car is placed at the beginning of the charging session. The Niro can charge at up to 77 kW, which is just above the 75 kW threshold for the cheapest charging rate with EA. That means that though we're charging at 77 kW for only a limited amount of time, we're charged by the minute as if we charged at 77 kW for the whole session (almost three times as much per minute). We might have charged for a total of 20 hours at EA stations during our trip, but during that entire time we actually received more than 75 kW for no more than a total of 5 minutes, yet EA billed us at triple the per minute rate for the entire time. That is a big problem with the EA software. We also had a frustrating experience with EA's customer service, unfortunately, and ended up avoiding charging our car at their stations if at all possible. Installing a charging network almost exclusively at big box stores like Walmart may be convenient for folks who want to charge while they shop, but it didn't make for a pleasant experience for these two EV drivers looking specifically to charge (preferably in a green space or a nice place to take a quick walk!) and not to shop. (An editorial note from Green Energy Consumers: For more information on how EA is responding to criticisms like these, we recommend this article from InsideEVs and this article from Electrek.)
In Conclusion
Our trip did take some careful planning, and some of the remote locations we visited were more challenging and required some extra driving, especially along I-40 heading west from Flagstaff, AZ or I-10 west from Phoenix, AZ. We had to avoid several places we would have liked to visit, such as Big Bend National Park in southern Texas and Organ Pipe Cactus National Monument in southern Arizona, because we could not figure out a way to be able to get there and back, due to a lack of EV charging capacity. One simple thing that would greatly help improve the EV travel experience would be standard signage along interstates and highways, like currently exists for gas stations and fast food, identifying the locations of EV charging stations. Without a smart phone, it would be pretty much impossible to find the DCFC charging stations that we used. Sometimes it was even hard to find them with a smart phone. While we did see a handful other EVs during our trip, most of them were Tesla's in California. We chatted with a couple at a charger who had recently returned from Norway where more than half of the cars on the road are EVs. We have a very long way to go to catch up in this country.

Fully charged at the start of our 2-month trip and squeaking home with a few miles to spare at the end.
As the range of EVs improve, and the charging network expands, it will get easier and easier to do a long road trip in a modern electric vehicle. Somewhere in New Mexico at a charging station, we met a Canadian couple from British Columbia who had been traveling for a little more than a month on their first long road trip in their new Hyundai Kona Electric, an EV that we had also considered. But unlike us, they had slept every night in the back of their car and had only used a DCFC twice, relying on charging with the Granny cable that came with their car, in addition to using some free Level-2 chargers that they had scoped out on PlugShare. They were obviously on a much slower paced trip than us, but it shows how much variety is available when traveling in an EV, and we all agreed that while we early-adopters were perhaps ahead of the curve, it was pretty clear that the future is going to require some serious change and adaptation, if we are all going to survive. We sure have a lot of work to do.
Our overall experience shows that yes, we can follow our wanderlust! Long distance road trips are entirely possible, if not yet completely simple.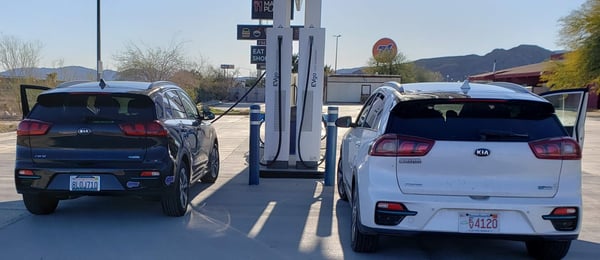 The only other Kia e-Niro we saw during our trip was at this EVgo DCFC in Baker, CA.
Glen Ayers and Mary Chicoine live in Greenfield, MA with their two dogs, Twyla and Nyssa. They purchased their 2019 Kia e-Niro through the Drive Green program from Quirk Kia in Braintree, MA.