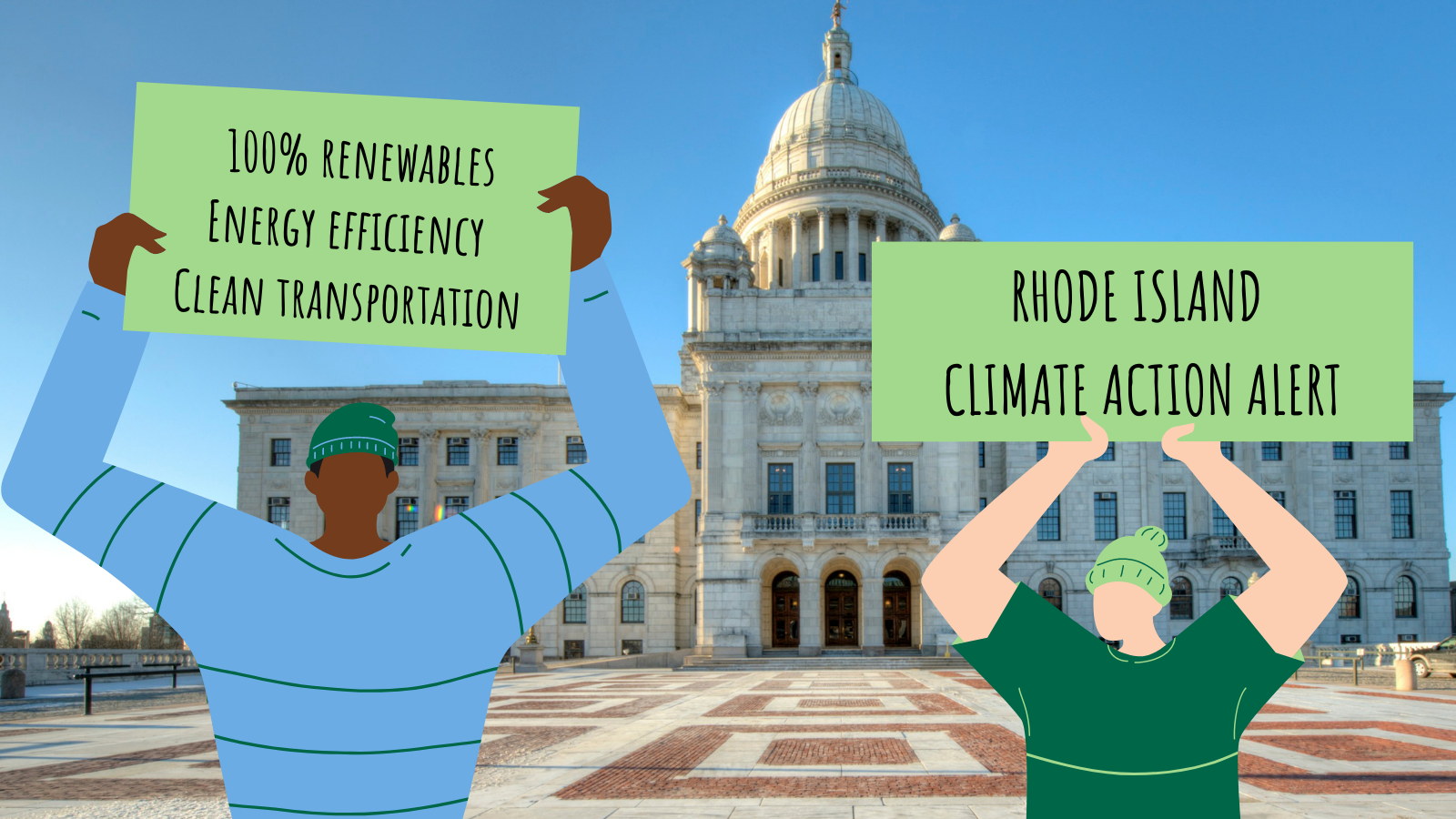 There are only a few weeks left in Rhode Island's legislative session, which means we must act urgently to pass crucial legislation for climate action.
Call your legislators to urge them to support three clean energy bills: the TEAM Act to enable the Transportation and Climate Initiative, 100% renewable electricity by 2030, and the extension of energy efficiency programs through 2035.
100% Renewable by 2030 and Energy Efficiency, sponsored by Senate President Dominick Ruggerio and Senator Sue Sosnowski, respectively, passed the Senate on June 1st! Make sure to thank your Senator if they supported these bills.
100% Renewable Energy Standard (

S0629/H5762)
Fast facts:
This bill would update our existing Renewable Energy Standard to get us to 100% renewable electricity delivered to Rhode Island electric consumers by 2030.

Rhode Island is on track to get close to this goal—but not all the way. This bill will help ensure we meet that goal.

It's time to stop spending our ratepayer dollars on

fossil fuel electricity from out of state. We can create green jobs here by supporting wind and solar.




(Want to learn more about this one? Join our free webinar June 9th)
Least Cost Procurement Extension

(S0634/H6144)
Fast facts:
Our energy efficiency programs are scheduled to expire if we don't extend them this year or next

.

Passing this bill would ensure these successful emissions reductions programs are here to stay.

The Least Cost Procurement statute creates Rhode Island's nation-leading energy efficiency program, which is our biggest state clean energy program as well as a driver of in-state job creation.

Energy efficiency has saved Rhode Islanders millions on their utility bills since they were first established in 2006.
Transportation & Climate Initiative

(S

08

72

/

H6310

)
Fast facts:
TCI is a multi-state effort aiming to cap and reduce climate-warming emissions from transportation across the Northeast. TCI-enabling legislation just had a hearing in the Senate last week.

The cap on emissions established by

TCI will

achieve 15% of the mandatory emissions reductions required by Act On Climate.

TCI will invest $20 million annually in Rhode Island to support cleaner mobility options, including electric vehicles and transit

.

These investments will help drive RI emissions down even further.

At least 35% of program funds must be used in communities overburdened and underserved by the existing system

to expand cleaner and more affordable mobility options.

TCI will help reduce the emission of NOx,

SOx

, and particulates that

come from vehicle tailpipes and harm public health

. The monetized h

ealth benefits

of cleaner air

amount to $

1

0

0

million

for Rhode Island.
Call and email your state senator and representative!
These three bills are vital to implementing the Act On Climate and getting Rhode Island back on track when it comes to clean energy. Your voice is needed to help legislators connect the dots between these bills and climate action.
Find contact information for your legislators here:
Here's an email/call draft to get you started. If you're contacting a Senator, remember that 100% by 2030 and energy efficiency have already passed the Senate! Thank them if they're one of the 30 Senators who supported 100% by 2030 (energy efficiency passed unanimously).
Hello [legislator name],
My name is [name] and I am your constituent from [city/town]. I'm reaching out because Rhode Island needs to act to pass key clean energy legislation this session. Clean energy legislation will bring green jobs to Rhode Island, protect our public health, and help us meet our climate goals. Can I count on your support for the 100% Renewable Energy Standard by 2030 (S0629/H5762) , Least Cost Procurement Extension (S0634/H6144), and the TEAM Community Act (S0872/H6310)?
Sincerely,
[name]
Remember to personalize the subject line and body of the email. Don't feel like you need to explain what the bills do or how they work; focus on why you care about climate action. And stay tuned for more opportunities to support these bills in the coming weeks!