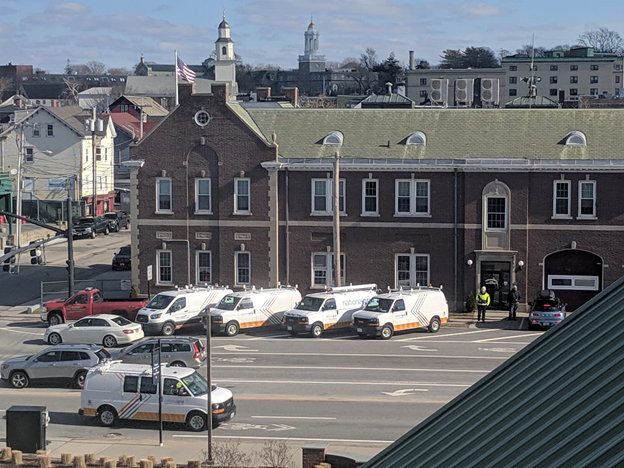 National Grid trucks line the street outside of Newport Fire Department Headquarters (Station One). Thousands of residents were left without heat when a pressure drop resulted in a gas service interruption.
Catastrophes like the September explosions in Massachusetts' Merrimack Valley and recent extended service disruptions on Rhode Island's Aquidneck Island put into sharp relief the false economics of gas. Although many consider gas to be an abundant and inexpensive fuel, recent events remind us that the costs borne by individuals, communities, and the environment are much greater than we currently account for. We must transition off gas, but in the immediate term, we can minimize the frequency and impact of system failures by taking steps to reduce our reliance on natural gas, improve system safety, and prepare for potential emergencies.
Gas Mishaps Stem from False Economics
Recent events involving failures in the natural gas system underscore the real costs of fossil fuel energy and its infrastructure. In September, natural gas explosions rocked Massachusetts' Merrimack Valley. One person was killed and the resulting fires damaged homes and forced thousands to evacuate; almost 8,000 homes went without heat for about three months. Residents in Lawrence, Andover, and North Andover are still dealing with the havoc that resulted from the explosions and outage.
On January 21, 6,500 homes in Newport, Rhode Island, lost gas service due to a drop in pressure in the pipeline; thousands of residents, businesses, and government facilities had to go without heat during one of the coldest weeks so far this winter. As of this writing, there's some question about the cause of the Newport problem. According to Governor Raimondo, the Public Utilities Commission will look into the case and assess the current condition of the infrastructure.
A complete transition off fossil fuels, including gas, is imperative for variety of reasons. In the immediate term, however, we can take concrete steps to minimize the frequency and impact of system failures by reducing our reliance on natural gas, improving system safety, and preparing for potential emergencies.
Natural gas rates are too low to maintain a safe system
Although the explosions and the gas shutoff are extreme events, these incidents are also indicative of a larger pattern of gas system failures. Often, because pipes through which gas is moved are out of sight – buried beneath our streets and sidewalks – they are also very much out of mind. As such, the system is often taken for granted, too.
We have written before about the dangers associated with outdated and poorly aging gas distribution infrastructure in our region. Leaks in the distribution system are everywhere, spewing methane into the atmosphere while causing local health and safety problems. In Massachusetts, activists have worked tirelessly for the last several years to map system leaks, to document and track the status of their repair, and to hold the utilities accountable for the cost of the leaks that is typically passed on to ratepayers. Similar work is getting underway in Rhode Island. Evidence suggests that repairing leaks and other faults will probably require greater investment than what we have been paying.
A fund should be established to pay for rapid responses to unforeseen emergencies
Stresses and strains on the region's aging gas infrastructure can result in emergencies without much notice. Emergency response needs to be part of gas utilities' business. Utilities should gradually build up a reserve for emergencies and be able to demonstrate that they have the resources to mitigate a catastrophe that could result in thousands of customers going off-line.
Furthermore, the costs of emergency management should be borne by the utility (and we ratepayers), rather than public emergency management funds and the taxpayers who pay into them. When emergency management is funded by public dollars or charity, it's in essence a subsidy to natural gas.
It also probably makes sense for utilities to pool resources together to create the rapid response team. Today's Lawrence (Columbia Gas) could be tomorrow's Newport (National Grid).
Any increase in natural gas consumption in the region will make maintaining the infrastructure harder and more expensive
Some energy stakeholders have called for continuing to invest in new natural gas assets, like converting oil heat systems to natural gas or building new pipelines. But if our existing natural gas distribution infrastructure is already shaky and in need of deferred maintenance, how can we depend upon it to serve more homes, businesses, and power plants? It doesn't make sense to run new pipes from the street to the customer when the old pipes are leaking and facing pressurization challenges.
Gas alternatives – like energy efficiency and wind power – can reduce gas infrastructure costs
We have consistently advocated for more investment in energy efficiency because many rigorous evaluations have demonstrated that efficiency upgrades cost less than buying more gas, heating oil, or electricity. But we are often told that "Massachusetts is number one in the country on efficiency" and "Rhode Island is number three," so additional spending on efficiency is unnecessary and will raise energy costs.
Let's take that argument piece by piece:
National rankings should not dictate investments made in energy efficiency in instances when energy efficiency is still the cheapest option. Becoming complacent in this time of climate emergency is short-sighted and a disservice to ratepayers, as well as the environment.
Current evaluations of the benefits of reduced gas consumption do not adequately account for the value of avoided CO2 emissions. Evaluators do not look hard enough at the benefit of avoiding the cost of building and maintaining new pipelines, whether for transmission or local distribution. And the evaluators do not adequately factor in the methane that leaks from natural gas distribution pipes. The resulting under-investment in efficiency costs us all in the long run.
Wind power also reduces winter-time gas use. The wind blows hard during those cold nights when we crank up the heat and have lights on for the greatest number of hours. Wind projects are most productive when wholesale prices are, on average, above the overall system average. In other words, year-round electricity prices would be even higher if it were not for cheap wind coming onto the grid when natural gas costs are highest.
Coal and Oil are NOT the Answer:
Despite recent problems with the natural gas system, we're certainly not suggesting that gas customers shift to heating oil or that power plants switch back to coal. Those fuels cost even more, and their increased usage would set us back big-time on carbon emissions. We're saying that we need more insulation, efficient heating systems, electric heat pumps, and wind power to reduce our dependency on natural gas. Let's take the lessons we've learned from the misfortunes of people in Lawrence, North Andover, and Newport and start a serious debate about what we want our energy system to look like.
Visit our advocacy page to learn more about how Green Energy Consumers Alliance is working to support policy solutions that accelerate a transition to a low-carbon future.