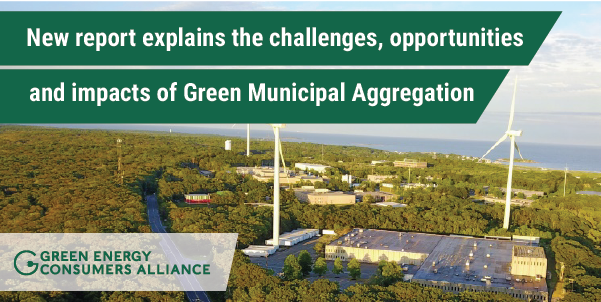 Community Choice Aggregation: Challenges, Opportunities, and Impacts on Renewable Energy Markets is the latest report released by the National Renewable Energy Laboratory (NREL). Highlighted in the report are the benefits that aggregation delivers to communities: savings and price stability. But the report also sheds light on how Community Choice Aggregations are reshaping the dynamics of customer electricity supply and demand. Here we summarize NREL's findings.
What is aggregation and why is it so effective?
Community choice aggregation (CCA) refers to the bulk purchase of electricity supply undertaken by local governments on behalf of the residents and small businesses in a geographic area (e.g., a community or county). Aggregation's primary goal is to come up with an option that helps its community members save money, especially relative to the electric utility's basic service rate. A number of factors contribute to the success and efficacy of CCAs.

Image: Community Choice Aggregation model, NREL.
Automatic enrollment. First and foremost, CCA owes its success to its ability to automatically enroll basic service customers within its jurisdiction into the default offering. This auto enrollment excludes those already with competitive suppliers. Customers not wishing to be a part of a CCA must opt out in order to stay with their utility's supply. This is known as the "opt out" structure. According to NREL, this combination of auto enrollment with an opt-out period gives CCAs a "relatively large customer base, providing the economies of scale of buying power in wholesale markets."
Price stability. In restructured electricity markets (such as we have in New England), CCA gives communities the ability to secure long-term contracts with competitive suppliers, which in turn creates price stability. Usually, a competitive rate per kilowatt hour for the supply of electricity is obtained that will remain constant while the CCA is in place; in contrast to this stability, the utility changes its rates every 6 months. Utilities are still responsible for transmission, distribution and billing, while making sure that any low income or solar generator discounts carry over to the customer's bill.
Choice and accountability. CCAs empower communities to choose their electricity supply mix. When communities choose to increase the amount of renewable electricity layered into their mix, it has an impact on the grid. Arguably, the most important feature of voluntarily adding renewable energy is the ability to pinpoint where that energy is coming from. As we've written before, when it comes to renewable electricity supply, fully realizing the benefits of renewable electricity supply is closely tied to where the project is located.
Additional clean energy. Some CCAs have seen fit to increase the amount of renewable energy in their default offerings above what is required by state law, sometimes providing options that contain 50% or even 100% renewable energy offerings. The NREL report notes that most CCAs outside of California and Illinois do not emphasize local renewable energy procurement and that many, including in Massachusetts, "rely almost exclusively on nationally sourced wind RECs, mostly from Texas." However, the report further notes that, "at least nine CCAs in Massachusetts offer regional wind products, and some CCAs are exploring how to integrate in-state community solar offerings into their electricity portfolios." And those that do offer more are having an impact. Per the report, "in 2017 CCAs in California, Illinois, Massachusetts, New York and Ohio procured about 8.9 MWh of voluntary green power, representing about 21% of all CCA sales, on behalf of about 2.7 million customers".

Image: Geographic sources of voluntary green power supply by state in 2017, NREL.
How aggregation plays out in Massachusetts & Rhode Island
Most of the Massachusetts CCAs referenced above and in the report have adopted a model of aggregation that was spearheaded back in 2015 by Green Energy Consumers Alliance, together with Good Energy, LLC. and the Metropolitan Area Planning Council (MAPC). We call this Green Municipal Aggregation (GMA) and it's a model of aggregation in which the default electricity option includes a commitment of at least 5% more Massachusetts Class I resources (i.e., new, in-region renewables including wind and solar) than the minimum percentage required by the Renewable Portfolio Standard (RPS). The Massachusetts CCAs that are notably prioritizing local, in-region resources include Arlington, Brookline, Dedham, Gloucester, Hamilton, Somerville, Sudbury and Winchester, with more coming soon. We applaud these communities for making sure that their RECs are sourced from Class I resources. At the same time, there is still much more that can be done.
Aside from the significant environmental benefits, Green Municipal Aggregation programs have allowed many Massachusetts residents and small businesses to save money on their electric bills as they have been able to leverage the buying power of eligible customers to obtain competitive rates against basic service. Plus, GMA protects enrolled customers from receiving misleading offers from competitive suppliers giving ratepayers a peace of mind.
Legislation passed last year enabled CCA in Rhode Island. As a result, several cities and towns there are also considering green municipal aggregation. We will continue to assist communities looking to understand aggregation and to move forward with GMA in every way possible.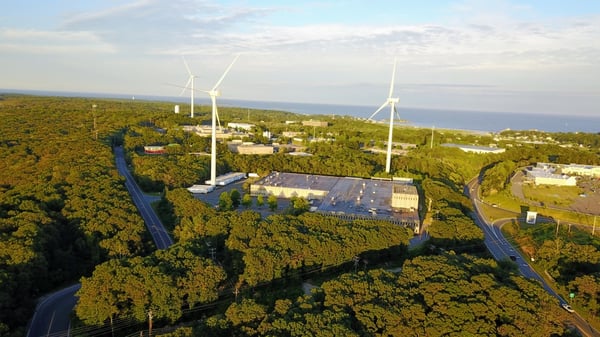 Image: Green Municipal Aggregations in Massachusetts support the two 2-megawatt wind turbines in the foreground at Blackburn Industrial Park in Gloucester, MA
Credit: Derek Deacon, ddeacon40@gmail.com
Looking forward
We look forward to seeing how CCAs in this region evolve over time. One opportunity rests in the length and duration of each contract. At this time, most CCAs enter into relatively short term contracts with competitively selected suppliers. We have yet to see a contract exceed three years. However, the longer the contract, the better it will be for new, local renewable projects that rely on sustained demand (for electricity, but also for RECs), like that created by aggregation, to get financed and built. In addition to entering into longer term contracts, we would like to see communities commit to new, in-region renewables to meet100 percent of their municipal load (i.e. public buildings, street lights, etc.). Doing so requires no additional legislation and would be an easy way for municipalities to cut emissions and significantly reduce their carbon footprint.
How Do I Get My Community Involved? If you're interested in learning more about GMA or want to find out how your community can get started, contact Eugenia Gibbons at eugenia@greenenergyconsumers.org (if you live in MA), or Priscilla De La Cruz at priscilla@greenenergyconsumers.org (if you live in RI).