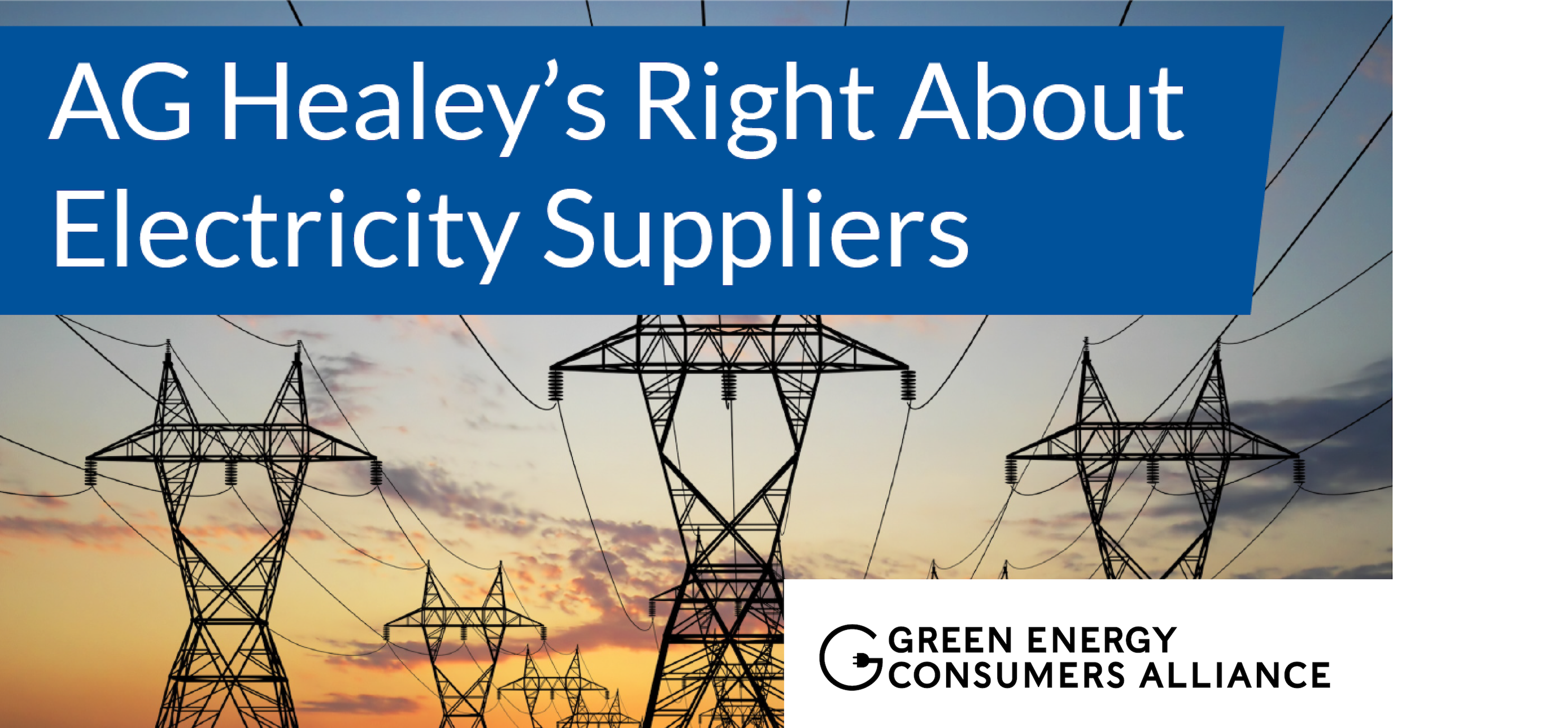 I had the pleasure of being at Massachusetts Attorney General (AG) Maura Healey's press conference at which she released a report detailing how 500,000 residential consumers who chose competitive electricity suppliers have been ripped off and green-washed.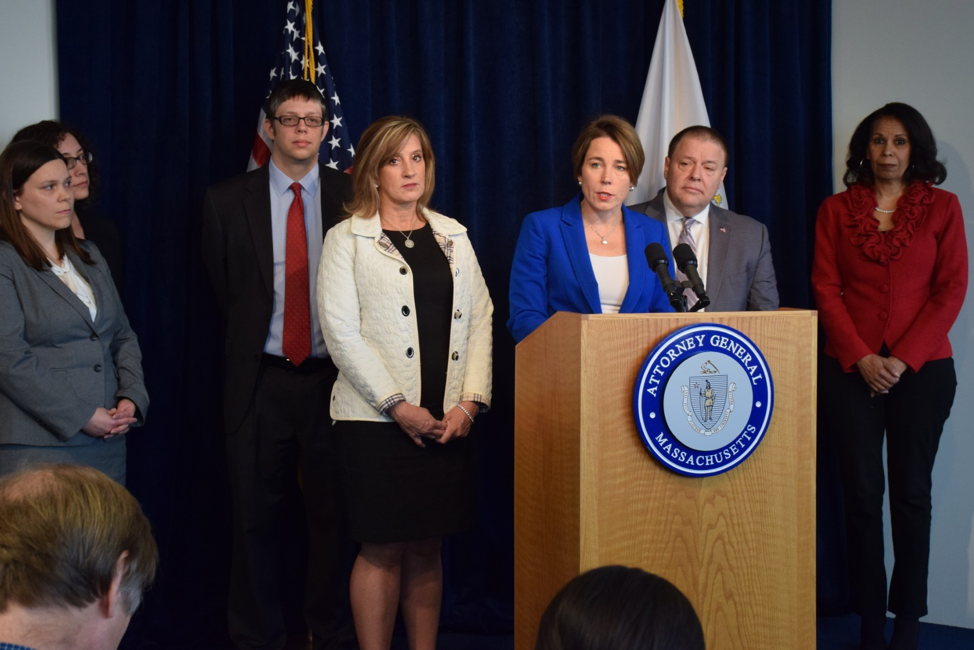 Ass't AG Elizabeth Anderson, Jenifer Bosco from National Consumer Law Center, Ass't AG Nathan Forster, electricity consumer Kristen Ruggiero, Massachusetts AG Maura Healey, Quincy Mayor Thomas Koch, and Marci Pina-Christian from City of New Bedford
The two-year study showed how these customers paid $177 milllion more than they would have had they stayed on their utility's Basic Service. Furthermore, the suppliers have targeted low-income, elderly, and minority residents. In the second twelve-month period, the average low-income household lost $252, even more than non-low-income customers who lost $216. Some lost over $500 in one year.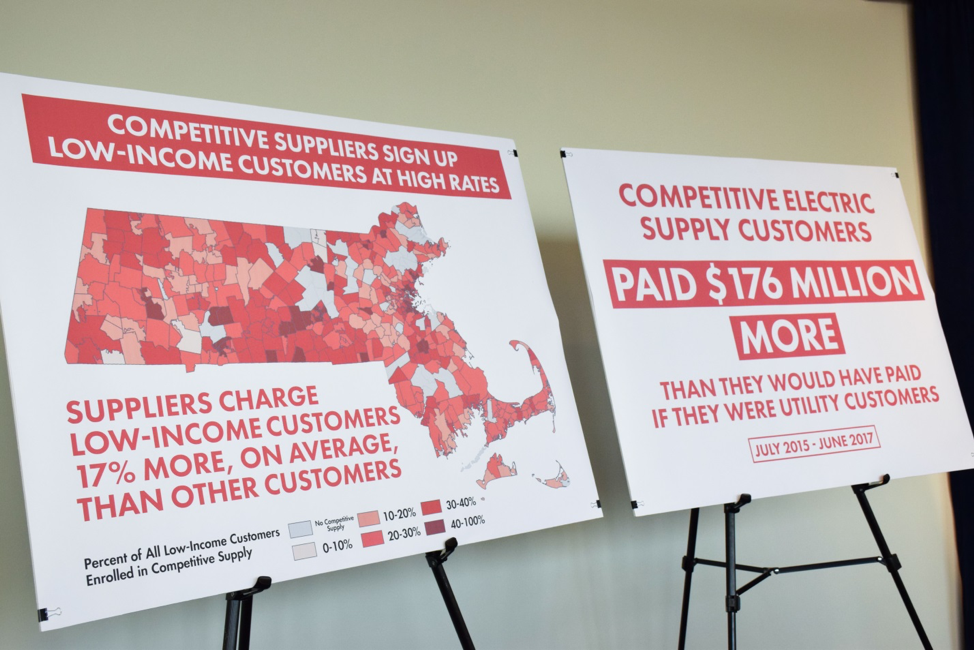 If you live in Rhode Island, read on. We bet this is happening in your state.
Based upon the results of this study, the AG is calling for an end to the competitive electricity supply market for individual residential customers in Massachusetts. She said that she would work with legislators and consumer advocates to draft appropriate legislation. She made it quite clear that her office is not advocating for changes in the law enabling municipal aggregation. On both counts – ending the market for individual customers and supporting municipal aggregation – we totally agree.
An important point – if you are enrolled in any of our green power programs, your participation would not be affected by the AG's proposed legislation.
In fact, we have been warning our members about competitive suppliers since the law was changed in 1997 allowing consumers to choose their electricity suppliers. We have always said that when consumers do not have municipal aggregation as an option in their city or town, they are better off with Basic Service from their utility (i.e. Eversource, National Grid or Unitil) than by choosing a so-called competitive supplier.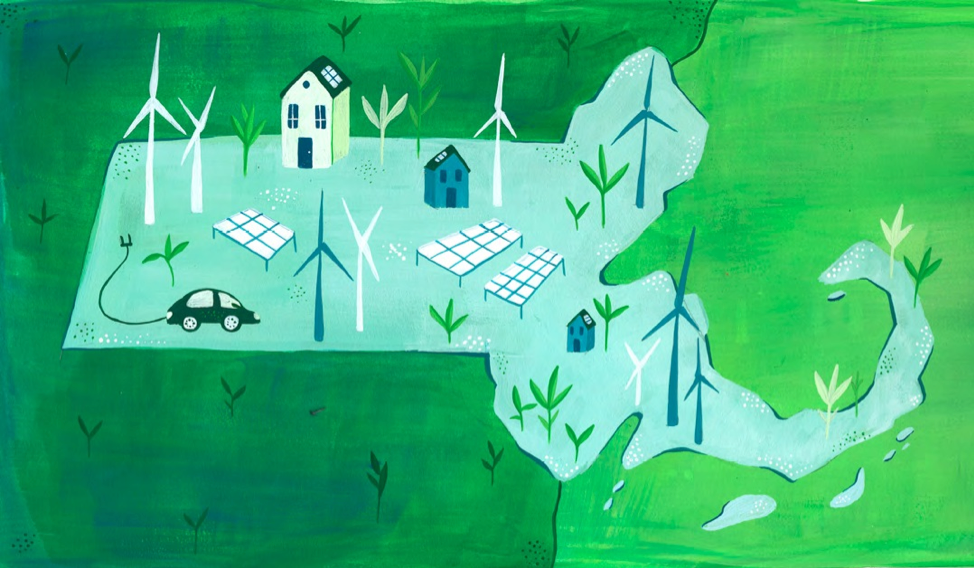 Original artwork from Mass. College of Art student Christine Rea, created for Green Energy Consumers
Real briefly, why is GMA or "community choice energy" better than Basic Service or the individual residential market?
It is impossible for a reputable company to make a profit by enrolling one residential customer at a time – unless it rips them off or green-washes (i.e. claims that the premium someone is paying is worthwhile, when it just ain't).
Our report shows that several communities are saving their citizens and small businesses money compared to Basic Service. In general, aggregations have more flexibility than the utilities about when they go out to bid for power because they have many many customers to enroll, not just one.
Basic Service includes just enough renewable energy to meet the state's Renewable Portfolio Standard, which goes up 1% per year. But that's not enough to keep Earth in the shape we've come to know and love. We need more wind and solar and we need it faster. GMA speeds things along.
What's Next?
AG Healey said she will file legislation to end the market for individual competitive power supply. We will engage with her office and legislators to ensure that the bill accomplishes that while preserving or strengthening the ability of cities and towns to choose their electricity supplier (hopefully one offering a legitimately green program).
We believe that when representatives and senators read the AG's study and our report on GMA, the market will change for the better. Actually, we suspect that many consumers will drop their competitive power supplier like a bad habit and go back to Basic Service or enroll in the municipal aggregation if it's available.
Rhode Islanders:
Last year, Rhode Island passed a law enabling municipal aggregation and we will be encouraging cities and towns to do GMA. In doing so, we are also going to share the Massachusetts AG's report with state officials. As stated above, it is highly unlikely that the suppliers ripping people off in the Bay State are being nice to folks in the Ocean State.