CleanChoice Energy is at it again & needs to be stopped.
Recent developments cause us to say again that Massachusetts is not doing enough to protect consumers from electricity suppliers making deceptive claims about pricing and the greenness of their electricity.
The most recent example of flagrant abuse.
If you are an electricity customer in National Grid or Eversource territory, chances are you recently received a mailer from CleanChoice Energy urging you to switch from your current electricity supplier to them. The mailer is remarkably deceptive.
First, it falsely claims that your current supplier is "96 percent polluting energy". CleanChoice Energy inaccurately "substantiates" their claim by displaying data showing what they claim was the New England average mix in 2016.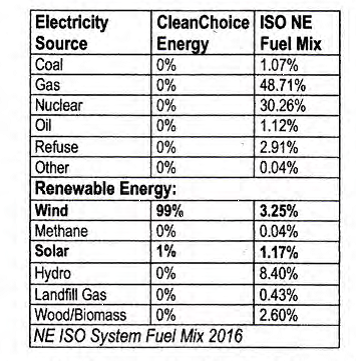 By lumping in Massachusetts with all of New England, and by showing data that is now many years old, CleanChoice presents an inaccurate portrait of our grid's composition. Our current mix is much cleaner than shown in the chart, especially if you live in a city or town that has adopted a good green municipal aggregation program.
Second, the mailer from CleanChoice states, "For customers in your region, CleanChoice procures renewable energy certificates (RECs) from the following states: MA, NY, NH, ME, RI, PA, and VT." Massachusetts is part of the six-state New England Power Pool and while New York is outside New England, it's adjacent so we can physically import power from there. But we cannot import from Pennsylvania.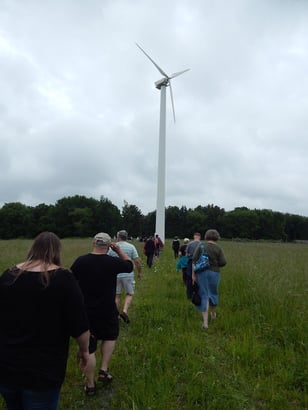 So why does CleanChoice Energy offer Pennsylvania RECs to us? Renewable Energy Certificates (RECs) help make projects financially viable in New England and, therefore, are typically valued at about $25-$40 per megawatt hour. But not in Pennsylania, where the supply of renewable energy exceeds demand. RECs from Pennsylvania are cheap. Consequently, purchasing them does not make projects viable there and does nothing to change our grid here in New England. It's good for CleanChoice and for the wind turbine owners in Pennsylvania, it's unnecessary gravy.
On this topic, state government shares the blame.
The primary state energy policy to bring in more renewable energy is the Renewable Portfolio Standard (RPS) Class I standard. It mandates an increasing amount of renewable energy from the six New England states. RECs from New York and Canada are allowed because it's physically possible to import the power. The legislature has amended the RPS a few times since it was first enacted in 1997, but it has never mandated that suppliers include RECs from Pennsylvania, Texas, Hawaii, or Denmark in their mixes. Why? Because that would not make any sense.
Unfortunately, most consumers are not be aware of these market complexities.
It's time for legislators and the DPU to close the loophole allowing suppliers to sell out of region RECs as if they were equal in effect to the Class I RECs that our state's energy policy is based upon. Better yet, legislators should act on the AG's recommendation to shut this market down (see below).
Speaking of the Attorney General:
To her credit, AG Maura Healey has published reports on how Massachusetts residents who contract individually with competitive electric suppliers continue to lose millions of dollars per year due to bad deals.
The AG has also petitioned the Mass. Department of Public Utilities to investigate how this market is affecting low-income people and the rate assistance programs that support low-income people. The DPU has not opened a docket on the AG's request.
To go a step further, AG Healey has also filed legislation that would ban suppliers from contracting directly with residential customers for new contracts. The legislation would NOT change municipal aggregation programs or the markets for commercial and industrial electric supply.
What about Green Municipal Aggregation?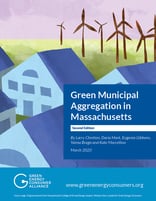 Our own report, "Green Municipal Aggregation in Massachusetts, 2nd edition", has also documented that Green Municipal Aggregation has proven to be a cost-effective, equitable climate action tool and it deserves more support.
Full Disclosure
We are a supplier of renewable energy. So companies like CleanChoice Energy are our competitors. However, we are a mission-driven non-profit organization committed to reducing greenhouse gases and to supporting local, in region renewable energy projects. Since 1998, with the support and advice of energy experts and environmental organizations, we have offered only preferred Massachusetts RPS Class I RECs. Members who participate in our Green Powered program may pay slightly more than the products offered by CleanChoice Energy and other competitive suppliers, but those dollars are actually displacing dirty, fossil fuel generation from our regional grid.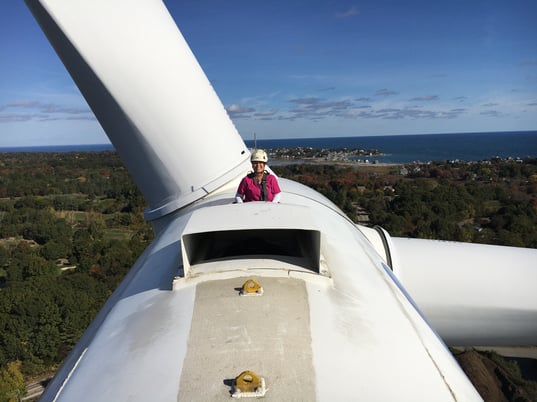 Top of a local wind turbine in Scituate, Massachusetts
Green Energy Consumers Alliance is also supplying over a dozen communities on Green Municipal Aggregation (GMA) with Class I RECs. Communities that have decided to adopt GMA have made the informed choice to build renewable energy demand the right way. Their programs should not be undermined.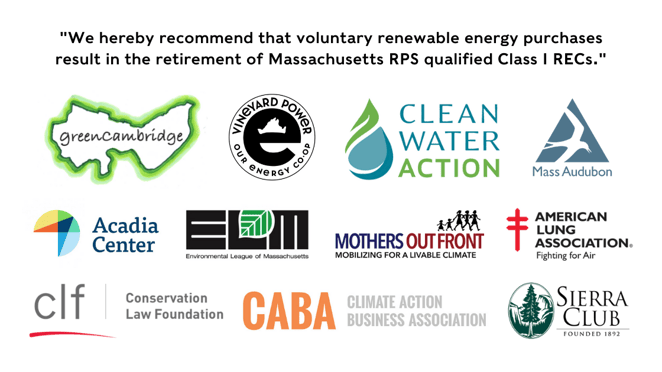 Final Thought:
This is serious because greenwashing undermines progress in many ways.
If consumers see an offer that purports to have 100% renewable energy at a good price, they will pass up more impactful offers for what might appear to have less renewable energy.
If citizens see how "easy" it is to have 100% renewable energy from places like Pennsylvania and Texas, they will be less likely to understand the need for new in-region resources of the kind brought about by state policy and green municipal aggregation.
This goes beyond electricity supply. Many of us worry about climate change and are looking for ways to make a difference. If we think we're doing something positive on electricity supply, we might be less inclined to take other impactful actions such as insulating our home or buying an electric car.
Market forces can help us save the planet, but accountability is needed in the marketplace.