Want to buy an electric car? Expect to exercise your patience and tenacity. Like every industry, the car industry has gone through changes because of the pandemic. Customers can no longer simply walk up to a dealership, point at a car of their choosing, and drive home with it the same day.
Why is this happening?
There's a chip shortage. The semiconductor chip shortage occurred due to many factors, but the biggest one of note is this – during the height of lockdown, demand for new cars (and semiconductor chips) fell drastically. This decrease in demand from the auto industry led the semiconductor chip manufacturers to focus their efforts on providing chips for other in-demand technologies that supported a world in lockdown. The demand for these technologies has not faded, so both the auto and semiconductor industry have to play catchup in order to adequately provide the amount of inventory that will make it easier for folks to purchase a new EV.
When will inventory levels increase? Economists don't agree on the when. Some think inventory levels will start to recover by late 2022. Others think that it will be a year or more from now. The chip shortage isn't the only reason inventory is low. According to the New York Times, "Shutdowns meant to contain the coronavirus in China, computer chip factory disruptions tied to a recent earthquake in Japan, the aftereffects of the trucker strike in Canada and the war in Ukraine are adding up to slow production." So, when will inventory increase? Only time will tell.
What does this mean for my car-buying experience?
Unfortunately, low supply and high demand lead to... you guessed it, higher prices. Here's what some of our recent EV buyers have told us about their experience getting a car – both in terms of prices and inventory.
EV Buyers
"We paid about $1,000 over MSRP in the last week of 2021, but I think that is the same story for all kinds of cars right now." - Glenda J.
Toyota RAV4 Prime bought December 2021
"One thing that was different was having to call and find who had electric cars we wanted on-site to test drive, that was a little bit of a hassle." - Sue A.
Chevrolet Bolt EUV bought September 2021
"I managed to find the right car at the right time. It took daily scouring of dealerships in a 200-mile range for over two months to find it." - Doug A.
Toyota RAV4 Prime bought December 2021
With that being said, some folks truly do luck out and are at the right place at the right time. One of our EV Ambassadors bought his VW ID.4 relatively easily.
Car Dealerships
We spoke to two dealerships in the Drive Green network. They had a lot to say!
Guy Bedau at Milford Nissan
Nissan LEAF, LEAF Plus, and soon-to-be Nissan Ariya
"Expect to pay over MSRP sticker but not the moon, up to $3,000 for a LEAF is likely reasonable."
"Expect to wait up to 4 or 5 months for the one you want."
"Ariya's market adjustment may be similar to Ford's Mach-e and KIA's EV6, both of which are commanding $10,000 or more over MSRP even when reserving one many months in advance."
"Buying a car now and for the next many months will require remarkable patience and trust. For Nissan EVs, trust dealerships with a top-quality LEAF reputation only as most Nissan dealerships have little experience with the LEAF and do not know the real-world aspects of going EV."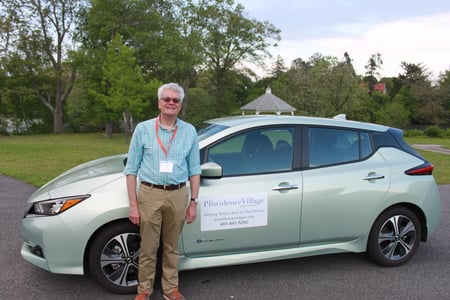 Peter V. with his Nissan LEAF
James Thorp at Quirk Chevrolet
Chevy Bolt and Bolt EUV
"The EV buying has changed a lot within the last year. Customers are waiting weeks/months to receive their vehicles. Most customers are now purchasing incoming EVs without actually seeing the vehicle which is challenging for some people. The customer would agree to purchase an incoming vehicle, then we would complete all the paperwork remotely. Once the vehicle arrives, then the customer would pick it up and we would explain the options/features on the vehicle which takes only 30-45 min here at the dealership."
"One more challenge I suppose is the pricing. The pricing increased a lot."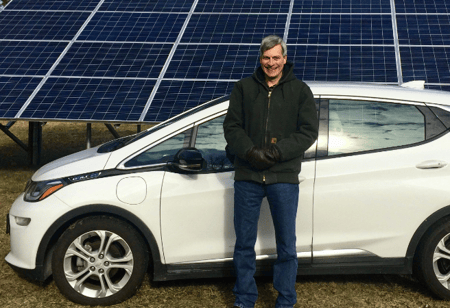 Joel G. with his Chevy Bolt
Conclusion
The car-buying experience has changed a lot in the last two years, there's no doubt about that. The Drive Green team will continue to update folks on the state of the market and continue to adapt and provide educational resources. After all, we know one of the best ways to speed the transition to a low-carbon future is with electric cars.