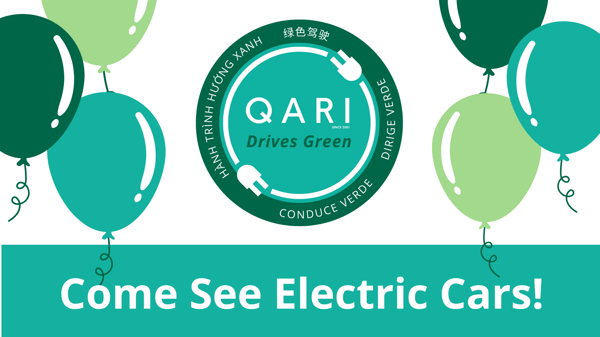 In the nearly seven years since we launched Drive Green, Green Energy Consumers has interacted with tens of thousands of Massachusetts residents through a combination of in-person events and online offerings. We have helped nearly 1,000 drivers get an electric vehicle (EV). We're proud of that work, since we know we need to rapidly electrify transportation to fight climate change and better public health.
We also know that we have primarily reached typical "early adopters" of new technologies such as EVs. Most people who have bought EVs in the United States in the past decade - and most people who have come through our program - are White, well-educated, middle- to high-income, and home-owners. However, everyone should have access to clean, low-cost transportation, and it's the people who are most burdened by our society's reliance on burning fossil fuels that stand to benefit the most from EVs and other forms of clean transportation.
Now, we're embarking on a special partnership with Quincy Asian Resources, Inc. (QARI), an immigrant-services nonprofit, to run a two-year education campaign around clean transportation for the communities it serves.
Who is QARI?
QARI is a twenty-year-old nonprofit organization based in Quincy, MA, with a mission to foster and improve the social, cultural, economic and civic lives of immigrants and their families in order to benefit their communities. Through collaborations and partnerships, they provide culturally competent services, such as workforce development, adult education programs, youth development, and cultural events as well as information and referrals to public or other community organizations. Recently, QARI has moved into the clean energy space, working with us on clean transportation and with MassSave on energy efficiency. (You can read more about that effort here.)
QARI and Green Energy Consumers staff on an EV test-drive day.
About the Partnership
Last year, the Massachusetts Clean Energy Center (MassCEC) issued a Request for Proposals called ACT4All, looking for projects that would "address inequities in the clean transportation sector and further Massachusetts' climate and equity goals." Green Energy Consumers and QARI came together to apply in the category of "broadening the base" and are very grateful to have received funding from MassCEC to launch QARI Drives Green, a two-year education campaign targeted at the immigrant populations QARI serves in Quincy and other communities in Massachusetts.
Green Energy Consumers web developer Nate Calef gave Luann Bui, QARI's Community Initiatives Lead, the wheel of his all-electric VW ID.4.
We started in July with a launch event in front of China Pearl in President Plaza, where hundreds of people stopped by to meet a dozen local EV owners and learn about their cars. The Rivian R14 pickup, Mini Cooper, and several Teslas were part of the showcase. More such events are on the calendar.
And we debuted translated educational content on our Drive Green learning pages, so that people who feel more comfortable reading in Chinese, Vietnamese, Spanish, and Portuguese are able to access information on electric cars.
Why is this partnership important?
At Green Energy Consumers, we know how to talk about EVs. We can answer charging and road trip and fuel cost questions until the cows come home. But we don't have the kind of deep cultural and relational knowledge that is needed to meaningfully engage with the Asian American and Pacific Islander (AAPI) community on our own. QARI, meanwhile, has spent more than twenty years building relationships and systems to serve the AAPI and immigrant communities. They know what their community needs, what community members are interested in, and how best to engage people. Each of our organization's area of expertise complements the other, and working together, we hope to address the unique set of barriers the AAPI and immigrant populations face when it comes to accessing clean transportation.
QARI youth leaders checking out a Chevrolet Bolt.
We are so excited to finally launch this program and hope to see you in Quincy on Saturday for our launch event! If you can't join us, stay tuned on our blog for updates over the coming months.
A Personal Note From Anna, EV Program Director at Green Energy Consumers
At Green Energy Consumers, we care about racial equity and social justice. We want to make clean energy technologies accessible to all. In my years working on Drive Green, it's been hard to accept that we can't singlehandedly solve some of the biggest barriers holding back wider EV adoption: we can't force automakers to sell their cars at a price point more people can afford, or push them to actively and appropriately reach out to communities that have been left behind in the transition to EVs so far, or even get a reliable supply of used EVs.
On the advocacy front, we have advocated for better incentives to make EVs cost less, more charging infrastructure so people without driveways can charge, and more alternatives to personal vehicles like clean public transit. But on the program side, where we're helping people learn about and buy or lease EVs, I am so grateful that we have found an excellent partner in QARI, and that we are able to build out this campaign jointly and holistically.
Our teams have been working behind the scenes for the past several months to plan this campaign. It has honestly been such a joy to work together so far - our interactions have just been full of mutual respect and curiosity (and good humor!). Our staff are building relationships across organizations and learning from each other. And we're having fun doing it. This project gives me hope.
A Personal Note From Luann Bui, Community Initiatives Lead for QARI
At QARI we believe in climate change and caring for the public health of our communities. That is why we are super excited to partner with Green Energy Consumers Alliance to integrate electric vehicle education and awareness into our communities, existing workforce development, and youth programming. We want to help bridge the gap of languages for our immigrant community and correct the misperception that electric cars are too expensive to own.
We are a community-based organization and have been in Quincy for the past 20 years with our core value of immigrants supporting immigrants. We want to bring the experience of smooth ride, state of the art engineering of an EV, all while reducing greenhouse gas emissions, fuel costs, and vehicle maintenance fees to the immigrant population we serve in Quincy and other communities in Massachusetts.
I am feeling excited to lead this initiative for QARI as I have had a great time learning about EV with the wonderful team of Green Energy Consumers for the past 4 months. And it is not just me but our entire team of Massachusetts and New York have been participating fully in translations, test drive EV cars and planning community events. QARI Drives Green!