Guest Blogpost: Mass Fleet Advisor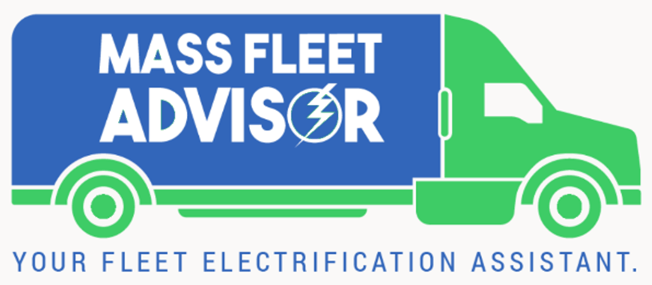 Note: At Green Energy Consumers, we know that we need to rapidly electrify all forms of transportation – especially including medium- and heavy-duty trucks, which disproportionately contribute to greenhouse gas emissions and localized air pollution. We're excited to post this guest blogpost from Jenny Kritzler at CALSTART and Kristen Patneaude from PowerOptions, who are working with MassCEC to offer Mass Fleet Advisor. If you have a private or nonprofit fleet that you'd like to electrify, read on!
The Mass Fleet Advisor Program
Would you like to green your business and your fleet? Want to save money doing it? Mass Fleet Advisor, sponsored by the Massachusetts Clean Energy Center (MassCEC), has been created to ease the transition to electric vehicles (EV) for medium- and heavy-duty (MDHV) private and commercial fleets in Massachusetts. The program provides free technical assistance to educate fleet owners about available electric vehicles and funding opportunities, as well as assisting them in planning their charging equipment and infrastructure needs. We've done all the planning for you, to ensure your smooth, successful, cost-effective transition to EVs!
The availability of electric passenger vehicles is well-known, but operators of medium- and heavy-duty vehicles are wondering if electric trucks and buses are as easy to purchase and if they're capable of meeting their business needs. Well, the good news is – they are! There are currently more than 145 models of electric trucks available today, representing all truck classes 2b-8. For off-road workers – those using equipment such as forklifts and terminal tractors – there are many options available for electrifying their equipment as well. The number of zero-emission truck and bus model options is expected to grow nearly 26% from 2020 through the end of 2022. In addition, according to manufacturer data, heavy-duty zero emissions trucks on the market in 2022 have a median battery range of 186 miles.
Mass Fleet Advisor will provide individualized electrification reports for up to 65 private or non-profit medium- and heavy-duty fleets in Massachusetts. This program will be conducted in three phases.
Phase 1
In Phase 1, we'll:
Collect data about fleet vehicles and vehicle duty cycles

Conduct a virtual site analysis to determine space and infrastructure availability
Analyze infrastructure needs for charger installation
Once we have this information, we'll use it to provide information on the best EV options for each fleet, including cost-savings and emissions-savings modeling, which will be reported out in the individualized electrification report.
Phase 2
For Phase 2, 15 of the initial 65 fleets will be selected for a more in-depth analysis of the potential for electrification, including:
In-person site assessment
More detailed modeling of financing and emissions savings
Vehicle and charging equipment procurement plans
Recommendations for next steps
These 15 fleets will receive a personalized, detailed electrification analysis that builds on their Phase 1 report.
Phase 3
For Phase 3, five of the 15 fleets from Phase 2 will receive procurement assistance, including:
Charging and infrastructure planning
Vehicle purchase technical support
Workforce training
Standard Operating Procedure development
Financing options, including the MOR-EV Trucks program, which offers rebates or vouchers for class 2b-8 vehicles of up to $90,000. (The MOR-EV Trucks application process is straightforward, requiring only proof of purchase and vehicle registration in Massachusetts.)
For fleets participating in Phase 3, the goal is to help fleets achieve success in procuring and taking delivery of their first electric vehicles.
Eligibility & Application Process
To qualify for the program, a private or non-profit fleet:
Must have at least three vehicles
Must have at least one of those three be a medium- or heavy-duty vehicle (class 2b-8)
Must operate or depot in Massachusetts.
Special consideration will be given to fleets associated with benefits to Environmental Justice populations.
The application process is simple. Go to massfleetadvisor.org to sign up, and one of our program advisors will reach out to schedule a brief introductory meeting to review the program with you and to learn about your organization and fleet. Mass Fleet Advisor will accept applications until the program is fully subscribed at 65 fleets.
Why now?
Medium- and heavy-duty vehicles disproportionately contribute to harmful local air emissions. In Massachusetts, 3% of operating vehicles are classified as medium and heavy duty, which contribute 6% of the total miles driven annually – but they produce 20% of total on-road vehicle emissions! Shifting to electric vehicles in these vehicle classes will dramatically reduce greenhouse gas emissions and improve air quality across the state. An electric delivery truck in Massachusetts has a 75% reduction in emissions compared to a diesel truck during its lifetime.
There's more good news! Now that Massachusetts has adopted California's Advanced Clean Trucks (ACT) rule, there will be even more vehicle options coming in the near future. The ACT rule requires vehicle manufacturers to sell an increasing number of zero-emission vehicles as a percentage of total sales beginning in model year 2025. While these regulations do not require fleet operators to purchase zero emission vehicles, they will ensure increasing diversity, availability, and reliability among all class levels of electric vehicles in the coming years.
Registration for Phase 1 of Mass Fleet Advisor is currently open – sign up now!
(MassCEC is a state economic development agency dedicated to accelerating the growth of the clean energy sector across Massachusetts to spur job creation, deliver statewide environmental benefits, and secure long-term economic growth. CALSTART is a leading clean transportation non-profit organization providing advisory services in the transportation sector nationwide. PowerOptions is the non-profit for other non-profits, empowering non-profits and public entities across New England with solutions to reduce the cost, carbon, and complexity of energy.)