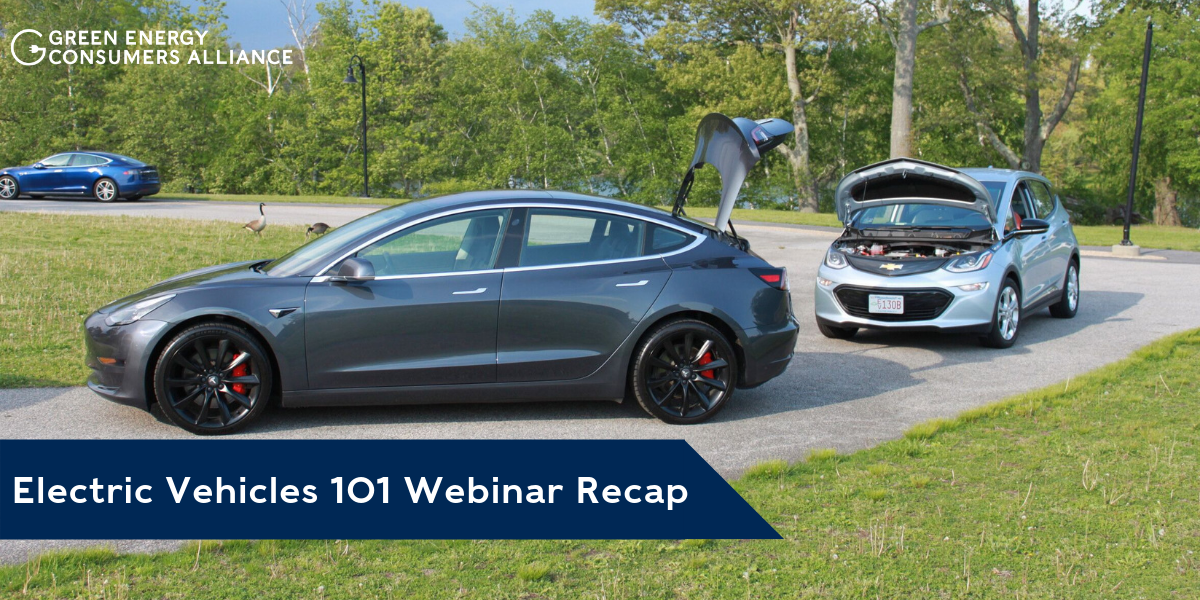 Thanks to everyone who attended our Electric Vehicles 101 webinar on August 21! In case you missed it, here a short recap of what we talked about and the answers to some popular questions.
But before we get there...
You can learn a lot from a webinar, but the best way to learn about electric cars is to just go and drive one. That's the idea behind National Drive Electric Week (NDEW), a nationwide effort to celebrate the benefits of electric cars and promote electrification as a way to mitigate climate change. Starting September 14, electric vehicle (EV) enthusiasts all over New England are hosting events in their communities to showcase their own electric cars and to organize test-drives for people who are considering going electric for their next car.
By attending an NDEW event, you can get reliable information from EV drivers without dealing with the sales pressure of visiting a dealership to test-drive. Green Energy Consumers Alliance is hosting two big events in honor of National Drive Electric Week: one in Cape Cod on Saturday, September 14, and one in Providence on Sunday, September 22. We invite you to join us for a test-drive, talk to someone about their experience with an electric car, and connect with other environmentally-minded people.
Cape Cod Electric Car Show & Drive Experience
When: Saturday, September 14, 10am - 2pm
Where: Barnstable Municipal Airport, Hyannis, MA
Why: Thanks to our co-hosts Cape Air, the Barnstable Airport, and the Cape and Vineyard Electric Cooperative, we'll have food, music, and plenty of friendly faces to answer your questions about electric cars. Plus, a bunch of local environmental groups and businesses dedicated to sustainability will be joining us to provide information, including Cape Cod Climate Change Collaborative, Vineyard Wind, and the Massachusetts Department of Energy Resources, and more. More info here.
Providence National Drive Electric Week Event
When: Sunday, September 22, 1pm - 4pm
Where: Boathouse at Roger Williams Park, Providence, RI
Why: It's Rhode Island's only NDEW event! In addition to the EV showcase and test drives, our friends from Ocean State Clean Cities, the Office of Energy Resources, and SustainPVD will be available to talk about their work and how you can continue to do your part for the environment. More info here.
You may live in or near a community that's hosting its own event for National Drive Electric Week. If that's the case, we encourage you to get involved there, too! Here's a full map of NDEW events across the country.
Still figuring out the basics? Here's a recap of our Electric Vehicles 101 webinar to prepare you for a test drive.
Why go electric?
If you have no other option but to drive, electric cars are a great way to reduce your carbon footprint and act on climate change. Mile for mile, EVs release a third of the carbon emissions compared to a gasoline-powered car when charged on the New England grid. Since they don't have a tailpipe, EVs also prevent the release of particulate matter that forms smog and other air pollutants, improving air quality in our cities and towns.
In addition to their environmental benefits, EVs are less expensive to own. Electricity is cheaper than gasoline, so you'll save on fuel, and electric powertrains require less maintenance than gas-powered ones– no more oil changes, spark plug replacements, or regular maintenance except for the occasional tire rotation.
EVs are more fun to drive, too, because of their zippy acceleration, good handling, and quiet engine (which you can check out for yourself at a National Drive Electric Week event in mid-September.)
What options are available?
There's more than one type of electric car. It's important to know what your options are so you can purchase the EV that makes the most sense for your lifestyle. BEVs (Battery Electric Vehicles) have the longest all-electric driving range – usually above 200 miles per charge. PHEVs (Plug-In Hybrid Electric Vehicles) have a limited all-electric range (about 20-50 miles) and a gas-backup. You can explore available models here.
Hybrid Electric Vehicles have a battery that is charged from regenerative braking. While these cars improve efficiency and reduce gasoline consumption, they don't have a plug and are not available to purchase or lease through the Drive Green program.
What's charging like?
Most EV drivers charge at home because it's convenient and cheap. You can charge using a regular 110-volt outlet to gain about 4 miles of range per hour of charging, or you can also install an at-home charging station with the help of an electrician to increase your charging speed to about 25 miles of range per charging hour. This is generally fast enough to meet the needs of most drivers' daily commute, but if you need to charge on the go, there are plenty of public options available, too. Learn more here.
How expensive are EVs?
There are plenty of incentives available to make an EV affordable for the average person. The federal tax credit can return up to $7,500 to you for purchasing an electric car (depending on the make and model you choose.) There is also a $1,500 rebate for Massachusetts residents through the end of September.
Plus, a pre-negotiated discount through Drive Green can offer even more savings at the time of purchase. The combination of these incentives can make an EV a reasonably-priced option for many people. Check out this month's great deals.
Questions from the webinar
How long is an EV battery expected to last?
The battery will last as long as the car, and there's usually a separate warranty on the battery for 8 years or 100,000 miles. After it's done being your car battery, it will likely either be recycled or reused as stationary storage.
How much charge is lost when sitting in traffic?
Unlike internal-combustion engines, electric powertrains do not have to "idle" or consume energy when standing still. At zero speed, your EV will lose almost zero energy, with any energy losses coming from your use of the radio, HVAC, or lights.
How long will a fully-charged battery last without being used (sitting in the driveway or garage)?
Lithium-ion batteries naturally self-discharge a little bit if stored for a long time at 100% capacity. While this isn't impactful in the short-term, allowing it to happen multiple times can disrupt the battery's performance several years down the line. If you'll be away from your EV for a week or longer, the best practice is to keep your car plugged in at home and set its maximum charge level to 40% or just leave it half-full when you leave.
---
We had a lot of questions about battery technology during this webinar. If you're interested to learn more and starting your NDEW celebration early, we're hosting a "Deep Dive into EV Batteries" webinar on September 11. Register here.