On February 8, Massachusetts energy officials proposed regulations that would require new residential and commercial buildings to be significantly more energy efficient. The proposal would establish a new energy code statewide, in addition to a more rigorous "stretch code" that cities and towns can adopt.
We need new building codes as soon as possible because a structure built today will stand for many decades, and our 2050 net zero emissions goal is only a few decades away. Some advocates say that the proposal doesn't go far enough. For a taste of viewpoints, this Globe article is helpful. But this blog isn't about details of the new code. It's about the much larger issue of reducing greenhouse gases (GHG) from existing buildings.
And please note: While this blog is about a specific proposal for Massachusetts, the substance applies to Rhode Island as well.
According to a presentation made by Massachusetts Energy Commissioner Patrick Woodcock, the proposed changes to the energy code would reduce greenhouse gas (GHG) emissions in the building sector by 500,000 tons per year by 2030.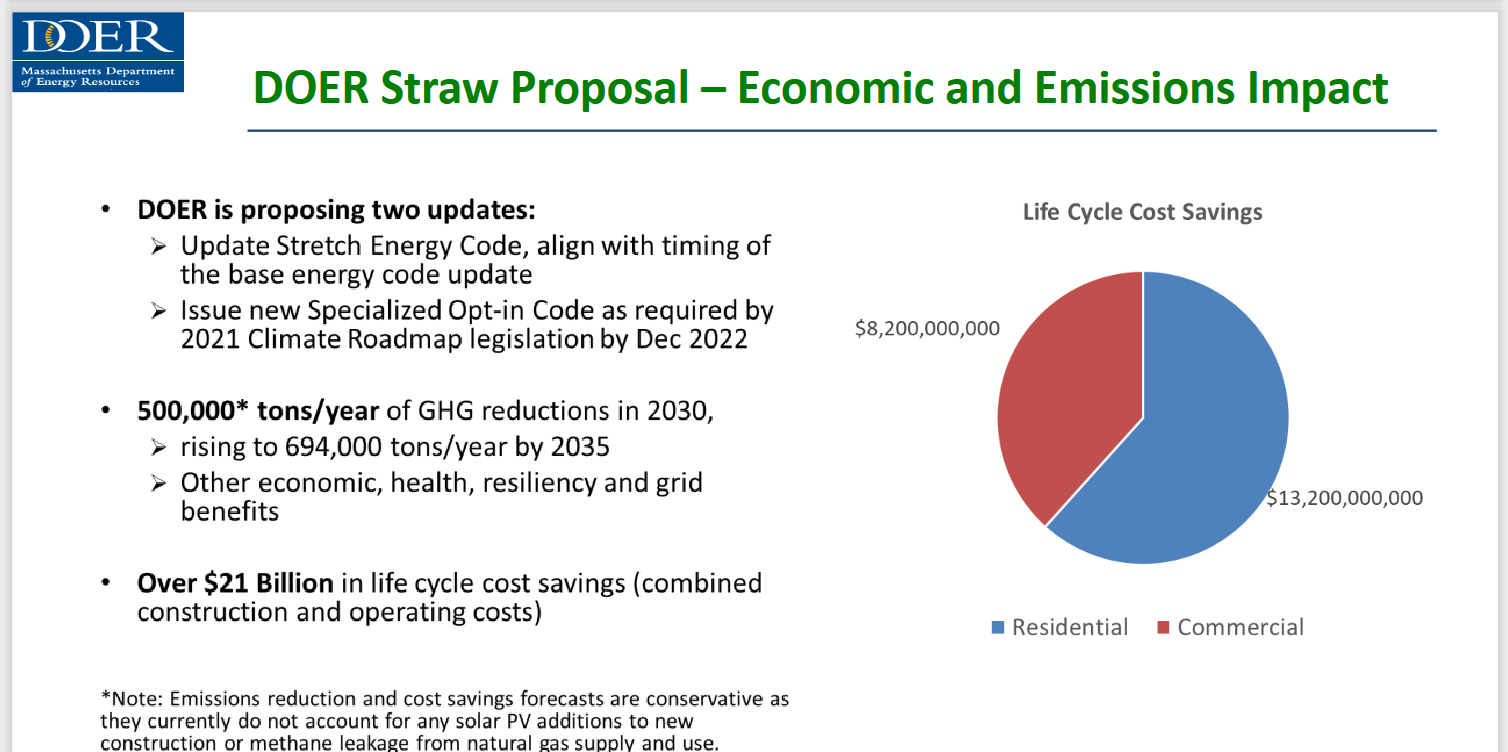 We should acknowledge that 500,000 tons is a lot and that the economic benefits are worth going for. But it's important to put that 500,000 tons in proper perspective; it's roughly 5% of the reduction we need from the building sector by 2030.
As we have in past blogs, we will refer you to the Massachusetts draft Clean Energy and Climate Plan. It calls for an economy-wide reduction in GHG emissions of 45% by 2030. The legislature has since mandated a 50% reduction, so the final CECP will have to raise the ante on each sector. Below is a table from the CECP showing that the building sector would presumably reduce emissions by 9.4 million tons of greenhouse gases by 2030. With the legislative change, let's assume that the final plan will round that up to at least 10 million tons.

Simple math tells us that the proposed energy code would give us just 5% of the GHG reductions we need by 2030 from the building sector (or 2% of the reductions we need in the overall economy). So, yes, we need more stringent building codes for new construction. But we need to find dramatic reductions in existing buildings. That will affect us all.
This is a challenge for the newly formed Clean Heat Commission in Massachusetts. If new construction is going to get us 5% of the way to our 2030 requirement, we're going to need building performance standards and/or a heating fuels emissions cap on existing buildings to earn the other 95%.
For the Massachusetts Commission, their work is cut out for them.
And we encourage Rhode Island to keep an eye on what Massachusetts is doing, learn what's going right, and make appropriate corrections. The Rhode Island "Act on Climate" requires 45% GHG reductions by 2030 and time is wasting away.
---