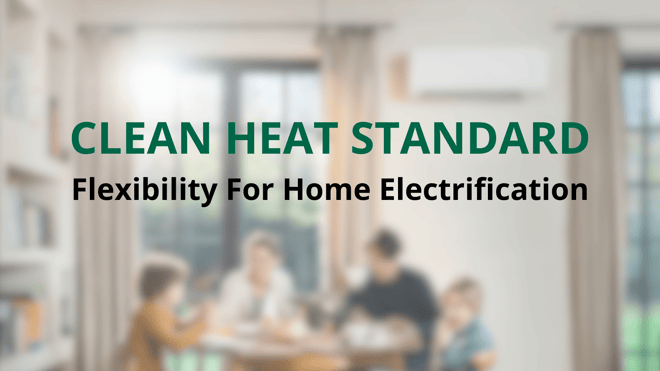 Most of us still burn fossil fuels to heat our buildings, make hot water, cook, and dry our laundry. But recently, there's been a welcome surge of interest among consumers in ways to switch to cleaner, more efficient heat pumps, induction stoves, and electric clothes dryers. To reach net-zero greenhouse gas emissions, we have to keep it up until we zero out our use of methane, oil, and propane. Towards that end, we have been giving many presentations on how federal and state incentives can make home electrification more affordable and how a Clean Heat Standard (CHS) would set us on a steady path toward zeroing out those emissions. In this blog, we want to highlight one particular benefit of a CHS: the flexibility it gives consumers in when and how they get off fossil fuels.
What is a Clean Heat Standard again?
As a brief explainer/reminder, a CHS is a "performance-based obligation" at the state level on companies that supply heat by methane, heating oil, or propane. In other words, it's a system that each year would require such suppliers to deliver a gradually increasing amount of zero-emission heat (by, for example, helping their own or another supplier's customers install heat pumps or insulation).
We talk to consumers all the time and we sense that while the idea of electrification is becoming mainstream, a lot of people remain confused about how to take the first step and then in what order to take the following steps. One person might be fixated on a heat pump because a family member has one, while another might be gravitating towards an induction stove because they saw one demonstrated on YouTube or at a home show. Which should they prioritize? It depends.

Image Source: Efficiency Vermont
We have a lot of members and some are really passionate about their decision to switch from a particular combustion appliance to electrification (zealous, you might say, but in a good way). Their enthusiasm is definitely working to spur the demand for their chosen item, but perhaps the person they're trying to persuade on that item might be more likely to go for another item if given a similar nudge. There is no one right way for everyone. We can take different pathways to net-zero, as long as we get on the road.
Flexibility Is Key
Here's the message we're conveying: We don't all have to electrify all those major appliances – heating systems, water heaters, stoves, and dryers – overnight. The Inflation Reduction Act has federal tax credits for those things that we can take advantage of over the next ten years. If you can swing a faster home makeover, great. But let's assume you cannot do it all in one year.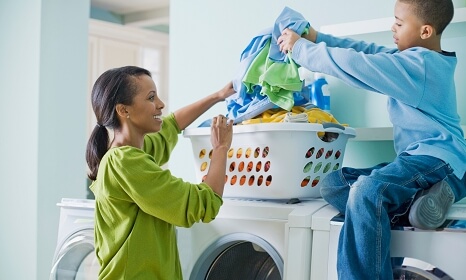 Image Source: Energy Star
This is where a Clean Heat Standard comes in. If, and hopefully when, Massachusetts or Rhode Island enacts a CHS, a heating company will be required to earn "Clean Heat Credits" by facilitating building electrification. The number of credits any action receives should be proportional to how much carbon emissions it helps to avoid. While an electric clothes dryer might earn fewer credits than a whole house heat pump system, it should still earn some credits and that will help those who are ready to make that particular switch.
Some of you might look at the various options and say that you are ready for one or two but not the others just yet. We've heard things like, "I got quotes for heat pumps, but they were higher than I can afford right now" or "I live in a small multi-family apartment and there's no place to put a heat pump water heater." But if you dig into a consumer's situation, you usually find that they can do something to reduce their usage of home fossil fuels in the near future.
All four of the options we've mentioned in this blog – heat pumps, induction stoves, electric dryers, and good 'ole insulation – reduce fossil fuel combustion. And all four would likely qualify for a Clean Heat Standard should one be developed and implemented by Massachusetts or Rhode Island.

Image Source: KitchenAid
This flexibility is just what the climate doctor ordered for individuals. But think of it on a grander scale too. A large multi-family property management company or a housing authority might be able to purchase hundreds of induction stoves or clothes dryers in bulk. While each one might make a relatively small contribution, altogether that would be a major project.
Let's recap
We don't all have to switch everything overnight and we don't all need to march in unison, but we should all try and get it done within the next ten years. The Inflation Reduction Act will help, but a Clean Heat Standard policy and the flexibility it offers is the next piece to the puzzle of how we retrofit buildings to phase out fossil fuels.