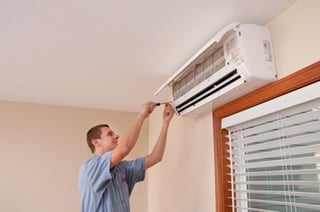 What is a heat pump?
Heat pumps are a heating technology that can be installed in a room (or several rooms) in your home and move heat into or out of a space. A heat pump can both HEAT and COOL the air in your home. A heat pump can also be used to heat water.
Chances are you already have a heat pump in your home! Refrigerators and air conditioners use heat pumps to cool. It sounds strange to use a "heat" pump to cool, but your refrigerator or air conditioner is actually pulling the heat out of the space you want to keep cool and putting it somewhere else. When you use a heat pump for heat, it's like running your refrigerator or air conditioner in reverse!
Are there different types of heat pumps?
Yes! All heat pumps move heat, but that heat can come from different sources. Heat pumps can use the temperatures of either the outdoor air or the ground to heat or cool homes or buildings. Heat pumps that utilize outside air are known as "air-source heat pumps." Heat pumps that use the nearly constant temperature underground are known as "ground-source heat pumps." Ground-source heat pumps require a trench or well to operate. Air source heat pumps can be installed either as "central units" or "split units."
Central units utilize a building's heat distribution system to heat and cool and can also be used for water heating. There are also heat pumps available solely for the purpose of heating water. Split units typically provide heating and cooling to just one or two rooms of a building, reducing demand on the existing heating system.
What kind of heat pump is Green Energy Consumers promoting in its heat pump programs?
Mass Save has a series of short videos on ductless mini-split heat pumps you might find helpful: www.masssave.com/residential/csvideos
Green Energy Consumers is promoting ductless mini-split cold climate Air Source Heat Pumps (ccASHPs). Advancements in technology over the past few years have made ccASHPs an efficient source of heating and cooling in cold climates like Massachusetts. If you heat with a propane or electric resistance heating system, ccASHPs can significantly reduce your heating costs, without replacing your current heating system. Plus, they are easy to install, operate quietly, and provide a comfortable, energy-efficient source of both heating and cooling.
A ductless mini-split ccASHP consists of two parts – an outdoor condenser and an indoor air handler, referred to as a "head." A ccASHP can be installed as a single-zone system, designed for a single room with one outdoor condenser matched to one indoor head, or as a multi-zone system where two or more indoor heads are connected to one outdoor condenser.
What should I know about Green Energy Consumers' heat pump programs?
Green Energy Consumers is running a series of heat pump programs in Massachusetts. The first program, which covered most of the Pioneer Valley, ended December 31, 2015. Green Energy Consumers is currently running a program in the Greater Boston area. [Please note that this pilot program is no longer open to new applicants, but we are leaving this blog post up for general information.]
For each program, Green Energy Consumers partners with qualified heat pump installers to offer a competitive installation price for ccASHPs. The territory of those installers determines the towns covered by the program. If your city or town is covered, all you need to do is signup online for a free, no-obligation heat pump assessment at www.greenenergyconsumers.org/heatpumps and a partner installer will contact you. The signup link is only available when a program is running.
Do I need to be a member to participate?
You do not need to be a Green Energy Consumers member to participate, so tell your friends!
Are there any incentives available for ccASHPs?
Yes! There are rebates currently available through Mass Save and through the Massachusetts Clean Energy Center. Plus, Mass Save has a 0% interest HEAT loan that can be used to pay for qualifying heat pumps. You can also claim a federal energy efficiency tax credit of $300 for qualifying ccASHPs.
You do not have to participate in one of Green Energy Consumers' heat pump programs to take advantage of these incentives.