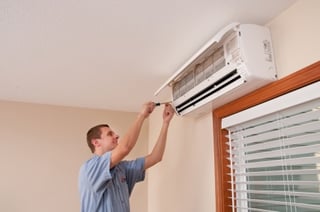 After a successful pilot program in the Pioneer Valley and a survey of interest to our members, Mass Energy has decided to run our new heat pump program in the Greater Boston area. It will cover 80 cities and towns.
[Please note that this pilot program is no longer open for new applicants, but we're leaving this blog post up for general information.]
For the Greater Boston program, Mass Energy has partnered with highly qualified installers (Fisher-Churchill Co., Genove Oil & Air Co., and Muirfield Mechanical Services) to offer our members and affiliates a competitive installation price on cold climate Air Source Heat Pumps (ccASHPs) that qualify for numerous financial incentives.
The most generous incentives are offered through the Massachusetts Clean Energy Center (MassCEC) and the Mass Save® program. And, thanks to the omnibus spending bill passed by Congress at the end of last year, the ccASHPs now qualify for a $300 federal income tax credit!
What is a Cold Climate Air Source Heat Pump?
As you may know, the popularity of heat pumps has risen dramatically in recent years. Advancements in technology have made ccASHPs a safe, comfortable, convenient, and efficient source of HEATING and COOLING. Much like your refrigerator, air-source heat pumps work by moving heat into or out of a building. Because they don't burn fuel, they can improve air quality, both indoor and out. Furthermore, ccASHPs also dehumidify, and integrate nicely with solar PV systems.
If you use electric-resistance or propane heat, the energy savings potential of ccASHPs is significant, and the state and federal incentives help make them an affordable heating and cooling option.
Homeowners in 80 cities and towns in the Greater Boston area are eligible to participate in the program, which is running until June 15, 2016. You do not need to be a member of Mass Energy, so tell your friends!
Current Heat Pump Rebate and Incentive Programs in Massachusetts
In addition to the competitive pricing offered through our heat pump program, any homeowner in Massachusetts may be able to take advantage of these incentives* for heat pumps:
*Note: Not all cities and towns eligible for Mass Energy's program are eligible for the state incentives. With few exceptions, residents of municipal lighting plant communities do NOT qualify for the state rebates. Only residents of those communities that use an electric-resistance heating system can take advantage of the Mass CEC rebate. Please check with your municipal lighting plant to see if they offer any incentives.
What do I do if I'm interested in Mass Energy's Heat Pump Program?
Check the list of towns below to see if you're eligible.
What happens if I sign up?
One of the three installers, Fisher-Churchill, Genove, or Muirfield Mechanical, will contact you. They will ask you some questions about your home and answer any questions you might have. They will also schedule a site visit at your convenience.
The installer will visit your home, determine whether a ccASHP is right for your home, and present you with a quote. The installer will also go over the incentives available to you. If you're ready to proceed, you can schedule your installation right away.
The installer will complete your installation within 2-4 weeks, and you'll be ready to start saving!
List of towns included in Mass Energy's Heat Pump Program
Residents of the following cities and towns in the Greater Boston area are eligible to participate in Mass Energy's heat pump program:
| | | | | |
| --- | --- | --- | --- | --- |
| Acton | Arlington | Ashland | Attleboro | Avon |
| Ayer | Bedford | Berlin | Bellingham | Belmont |
| Billerica | Bolton | Boston | Boxborough | Braintree |
| Brockton | Brookline | Burlington | Cambridge | Canton |
| Carlisle | Chelmsford | Clinton | Concord | Dedham |
| Devens | Dover | Easton | Foxboro | Framingham |
| Franklin | Groton | Harvard | Holliston | Hudson |
| Lancaster | Leominster | Lexington | Lincoln | Littleton |
| Lunenburg | Mansfield | Marlborough | Maynard | Medfield |
| Medford | Medway | Millis | Milton | Natick |
| Needham | Newton | Norfolk | North Attleboro | Norton |
| Norwood | Plainville | Quincy | Randolph | Sharon |
| Sherborn | Shirley | Somerville | Southborough | Stoughton |
| Stow | Sudbury | Tyngsboro | Walpole | Waltham |
| Watertown | Wayland | Wellesley | Westford | Weston |
| Westwood | Weymouth | Winchester | Woburn | Wrentham |
A couple of things to keep in mind:
If you don't see your town listed, but you live very close to one that is, you may still be able to participate with one of our selected installers.
While you may be eligible to participate in the program, the amount of the incentives for which you may be eligible may depend on which utility you have.
Please note: Mass Energy has partnered with Meister Consultants Group (MCG) to run our heat pump program. WePowr is an online platform created by MCG to help home and business owners learn about and install high efficiency renewable heating and cooling systems.