Victory in New Building Decarbonization at the Eleventh Hour!
Late into the last night (early morning on June 16, actually) of session, the RI General Assembly passed S855 Sub A requiring the RI building code commission to adopt the 2024 International Energy Conservation Code (IECC) within 3 months of its publication, which is expected this Fall. Rhode Island is now set to become the first state to adopt the 2024 International Energy Conservation Code (IECC). This legislation was one of Green Energy Consumers' top priorities this legislative session, especially since the state currently uses only the 2018 IECC with weakening amendments. Adopting this code will mean that new buildings in Rhode Island will be more energy efficient and have much lower emissions than ever before.
Background on IECCs
International Energy Conservation Codes (IECCs) are set by the International Code Council (ICC) and updated every three years. The ICC code-building process is informed by stakeholders who interact with and use the code: contractors and builders, design professionals, code officials, government officials, energy experts, etc. This collaborative process creates an IECC that lays out minimum energy efficiency requirements for new and renovated buildings and can lead to cost savings for building owners and occupants, as well as reductions in greenhouse gas emissions.
Benefits of the 2024 IECC for Rhode Island
Adopting the 2024 IECC as base code for both commercial and residential buildings in RI will ensure greater efficiency standards for building design and construction, bringing savings and emissions reductions to the state. The Pacific Northwest National Laboratory estimated that the 2024 Residential IECC would reduce energy use intensity, energy cost, and emissions all by an average of 8% compared to the 2021 IECC.
Note: These estimates are for transitioning from the 2021 to 2024 IECC. Rhode Island is only on the 2018 IECC so the energy, cost, and emissions savings from adopting the 2024 IECC are even greater than these estimates! You can find the current draft of the 2024 IECC, expected to be published in the fall, here. You can also read the Northeast Energy Efficiency Partnerships (NEEPs) summary of the commercial draft here, and the residential draft here.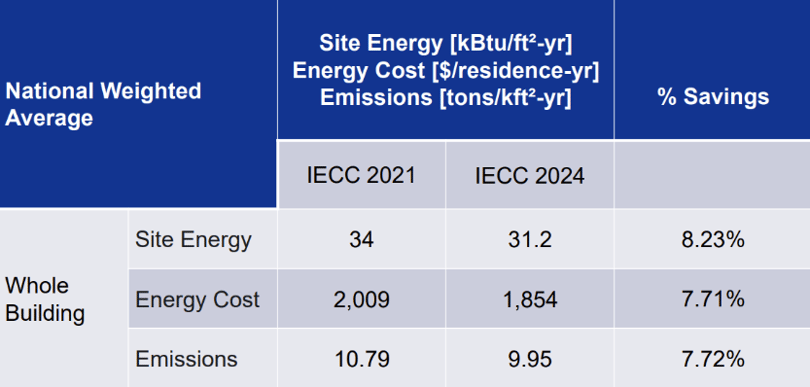 Electric Readiness Provisions
One crucial benefit of adopting the 2024 IECC for residential buildings is the required electric readiness provisions. Electric readiness will ensure that homes are constructed with the future in mind, allowing them to easily add electric vehicles, solar, heat pumps, and more. This preparedness will accelerate the transition to all-electric and is critical for Rhode Island to meet the Act on Climate.

For example, electric Readiness provisions would ensure that there's both a conduit and access to a circuit as well as wiring and an outlet, so the only addition required by the homeowner is the actual charger.
Inflation Reduction Act
Another benefit of adopting the 2024 IECC is it makes Rhode Island eligible to apply for its share of $330 million in Inflation Reduction Act funding for further code implementation. The program guidance is expected to be issued this summer, applications are due in the fall, and implementation should occur during the Spring of 2024. You can read more here.
Still More Work To Do
While this is a huge step forward in reducing building emissions from new construction, the state still has no policy to reduce emissions from existing buildings. Another top priority bill, Building Benchmarking & Performance Standards, had good hearings thanks to Representative Kislak and Senator Gu but ultimately did not pass. This will be a top priority of ours again next year as 70% of our building stock in 2050 is already in place today, making reducing emissions from current buildings critical to achieving an Act on Climate.
Thank You & Onward!
A big thank you to our members and fellow advocates who testified, contacted their representatives, and mobilized at the state house last minute. Special thank you to Representative Edwards for sponsoring the legislation in the House and Senator Gu for sponsoring both of our building decarbonization priorities this year. We look forward to working with her, and all of you, the next session to tackle emissions from existing buildings.
Related Posts
Rhode Island was one of the first states in the country to establish a renewable energy standard, a requirement...

Larry Chretien
Apr 10, 2014 3:23:00 PM