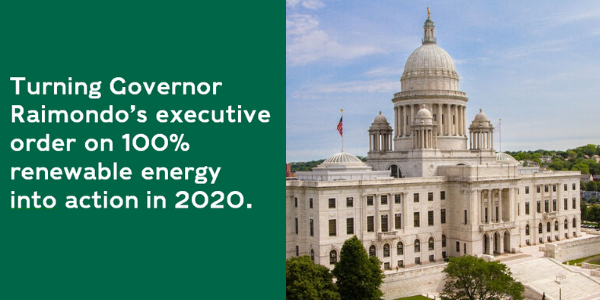 Last week, Governor Raimondo signed Executive Order 20-01, Advancing 100% Renewable Energy Future for Rhode Island by 2030. The order came on the heels of particularly disconcerting assertions made in the same week by Speaker Mattiello about the limited impact that action taken in Rhode Island can have on the climate crisis overall.
The action step is obvious.
We have to point out that the executive order pertains only to the electricity sector and that it calls for yet another study (rather than implementation) to achieve 100% renewable power. And it implies that some action might be taken in 2021. But Rhode Island can put real points on the board this year with an increase in the state's Renewable Energy Standard (RES).
We know the policy capable of driving demand for more renewable energy is the Renewable Energy Standard (RES). In 2016, the Rhode Island's RES was extended from 2019 to 2035. It can and should be more ambitious, though. Recent updates elsewhere mean Rhode Island has fallen behind several states with more stringent minimum requirements for renewable electricity.
Which states are on the leader board?
| | |
| --- | --- |
| State | Renewable Electricity Requirement |
| Hawaii | 100% by 2045 |
| DC | 100% by 2032 |
| Maine | 84% by 2030 |
| New Mexico | 80% by 2040 |
| Vermont | 75% by 2032 |
| New York | 70% by 2030, 100% by 2040 |
| California | 60% by 2030, 100% by 2045 |
| Oregon | 50% by 2040 |
| Nevada | 50% by 2030 |
| Maryland | 50% by 2030 |
| Connecticut | 44% by 2030 |
| Colorado | 30% by 2020, 100% by 2050 |
| Massachusetts | 20% by 2020, 30% by 2025, 40% by 2040 |
| Rhode Island | 16% in 2020, 27.5% by 2025, 31% by 2030, 38.5% by 2035. Capped at 38.5% on. |
There's enough renewable energy to raise the RES.
According to a recent report from National Grid, which is, by far, the largest electricity supplier in Rhode Island, the company has more green power in its portfolio than is required by the state standard - meaning that it expects to be selling off some of that power to other suppliers in New England. This power is coming from a number of long-term contracts, including the 400 megawatt Revolution Wind Farm under development and excellent in-state wind and solar projects supported by the state's job-creating Renewable Energy Growth program.
The chart below shows National Grid's projection of the Renewable Energy Standard requirement for Standard Offer customers compared to the estimated output of RECs obtained through Long-Term Renewable Contracts and the RE Growth Program. As you can see by the green bars, the company does not have to search for renewable energy supply. Again, unless Rhode Island raises the standard, National Grid will be selling off renewable energy. I can tell you right now, this will be a major point in the study called for in the executive order.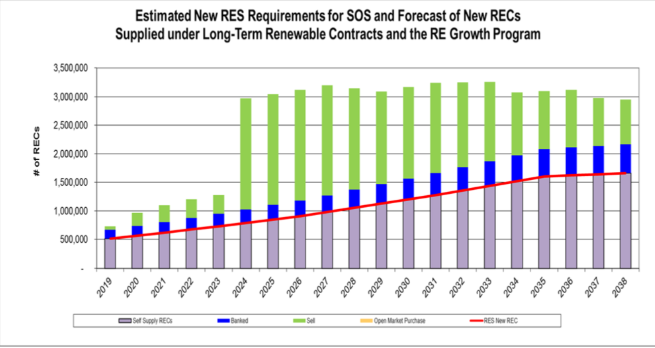 Renewable Energy Benefits Exceed Their Costs.
Some folks will say that renewable energy costs money. Of course it does, but if you are going to count costs, count the benefits as well. According to state energy officials, National Grid's contract with Orsted for 400 megawatts of off-shore wind power will save ratepayers $90 million over 20 years. It begs the question - when can we buy more?
Rhode Island Should Put Real Points on the Board in 2020.
In this century, every day that an elected official is in office, he or she ought to be prepared to take meaningful action on climate. The Ocean State has not made any major policy changes in the last couple of years that would move the needle on reduce greenhouse gas emissions (GHG) across all sectors including heating and transportation, and we have no clue as to how the state is doing with respect to its non-binding GHG goals. We see no reason for procrastination. People want immediate climate action and that means more wind and solar now.
Therefore, we call upon state policymakers to increase the RES so that it has a significant impact on our electricity mix over the next 10 years. To be specific, in this 2020 legislative session we are asking for a RES increase to at least 50% by 2030. That would make Rhode Island comparable to the best in class. But very few of the states on the leader board have the advantage of being able to procure large amounts of affordable off-shore wind as Rhode Island in the near term. The potential for more solar is just as obvious. We can legislatively do this now while we study how to go from 50% in 2030 to 100% in 2050.
Emissions from all sectors need to be addressed.
Cleaning up the electricity supply, as the governor's executive order proposes, is an important component of the state's climate strategy. However, greenhouse gases are emitted from all sectors and industrial processes. As the graph below illustrates, emissions from transportation and heating comprise the large majority of carbon pollution in the state, yet Rhode Island lacks policies, programs, or plans to reduce emissions from either. There are ongoing discussions about how to transform the heating sector and whether to engage in a regional Transportation Climate Initiative, but we need to go from conversation to action. Fast.