Rhode Island leaps ahead towards 100% renewable electricity!
Rhode Island makes history! Late Tuesday afternoon, the RI House of Representatives joined the Senate in passing a bill to update the Renewable Energy Standard to reach 100% renewable electricity by 2033. Rhode Island is now set to become the first state to reach that total level of commitment towards wind, solar, and other qualifying power sources. This was Green Energy Consumers' top priority this legislative session, and its passage builds on advocacy we have done for years to establish and increase the Renewable Energy Standard.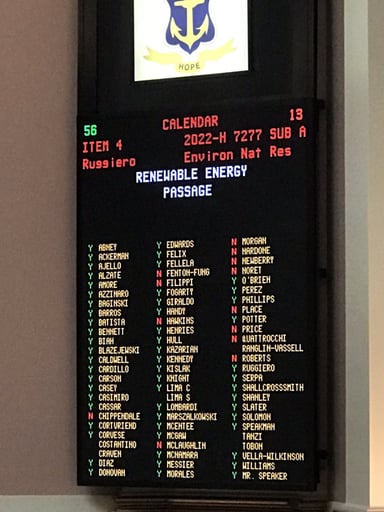 With RI's step towards the low-carbon future, it is now incumbent upon other states, including Massachusetts, to keep up.
The passage of 100% by 2033 is the clearest sign yet that Rhode Island is serious about figuring out how to meet the Act on Climate emissions reductions mandate. It will create a greener electric grid that can power electrified buildings and transportation. A transition to renewable electricity will bring many benefits to Rhode Island, and not just for the climate. It will lead to reduced air pollution, less volatile electricity prices, and an in-state clean energy industry creating jobs for Rhode Islanders.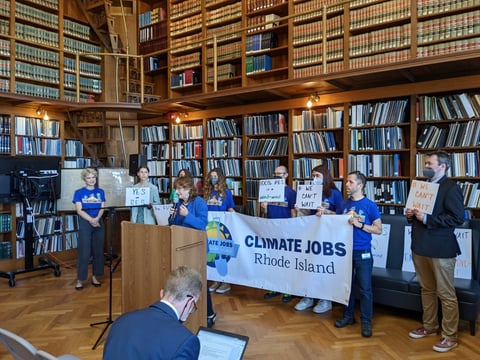 House bill sponsor Deb Ruggiero speaks at the rally for 100% by 2033.
100% by 2033 is possible because of Rhode Island's potential for offshore wind. To make 100% possible, we strongly urge the House to pass H7971, a bill that will kick off procurement of another 600 MW of offshore wind. Together with the Revolution Wind project, a 600 MW project could power 50% of RI's electricity demand with clean, affordable wind energy.
We've already written lots about 100% renewable, so we'll focus this update on recognizing the leaders who helped make this happen, including: Senate President (and Senate bill sponsor) Dominick Ruggerio, House sponsor Chair Deb Ruggiero (shown above at podium with Kai Salem at left), House Speaker Joe Shekarchi, Senate Environment Chair Dawn Euer and House Environment Chair David Bennett. Thank you also to Governor Dan McKee for his support for the bills during the hearings. We look forward to seeing the Governor sign the bill.
We are also exceptionally grateful to our members, and the organizations and individuals that advocated for the bill, including Climate Jobs RI, the Environment Council of RI, Climate Action RI, and more.
For more resources on 100% renewable, check out:
"Getting to 100% Green Electricity: It's Only A Matter Of When" (2022 blog)
"3 Climate Policies to Get RI Back On Track" (2022 blog)
"Getting to 100% renewable in RI" (2022 webinar)
"Renewable energy is affordable" (2020 blog)
"Four bills to act on climate" (2021 blog)
"Getting to 100% renewable in RI" (2020 blog)
Related Posts
Update (March 9, 2022): Green Energy Consumers Alliance strongly supports the work of RI Attorney General Peter...