Public Housing Needs Climate Funding: A Clean Heat Standard Will Help
Through the Global Warming Solutions Act (GWSA), Massachusetts is committed to reducing greenhouse gas emissions across the entire economy, including the transportation, electricity, and building sectors (45% by 2030 and net zero by 2050). The building sector includes about 73,000 public housing units for the most vulnerable people in society. Rents are pegged to 30% of the residents' incomes. Public housing has been chronically underfunded for decades, leading to a multi-billion dollar capital backlog that reduces building efficiency and dramatically impacts tenants' quality of life. So naturally, if we want to reduce the energy consumption of public housing and improve conditions for its residents, we need to be serious about where the funding will come from.
In Massachusetts, the main source of energy retrofit dollars comes from Mass Save, paid for by electricity and gas ratepayers. The budget for Mass Save is robust, but not nearly sufficient to achieve what the GWSA requires. For old multi-family dwellings, transitioning away from fossil fuel heat to efficient electric systems requires massive electrical, HVAC, and often roofing and envelope upgrades upfront. Without addressing multiple of these systems simultaneously, building owners cannot achieve the necessary emission reductions to meet our climate goals or qualify for nascent federal incentives that would help pay for the projects. Funding for Mass Save needs augmentation and one answer to the problem is a Clean Heat Standard (CHS).
What is a Clean Heat Standard?
A CHS is a "performance-based obligation" at the state level on companies that supply heat by methane, heating oil, or propane. It's a system that would require such suppliers to deliver a gradually increasing amount of zero-emission heat each year (by, for example, helping their own or another supplier's customers install heat pumps or insulation). These sellers of fossil fuels would have to earn "Clean Heat Credits," which means they would be paying for what we need to decarbonize.
If a CHS is implemented, there will be a system by which those who need to earn Clean Heat Credits will be on the lookout for projects that qualify, and they will buy down the cost of making those projects financially sensible for the building owners. Every building with the potential for reducing greenhouse gas emissions will be eligible – commercial, industrial, and residential, including public and other subsidized housing.
A CHS Must be Equitable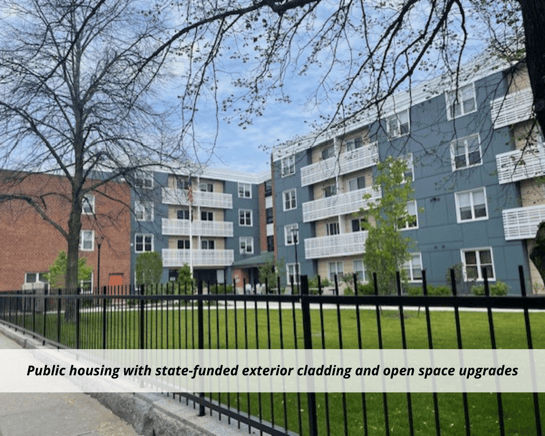 There are retrofit needs across Massachusetts that could be helped by a Clean Heat Standard from schools to hospitals, businesses, and 2.7 million homes. Even if we require all new construction to be built with all-electric heating, about 70% of the structures in place now will still be in use in 2050. A socially just Clean Heat Standard would allocate a significant, minimum amount of Clean Heat Credits that benefit low- and moderate-income (LMI) people.
By directing resources for climate-friendly rehabilitation work upfront to LMI housing and other facilities like public schools that serve residents regardless of income, Massachusetts can close the gap on decades of deferred investments while making focused progress on our environmental goals. This investment will, in turn, help reduce other public expenditures, such as for energy bills to healthcare costs. The same communities that suffer from high rates of asthma and high incidence of visits to the emergency room will benefit disproportionately from improvements to indoor air quality.
LMI residents have borne the brunt of our energy system, living alongside highly polluting facilities and often in housing of comparably inferior quality. On the bright side, retrofits that reach LMI residents where they live, including public housing, represent a big target of opportunity for projects that would be financed by Clean Heat Credits. A large housing authority or perhaps an aggregation of several small ones could make projects available for retrofit in one big, efficient transaction and improve the lives of hundreds or thousands of people in the process.
Eventually, Massachusetts needs to eliminate fossil fuel combustion everywhere, but with the public housing authority portfolio, the state has flexibility in how we deploy new technologies and pilot innovative solutions. In some projects, we might lead with air-source heat pumps or heat pump water heaters. In others, we might clean up cooking through induction stoves, connect neighborhoods through networked geothermal heating, or simply add exterior cladding to old, hard-to-insulate buildings. And we can achieve economies of scale with equipment and labor: Boston's public housing modeled this a decade ago with a nation-leading energy performance contract, a pre-apprenticeship pathway to good jobs, and strong labor standards. We can build on this progress and, now, tap Inflation Reduction Act credits that are tied to wage and training standards.
How do we get a Clean Heat Standard?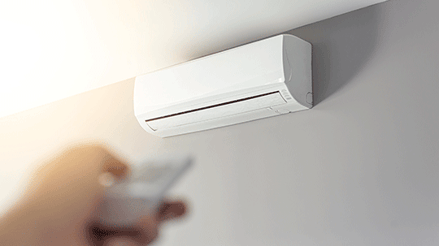 There are two pathways to the development of a Clean Heat Standard in Massachusetts. One is by legislation. Rep. William Driscoll has filed H.3694 to establish a Clean Heat Standard, which will be heard by the Committee on Telecommunications, Utilities, and Energy on July 13. This bill would require that forty percent (40%) of Clean Heat Credits go to the benefit of low- and moderate-income people.
The other pathway is regulation. Governor Healey's Department of Environmental Protection (DEP) seems to be heading in the direction of setting up a CHS (thanks to the Global Warming Solutions Act, DEP can make a CHS happen without new legislation). For further information about DEP's process, including an opportunity to provide input, visit this page.
Massachusetts must accelerate its work to retrofit its existing building stock if it wants to achieve its climate targets. A Clean Heat Standard is one crucial way of generating resources to help residents, particularly those in LMI and multifamily housing, make the switch from unhealthy, polluting systems. Let's not delay moving this crucial solution forward.
Related Posts
In Massachusetts, both the legislative and executive branches are considering a Clean Heat Standard (CHS) to...

Larry Chretien
Jul 24, 2023 2:00:00 PM