Last week, with a resounding vote of 144-12, the Massachusetts House of Representatives passed the Offshore Wind and Clean Energy bill. It will now go to the State Senate. We are especially thrilled because we worked hard to get provisions introduced that would help municipal aggregations access offshore wind. With the championship of Rep. Tommy Vitolo and Rep. Dylan Fernandes, and the support of Speaker Ron Mariano and Energy Committee Chair Jeffrey Roy, our provisions were adopted!
Offshore wind is key to helping Massachusetts, Rhode Island, and other East Coast states switch to zero-emission energy. The Offshore Wind and Clean Energy bill supports wind industry workforce development, improves transmission infrastructure, strengthens wildlife protection, invests in energy storage, modernizes our grid, and prioritizes social equity in wind development.
In advocating for this legislation, we worked closely with our strong partners in the New England for Offshore Wind Coalition. On the issue of aggregation, we worked with the Environmental League of Massachusetts, Power Options, and Vineyard Power.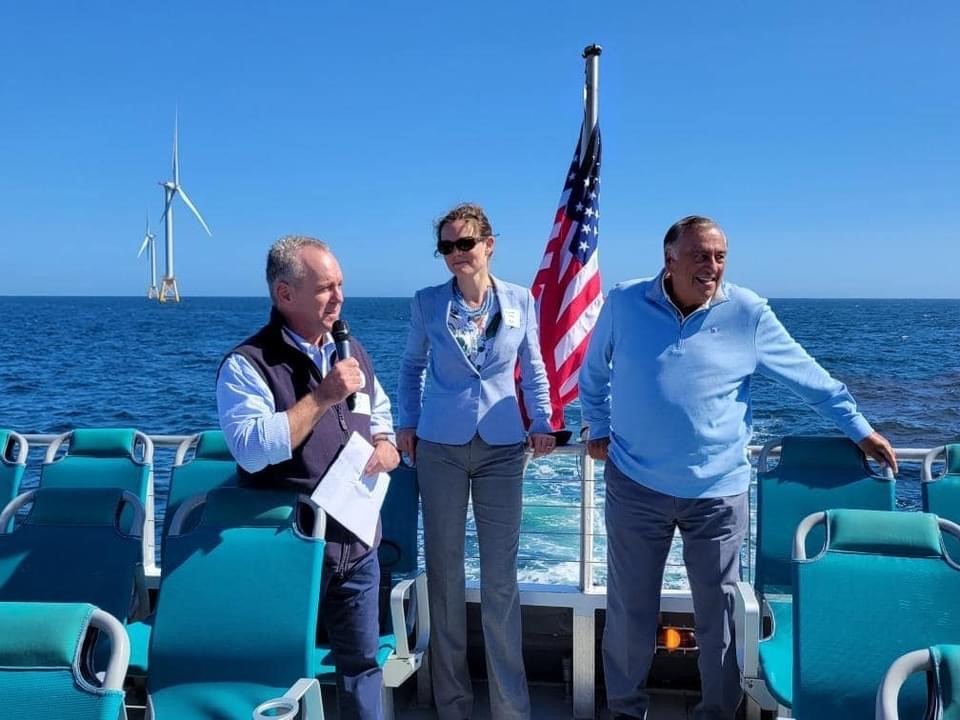 Representative Jeffrey Roy, ELM President Elizabeth Henry, and House Speaker Ronald Mariano on a tour of the Block Island Wind Farm
The Specifics
Last fall, we began to hear that the legislature would prioritize offshore wind legislation this session. Given our deep involvement with what we call "Green Municipal Aggregation," the model we developed that enables cities and towns to secure more renewable energy in their electricity supply than required by law, we saw an opportunity to enhance both aggregations and offshore wind. The final legislation does two important things.
First, the bill encourages developers to collaborate with municipal aggregations in their bids for long-term contracts for wind power. Second, the bill removes barriers that currently prevent aggregations (and other non-government, non-utility entities) from contracting with offshore wind projects. The bill establishes a Massachusetts Offshore Wind Industry Investment Trust Fund within the Mass. Clean Energy Center (MassCEC). This enables MassCEC to enter into long-term contracts with developers and then resell power in shorter-term contracts with approved municipal aggregations. Typically, aggregations procure electricity supply contracts in three-year increments. The Center will be an important intermediary, leveraging the purchasing power of communities aggregating electricity at the local level.
As State Rep. Tommy Vitolo said, "This bill will help Massachusetts make good on our promises for renewable energy and create opportunities for men and women in this industry. Also, I've been proud of my town's municipal aggregation program. The bill makes it possible for Brookline and dozens of other communities to get clean power from offshore."
The Potential
Massachusetts now has over 160 communities with aggregation programs. Of those, over 70 are purchasing more renewable energy than required by state law. By our estimate, this demand for clean power above the state's mandate will likely exceed one million megawatt-hours in 2023. This growing demand for clean energy from cities and towns, as well as nonprofits and businesses, can help spur the state's offshore wind industry even further. All this voluntary demand would be in addition to state requirements and will hasten the achievement of 100% renewable electricity in the Commonwealth.
We've got a report coming out soon about the growing municipal aggregation movement in Massachusetts and Rhode Island. Stay tuned.
Next steps
First, the offshore wind bill will have to clear the Mass. State Senate. We're cautiously optimistic given how many communities with municipal aggregations could benefit. Then, attention will turn to MassCEC to see how it follows through on its new role in connecting offshore wind with aggregations. Patience is in order, but that is not in our nature. We'll be ready to make matches between municipal aggregations and the new projects being built in our wind-rich areas off our coasts.
Up next? Bringing this idea to Rhode Island, too.