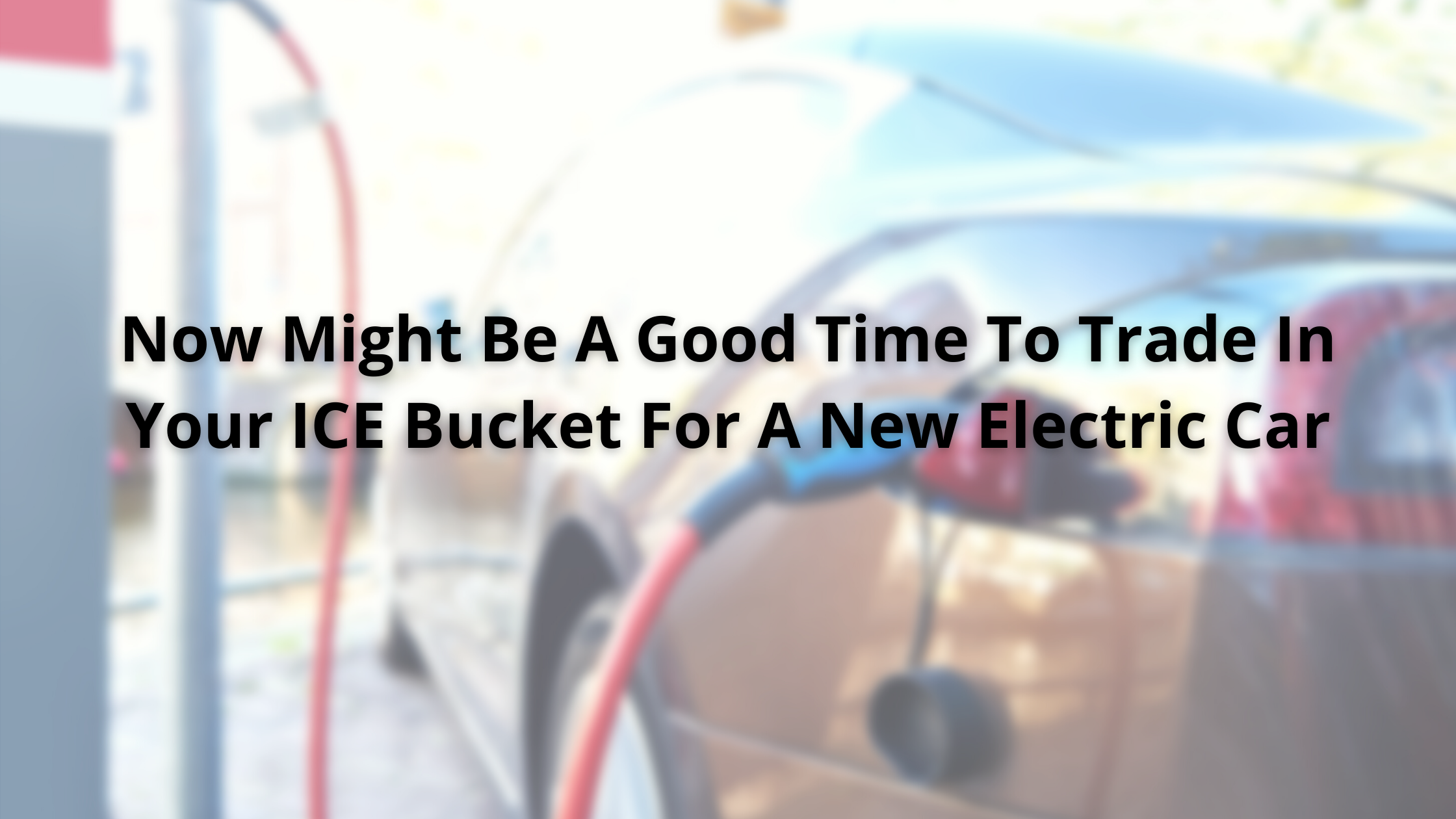 If you're like 99% of Massachusetts and Rhode Island drivers, the car you own now has an internal combustion engine (ICE) that runs on gasoline. Now might be a smart time to trade in your gas-powered car for an EV. Here's why.
Used Car Prices

Are

at an

A

ll-

T

ime

H

igh
Last month, the average price of a used car soared to an all-time high of $25,463, according to research firm J.D. Power. That's $2,000 more than the average used car price was in April of last year, and it's the first time the average price of a used car has exceeded $25,000 in the US.
Here's a graph from Bloomberg showing how used car prices have risen in the last five years: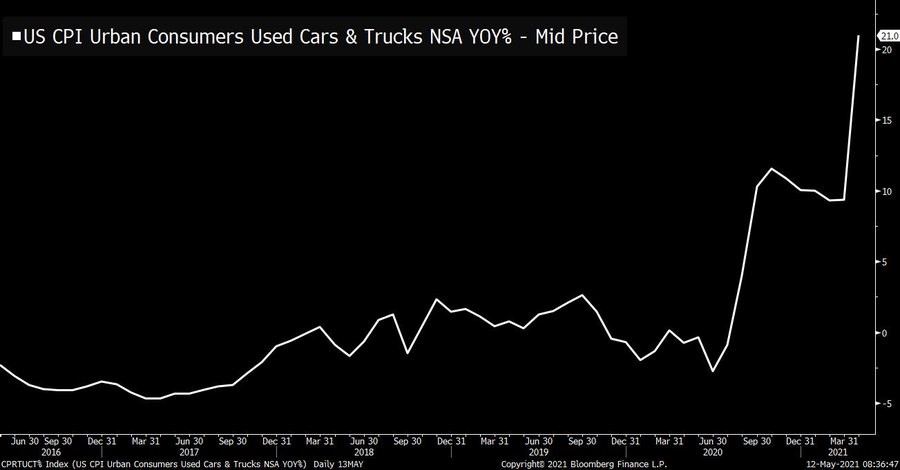 Notice the two spikes since June 2020. Some of this trend has to do with the economic impacts of Covid-19, but the recent shortage of semiconductor computer chips is a major factor as well.
This is not good news for working-class people looking for an affordable set of wheels. But for those who already own a car, it's a sellers' market. So, here's an idea; sell your old car with the internal combustion engine, either by trading it in to a dealer or by selling it privately. Then use the cash as a down payment for a new or used electric car. But note that used EV car prices have also been on the rise.
By stacking the federal tax credit, state rebate in Massachusetts (sorry Rhode Islanders), and the discount you get through our Drive Green program, a new electric vehicle is probably more affordable than you think, especially with the high trade-in value you'll get on your current vehicle. Plus, the best available data on the cost of operating an electric vehicle shows that you'll pay less to fuel, maintain, and repair an electric car than you would by sticking with your current ICE bucket. Speaking of fuel prices…
Gasoline Prices Are Not Rock Bottom Anymore
You may be aware of how a recent ransomware attack on the Colonial Pipeline caused a surge in gasoline prices, especially in the Southeast United States. The surge is not likely to be long-lasting, but it is a good reminder that retail gasoline prices are unstable and shift wildly according to the season, trends in the global oil market, or the latest distribution snafu. This graph from GasBuddy.com shows how retail gasoline prices have fluctuated in Boston over the last ten years.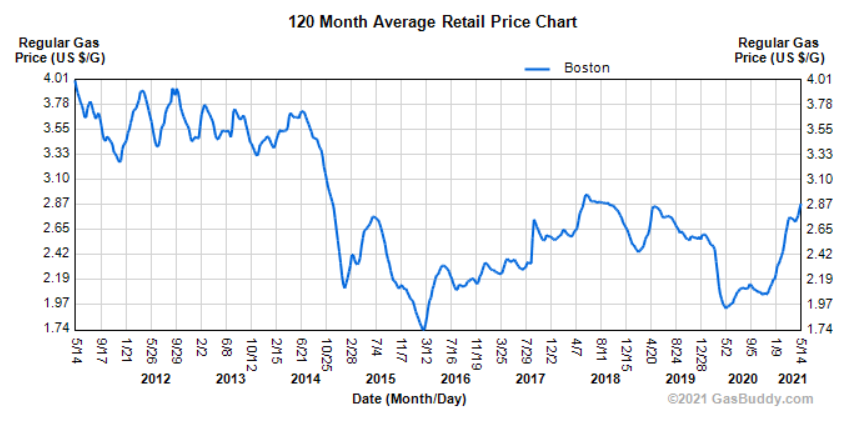 It's impossible to predict the future of gas prices, but looking at the past can frame expectations for the next decade. Our first observation is that even with a Covid-induced recession and economy-wide shutdown, gasoline only fell to $1.97 for a few short weeks before prices started to climb again. During that time, electricity still beat out gasoline as the most affordable fuel for vehicles.
Our second observation is that though an unexpected event could push gasoline prices up to $4 a gallon or more, prices are probably going to range between $2.50 and $3.00 for most of the next decade.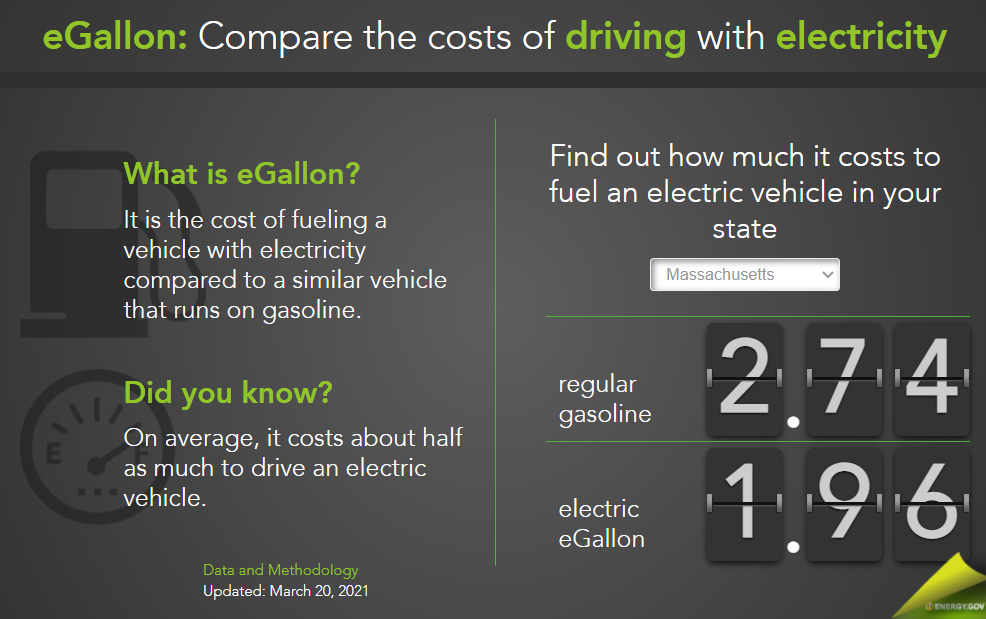 The cost of an electric "e-Gallon" remains consistent due to the highly regulated and consistent nature of electricity prices. Gasoline? Not so much.
When you do the math, the financial reasons to shop for an EV become very convincing – on top of your desire to do something good for the climate, of course. If you're ready to start considering your options for a new electric vehicle, please visit us at www.greenenergyconsumers.org/drivegreen.