Green Energy Consumers has launched a new Heat Pump program designed to connect consumers with trusted expertise. As prices for heating oil and natural gas continue to respond to the worldwide supply shortage, this is a great summer to investigate whether a heat pump would make sense for your home.
If you've wondered how to assess your home's suitability for heat pumps, find installers, or compare their varying bids, we recommend you register for this new program by clicking below. And, of course, read on!
Find the best contractor for you
Because the heat pump market in Massachusetts and Rhode Island is still relatively young, it's sometimes hard to know if an installer has enough experience to do a good job. Likewise, heat pump systems can be designed in various ways, and many consumers lack the training to be able to compare designs. Our program makes it easier for energy consumers to find trusted vendors and independent advice.
Our partner for this program is Abode Energy Management.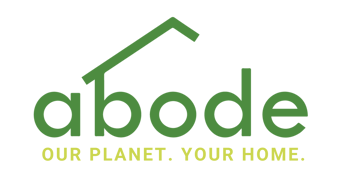 Abode has the technical expertise to give you peace of mind and new insights as you consider whether to install a heat pump system in your home or business. Abode provides quality control services for Mass Save, inspecting heat pump installations and supporting installers to improve their skills. Abode has worked with us to create a list of trusted installers. At present these installers serve eastern Massachusetts, and we're continuing to reach out to more installers that might cover western Mass and Rhode Island.

Compare quotes
In addition to connecting you to our list of trusted installers, Abode also provides virtual consultations with unbiased building science experts who can help homeowners understand what is required to adopt heat pump technology to cool and heat their homes. Abode also offers a Quote Review Report that puts your varied contractor quotes into an apples-to-apples format.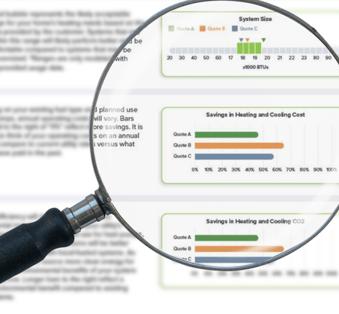 This report is a great tool to help consumers to decipher contractor quotes and see the key metrics in comparison. For a limited time, Abode is offering a discount to our program participants for their consultations and heat pump quote comparisons.
Get a virtual consultation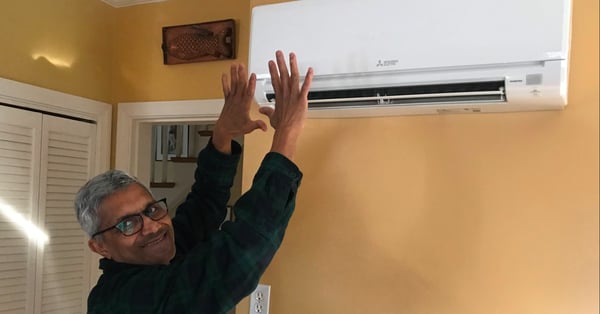 Abode's heat pump specialists are also available for one-to-one hour-long consultations. These virtual consultations provide an opportunity to discuss your goals and the unique attributes of your home. Abode will help you understand the equipment and design configurations that might work for your home. These consultations empower homeowners to engage with contractors in a productive way and can happen at any point in the heat pump consideration process. Abode does not endorse any specific contractors, manufacturers, or solutions, so they can impartially assist you to understand your options and analyze your quotes.
While we currently have installers only in eastern Massachusetts, Abode's consultation and quote review services are available for residents throughout Massachusetts and Rhode Island.
New Mass Save incentives for heat pumps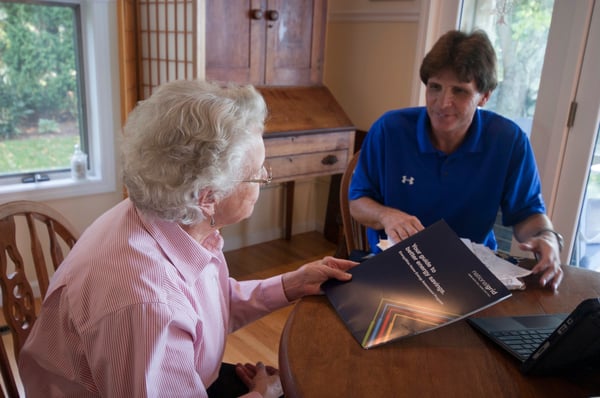 For Massachusetts residents living in Mass Save communities (most of the state, excluding cities and towns with municipal utilities), this is a particularly good time to consider replacing or augmenting an older fossil fuel system with a heat pump. Mass Save is offering a new $10,000 Whole Home heat pump incentive. In the past, the incentive amount varied according to the heating capacity of your heat pump system; as a result, smaller homes needing smaller systems got smaller incentives. This change is particularly beneficial for average and smaller homes where the incentive will now cover a larger proportion of the total cost of the system.
The other very significant change is that gas-heated homes are now eligible for the whole home incentive. In the past gas-heated homes were eligible for only a much smaller efficient cooling rebate. This makes heat pumps much more affordable for gas-heated Massachusetts homes.
In addition to whole home heat pumps – which allow you to completely stop using your existing furnace or boiler – heat pump systems can also be designed to augment your existing heating equipment. These partial systems also qualify for incentives. These are based on the size of the system. For heat pumps with an active fossil fuel back-up, the incentives are dependent on also installed a smart thermostat that automatically switches your heating from the heat pump to the fossil fuel system as a pre-determined outdoor temperature.
There are many other exciting developments in the Mass Save heat pump program.
Enhanced incentives for

bundled

weatherization and heat pumps

Homeowners may apply for a

HEAT loan

for a heat pump installation, even if they had a HEAT loan before

Additional incentives for

ground-source heat pumps

, AKA "geothermal"
Heat pumps can also efficiently provide your domestic hot water. Heat pump water heaters pull heat out of the air surrounding the tank, so they need a large enough space (bigger than a closet or small utility room) and would leave that space cooler and dryer as result. They require an electric hook up and a drain for the water vapor that condenses as the heat is pulled out of the air. These have cost advantages over hot water heated by electric resistance or oil. Heat pump water heaters also would reduce your carbon footprint significantly compared to natural gas, oil, propane, or electric resistance.
Outside of Mass Save? Check these links for heat pump incentives
In Rhode Island:
In Massachusetts, with a municipal electric company, check with Abode to determine whether it administers a heat pump program for your town: